You're on a Branson getaway but in the mood for a side trip (why you'd want to leave Branson is a little hard to fathom, but …). Now, the tough part begins: Where do you go?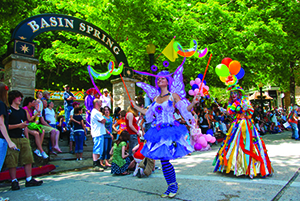 Eureka Springs, Ark., makes for a great day trip: It's a little more than an hour southwest of Branson and home to several fun attractions to explore.
Here are five fun ways to spend a day in Eureka Springs:
Get Wild: See lions, tigers and, yes, bears (insert the mandatory "Oh my" here) at Turpentine Creek Wildlife Refuge. Turpentine Creek provides care for abandoned and neglected animals, with an emphasis on big cats. Take a guided tour of this 459-acre facility, located about seven miles from Eureka Springs. Admission is $20 for adults, $15 for ages 13-19 and $10 for ages 4-12, seniors and veterans. Children ages 3 and younger admitted free.
Ring the Belle: Enjoy the 75-minute, 12-mile cruise around beautiful BeaverLake on the Belle of the Ozarks. This narrated tour showcases several points of interest, including an American Indian burial ground and WhitneyMountain. Rates are $23 for adults and $9 for children ages 11 and younger.
Goin' to the Chapel: If you enjoy amazing architecture, Thorncrown Chapel needs to be on your must-see list. The 48-foot structure has more than 400 windows and 6,000 square feet of glass. The chapel is open for tours, March through November (times vary by season), and hosts regular Sunday services from April through the third week in December. Thorncrown Chapel is 1.5 miles west of Eureka Springs; there is no admission fee, but donations are accepted.
Enjoy the Arts: Eureka Spring is noted for its outstanding collection of artists, artisans and galleries. Whether you're interested in paintings, pottery, creations made from wood and glass, or are simply in search of a cozy quilt, the shops and galleries of Eureka Springs have you covered.
See a Live Show: The Great Passion Play is one of Arkansas' most well-known attractions. Staged multiple times a week from May through October, The Passion Play focuses on the life of Jesus, from the time of Lazarus' resurrection through Christ's crucifixion and ascension into Heaven. Tickets for the play are $26.50 for adults, $16.50 for ages 12-16, and $12.50 for ages 4-11. A family pass for two adults and four children is $78.50. Tickets for the Bible Experience and Buffet Dinner also are available. The grounds of the Passion Play include the 67-foot tall Christ of the Ozarks statue, a section of the Berlin Wall and a Bible museum.
After your day trip to Eureka Springs, head back to Branson for more great live shows, plenty out outdoor fun and great attractions like Silver Dollar City and the Hollywood Wax Museum. Learn more about the Live Music Show Capital of the World online at ExploreBranson.com.