Branson offers some incredible shopping options, from outlet malls and Ozarks crafts to Bass Pro and upscale retailers at the Branson Landing. But many visitors hesitate to splurge because they don't know how to get all their goodies home. After all, it costs a bundle to check extra bags when flying; and between passengers and luggage, there may not be any room left in the car. The good news is there are plenty of options available to ship purchases home, so feel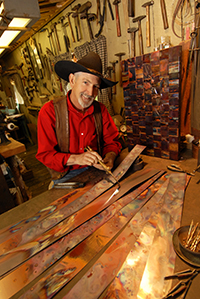 free to shop to your heart's content.
UPS
Choose from a variety of shipping options offered by UPS, and have your Branson purchases safely delivered to your home. UPS offers next-day, second-day, three-day and standard ground shipping options; and with UPS My Choice, you'll receive free delivery alerts via email, text or phone message on the day your package is scheduled to arrive. Plus, if you can't be there to sign for your incoming package, you can easily go online and authorize UPS to release it or reroute it to another address, such as a UPS store location or your place of business. Branson's UPS Store employs certified packing experts who can not only help you choose the right packaging and shipping solutions, but also skillfully pack almost anything so it arrives safe, secure and intact – even high-value items such as art, electronics, crystal and porcelain.
FedEx
With a dozen drop locations in the Branson area, FedEx is a convenient and efficient way to ship your purchases home. Choose to have your Branson goodies delivered within anywhere from one to five days or even request Saturday delivery. FedEx customers are able to use the FedEx Delivery Manager to track, redirect and reschedule their shipments with cost-effective services that include the company's money-back guarantee. FedEx even offers its economical SmartPost in which the final delivery is completed by the U.S. Postal Service.
USPS
The U.S. Postal Service offers a plethora of domestic and international shipping options. Choose from the economical standard post starting at just $5.75 for large packages delivered by ground service, or even priority mail and have your package less than 70 pounds delivered in one to three business days for as little as $5.05. Insurance is available and sometimes even included, and you can track the progress of your shipments at the USPS website. You can purchase your shipping labels online or visit the Branson Post Office. While the USPS offers some of the most affordable shipping options, be aware that your packages must meet certain size and weight requirements.
DHL
Those visiting Branson from outside the United States may prefer to have their purchases shipped home via DHL, which provides delivery to 120,000 destinations in more than 220 countries and territories worldwide. International shipping can be costly, but DHL offers competitive upfront pricing with no hidden costs. And with daily direct flights out of the United States, DHL customers won't have to wait weeks to enjoy their Branson purchases after they arrive home. Choose from multiple drop-off locations in the Branson area or hop on to the company's website and schedule a courier pick up and take advantage of DHL's easy online tracking.
Mailbox Plus
If you're unsure which shipping option is the best to have your Branson purchases delivered home, visit Mailbox Plus, where trained professionals can not only help you choose between FedEx, UPS, USPS or DHL, but also expertly pack your Branson purchases for safe delivery. At Mailbox Plus, you can purchase everything you need to safely pack your Branson goodies, including various sized boxes, packing peanuts and bubble wrap. You can also drop off pre-labeled packages for any of the four carriers or request your packages be picked up from your hotel. Mailbox Plus can even help you ship your luggage home so you can avoid the hassles of the airport baggage claim.
Hotel Concierge
More than 80 Branson hotels offer concierge services to guests. While each concierge is different, many of them are happy to drop off your packages for delivery. After all, you're visiting Branson to take in the sights, smells and sounds of the Ozarks, not to spend your time packing and shipping your purchases.