Article
Your Guide to Fishing in Branson
When it comes to bass fishing, trout fishing or bow fishing, Branson is any enthusiast's top choice. Our three pristine lakes, world-class fishing guides and scenic Ozark Mountain beauty will make your fishing trip remarkable.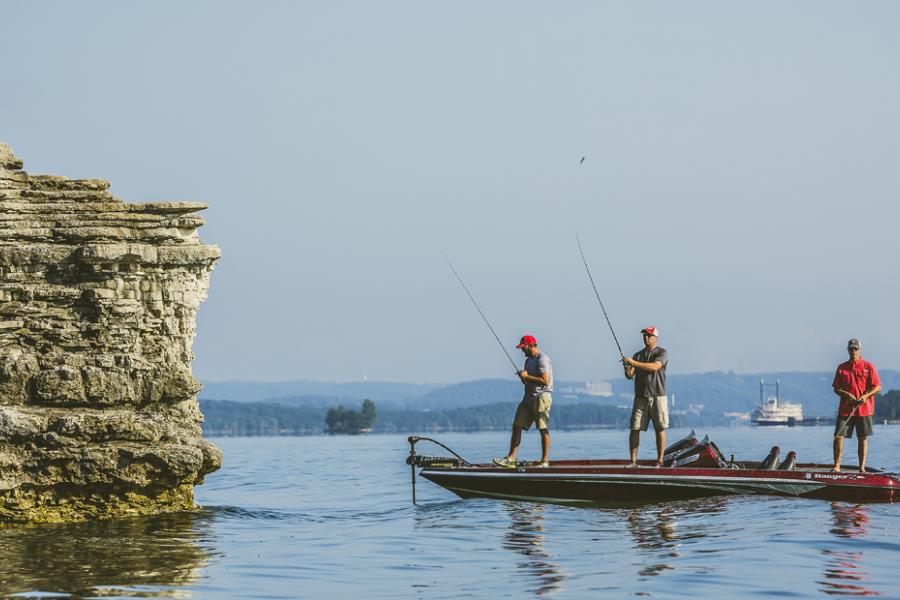 Amidst the hustle and bustle of Historic Downtown Branson and the Entertainment District, find peace by fishing on our calm waters. Grab your buddies, your fishing licenses, your poles and prepare to catch a good time in Branson:
Bass Fishing 
Although bass can also be found in Lake Taneycomo and Bull Shoals Lake, the largest concentration and variety of species live in Table Rock Lake. Largemouth, smallmouth and spotted bass dominate lake waters, while white and striped bass are more limited. Additionally, large bluegill, crappie, channel and flat head catfish can also be found within the cool and calm waters of Table Rock Lake.
Some of the largest bass caught in Missouri have come from Table Rock Lake. According to the Missouri Department of Conservation, record catches include: a five-pound, 10-ounce hybrid black bass, a seven-pound, eight-ounce Spotted Bass and a five-pound, six-ounce White Bass.
Due to Branson's mild winters, Table Rock Lake does not freeze over, which allows for year-round fishing opportunities.
Bowfishing
Bowfishing is the newest and most exciting fishing activity in the Ozarks. Find a plethora of carp, suckers, perch, catfish and gar in the shallow areas of our three freshwater lakes. Both Bull Shoals Lake and Table Rock Lake allow easy shoreline wading and boat access to bowfishing, while Taneycomo's main supply may be best found by boat. 
With companies like Firehouse Bowfishing and Outdoors, offers fishing guide services for all lakes and rivers in the Branson area! 
Trout Fishing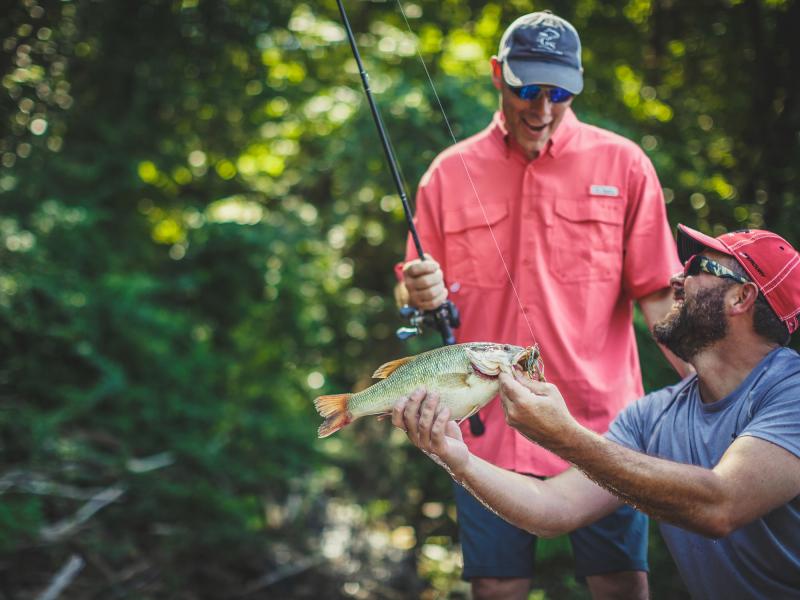 With its long, river-like makeup and many intricate coves, Lake Taneycomo proves to be a paradise for trout anglers. There are over 750,000 rainbow and brown trout stocked into Lake Taneycomo every year. As of September 2019, the state record for brown trout was a 40-pound, 6-ounce fish caught in Lake Taneycomo.  
On Lake Taneycomo you can stay near the action of Branson Landing and Downtown Branson, hide away in a secluded cove or travel a few miles upstream to what feels like an uncharted oasis.
Whether you're a pro fisherman or just getting started, Lake Taneycomo is the place for you. Here you'll find easy access to boat rentals, equipment rentals, accommodations and fishing guides surrounded by endless Branson entertainment. You can learn more about one of our trout fishing resorts here.
Fishing Guides
Due to the world-class fishing found in Branson, booking a great fishing guide is a breeze. It's never a bad idea to have a little help from someone with local knowledge and on-the-water experience. Check out a few of our favorite fishing guides:
Branson has more fishing events coming up, click here to see!
Places Mentioned
Find Your Next Branson Adventure
Trip Ideas
You May Also Like