Your Guide to Fishing in Branson
When it comes to bass fishing, trout fishing or bow fishing, Branson is any enthusiast's top choice. Our three pristine lakes, world-class fishing guides and scenic Ozark Mountain beauty will make your fishing trip remarkable.
Amidst the hustle and bustle of Historic Downtown Branson and the Entertainment District, find peace by fishing on our calm waters. Grab your buddies, your fishing licenses, your poles and prepare to catch a good time in Branson:
Bass Fishing 
Although bass can also be found in Lake Taneycomo and Bull
 Shoals Lake, the largest concentration and variety of species live in Table Rock Lake. Largemouth, smallmouth and spotted bass dominate lake waters, while white and striped bass are more limited. Additionally, large bluegill, crappie, channel and flat head catfish can also be found within the cool and calm waters of Table Rock Lake.
Some of the largest bass caught in Missouri have come from Table Rock Lake. According to the Missouri Department of Conservation, record catches include: a five-pound, 10-ounce hybrid black bass, a seven-pound, eight-ounce Spotted Bass and a five-pound, six-ounce White Bass.
Due to Branson's mild winters, Table Rock Lake does not freeze over, which allows for year-round fishing opportunities.
Bowfishing
Bowfishing is the newest and most exciting fishing activity in the Ozarks. Find a plethora of carp, suckers, perch, catfish and gar in the shallow areas of our three freshwater lakes. Both Bull Shoals Lake and Table Rock Lake allow easy shoreline wading and boat access to bowfishing, while Taneycomo's main supply may be best found by boat. 
Marinas like Bent Hook Marina at Camp Long Creek offer all-inclusive bowfishing excursion packages. Check out your options here. 
Trout Fishing
With its long, river-like makeup and many intricate coves,
 Lake Taneycomo proves to be a paradise for trout anglers. There are over 750,000 rainbow and brown trout stocked into Lake Taneycomo every year. As of September 2019, the state record for brown trout was a 40-pound, 6-ounce fish caught in Lake Taneycomo.  
On Lake Taneycomo you can stay near the action of Branson Landing and Downtown Branson, hide away in a secluded cove or travel a few miles upstream to what feels like an uncharted oasis.
Whether you're a pro fisherman or just getting started, Lake Taneycomo is the place for you. Here you'll find easy access to boat rentals, equipment rentals, accommodations and fishing guides surrounded by endless Branson entertainment.
Fishing Guides
Due to the world-class fishing found in Branson,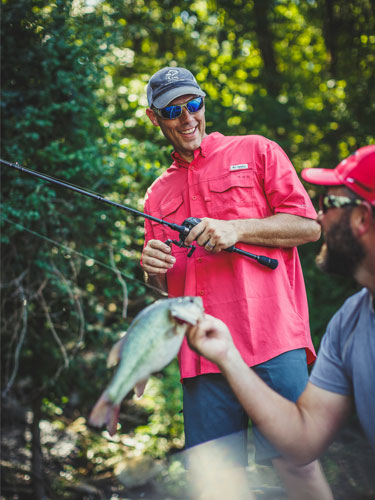 booking a great fishing guide is a breeze. It's never a bad idea to have a little help from someone with local knowledge and on-the-water experience. Check out a few of our favorite fishing guides:
Fishing Events
March 6, 2020 – Table Rock Lake
See some of top College fishing teams in the nation compete to make it to the next round at Table Rock Lake's Fishing League Worldwide College Fishing Tournament. 
March 7, 2020 – Table Rock Lake
Branson and Table Rock Lake is proud to host one of Fishing League Worldwide's High School Fishing Opens. In this tournament, two-person teams, grades 7-12, compete to be in the top ten percent who will advance to the National Championship and potentially the World Finals.
U.S. Open Bowfishing Championship
April 25-26, 2020 - Bass Pro Shops Shooting Academy
Watch or compete against some of the best bowfishermen in the country - you'll be amazed by what these men and women reel in!
May 7-9, 2020 - Table Rock Lake
Watch some of the best anglers in the nation compete in the Costa Fishing League Worldwide Costa Series Tournament at Table Rock Lake.
July 25-26, 2020 – Branson/Hollister Lion's Club Community Building
This event is designed to inform and train families in the art of fly fishing. Hear tips and tricks from local, expert fishermen at this annual, educational trade show. 
Vietnam Veterans Association Annual Fishing Tournament
October 24, 2020 – Scotty's Trout Dock & Marina
Support local Vietnam Veterans while enjoying the sport of fishing. This annual event is held on Lake Taneycomo in Branson.  
Catch a good time in Branson. Order your FREE Vacation Guide today!