News
Ballparks of America Brings Its A-GAME with New Beverage Partnership
Legendary Ballpark Joins Forces With A-GAME Beverages to Provide The Ultimate Hydration Experience; Former MLB Legends Bo Jackson and Johnny Damon Set to Make Appearances
Kelly Ahrens
Ballparks of America
---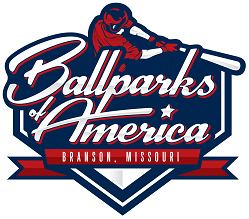 (Branson, MO) September 25, 2023 - Ballparks of America, the world-class baseball destination experience located in Branson, Missouri, has partnered with A-GAME Beverages, Inc., maker of A-GAME, the ultimate hydration beverage. Effective immediately, A-GAME will become the Official Sports Hydration Beverage for young athletes playing ball at the Ballparks of America campus and that relationship will continue for the 2024-2025 seasons.
As part of this agreement, baseball legends Johnny Damon and Bo Jackson will visit Ballparks of America during the upcoming seasons. Jackson has earned the reputation as one of the greatest athletes of all-time and is only professional athlete to be an All-Star in two sports (MLB & NFL). Damon is a two-time World Series Champion and a member of the Boston Red Sox team that ended the organization's 86-year World Series drought.
A-GAME is the perfect hydration solution for athletes of all ages and skill levels. It is a great tasting, low-calorie, electrolyte-infused beverage that helps athletes stay hydrated and energized during their games and practices. A-GAME is made with natural ingredients and is free of artificial colors, flavors, and sweeteners.
"Ballparks of America is more than just a baseball destination, as we are invested in relationships that provide value to our customers," says Paul Satterwhite, owner of Ballparks of America. "A-Game has provided a solution we strongly believe in with a quality hydration drink that will impact Ballparks' players' participation and recovery. We are committed to making our teams aware of solutions that could impact their athletic performance and health."
The Ballparks of America campus is a 70-acre facility that features five Major League replica fields and a team suite stay and play experience. Each field is a 2/3-scale replica of a famous Major League ballpark, complete with iconic features, synthetic turf, professional scoreboards, sports lighting, sunken dugouts, and reclaimed seats from historic Major League ballparks.
Ballparks of America's General Manager Kelly Ahrens added, "We are thrilled to partner with AGAME to provide the most premium hydration solution to the athletes and families visiting the park. This product will help athletes stay hydrated and energized, and we couldn't be more excited to offer it as a part of the one-of-a-kind Ballparks of America experience."
The partnership between Ballparks of America and A-GAME Beverages is sure to provide a truly remarkable experience for players, families, and coaches. With A-GAME as the Official Sports Hydration Beverage of Ballparks of America, athletes can stay hydrated and energized while enjoying the world-class baseball destination experience.
###
About Ballparks of America
Located in Branson, Missouri, Ballparks of America is an international baseball tournament destination that offers a one-of-a-kind experience to players and their families. Our signature features include on campus stay and play suites and our two-thirds scale replicas of 5 classic American ballparks, complete with the dimensions and elements that make each of these iconic stadiums unique. Ballparks of America is a member of the SFM Network, the nation's largest and fastest growing network of sports facilities and is operated by the industry-leader in outsourced operations, Sports Facilities Management. Learn more or register for your next tournament: www.ballparksofamerica.com.
About A-GAME Beverages, Inc.
Backed by All-Star athletes and partners Johnny Damon, Major League Baseball All-Star, Chairman and Co-Founder of A-GAME Beverages, Inc., Bo Jackson, Major League Baseball AllStar and NFL All-Pro, A-GAME investor, A-GAME Board of Directors member and arguably one of the greatest athletes of all time, NASCAR driver Ryan Sieg, platinum-selling recording artist Ryan Cabrera and professional water skier and two-time world champion Thomas Degasperi, A-GAME is on a mission to equip athletes of all levels with the highest quality hydration beverages so you can always #BringYourAGAME. To learn more about A-GAME, visit www.drinkagame.com. For Media Inquiries, please contact Lisa Leet at [email protected]