News
Branson Business Icons Jack and Peter Herschend Honored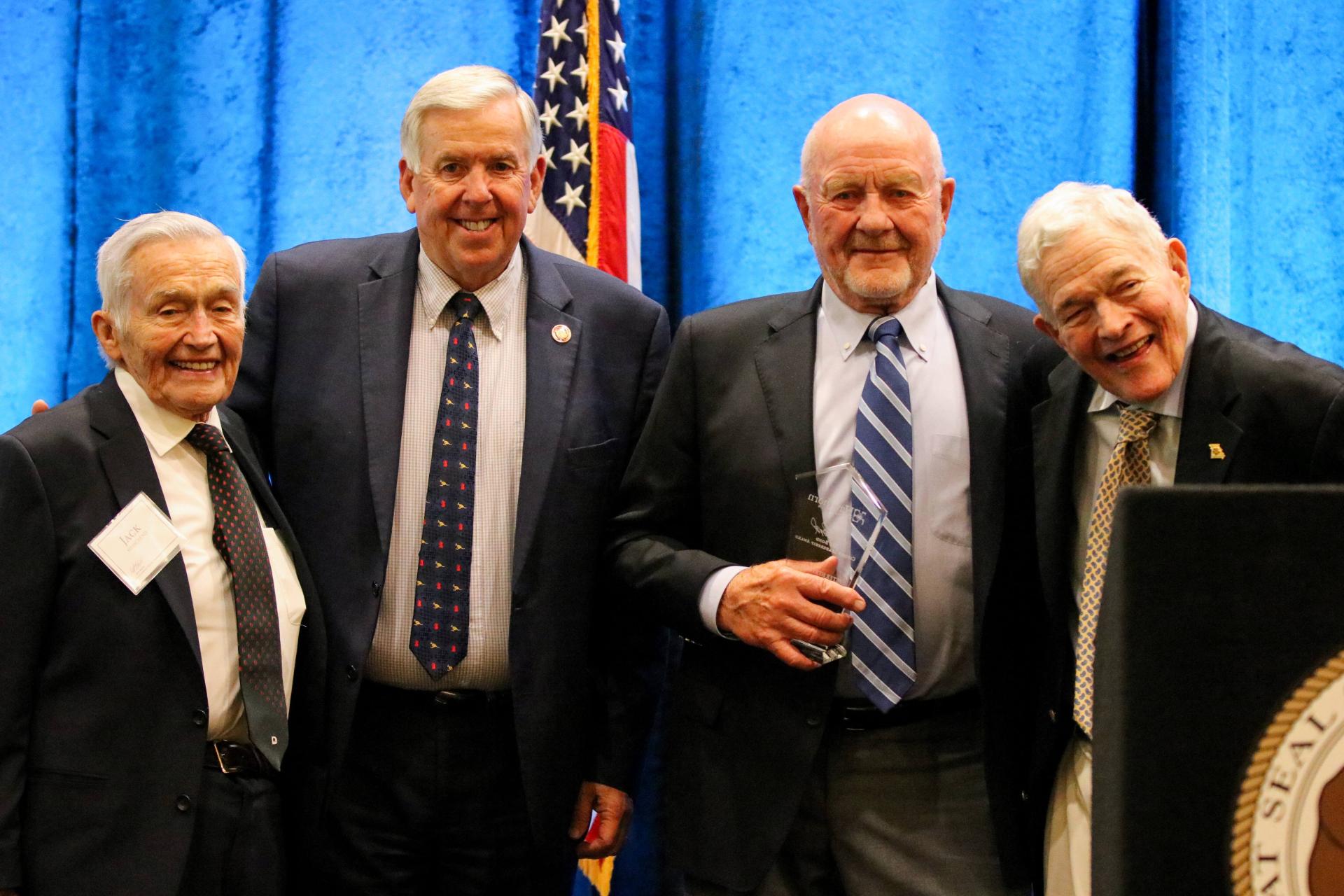 Lynn Berry, Director of Communications
Branson Chamber of Commerce and CVB
417-243-2137
---
FOR IMMEDIATE RELEASE
June 22, 2023
(Branson, Mo.) – The Hawthorn Foundation selected Peter and Jack Herschend of Herschend Family Entertainment as this year's Kit Bond Citizen Leadership Award honorees. This award was first given in 2018 to Missouri Senator Bond himself, Hawthorn's founder.
Hawthorn Foundation is a group of statewide leaders dedicated to the economic prosperity of all Missourians. Governor Mike Parson and Senator Kit Bond were in attendance to help honor the Herschends, as well as many elected officials including Branson Mayor Larry Milton. 
Branson Chamber of Commerce/CVB staff and board members joined other business leaders from around the state at Big Cedar Lodge for this year's dinner, honoring the Herschend brothers on Thursday, June 15.
"Teresa and I were happy to join Senator Kit Bond, his wife Linda, and friends from across the state to honor Jack and Peter Herschend with the 2023 Kit Bond Citizen Leadership Award. We are proud of the Herschend family for their outstanding contributions in the Branson area and for exemplifying our Hawthorn Foundation mission to promote the economic prosperity of all Missourians," Governor Mike Parson said.
Branson's longtime community icons were the subject of several comments that evening highlighting the work of the homegrown entrepreneurs and founders of Silver Dollar City, recently named the #1 Theme Park in America by readers of USA TODAY. They are the owners of Herschend Family Entertainment (HFE), a privately owned themed-entertainment company that operates several theme parks and tourist attractions as well as the sports entertainment franchise Harlem Globetrotters.
"It truly was a wonderful night to celebrate two very amazing men, Jack, and Peter Herschend," said Cynthia Carson, General Manager, Sight & Sound Theatres—Branson and current Chairperson of the Branson/Lakes Area Chamber of Commerce and CVB. "Both these men have been an inspiration to so many of us. I believe we are all better because they have taken risks, followed their dreams and pursued hard work promoting economic prosperity throughout our region."
Locally, the Herschends commitment to raising the bar for tourism has seen investments of more than $100 million over several years in new rides at the theme park, housing for seasonal workers, improvements in infrastructure, and additional parking at Silver Dollar City.
"Following the lifelong leadership of Jack and Pete, the evening was just one more among countless bragging rights re-emphasizing the message that Branson is the place to play, the place to work, and the place to live," said Jonas Arjes, Interim President/CEO, Branson Chamber of Commerce and Convention & Visitors Bureau. "Congratulations, Jack and Pete. Thank you for creating memories worth repeating and always leading with a servant's heart."
###
Photo: (left to right) Jack Herschend, Gov. Mike Parson, Peter Herschend, Sen. Kit Bond
About Branson, Missouri
Branson is a one-of-a-kind family vacation destination nestled in the lakeside beauty of the Ozark Mountains with dozens of live performance theaters; three pristine lakes; championship golf courses; an international award-winning theme park; family attractions and museums; a Historic Downtown district; shopping galore; a full range of dining options; and a host of hotels, motels, resorts, RV parks, campgrounds, sports venues, and meeting and convention facilities. Branson is located less than one day's drive for a third of the U.S. population. It's also accessible via flights to Branson Airport (BKG) and nearby Springfield-Branson National Airport (SGF). Call 1-877-BRANSON for help planning your next vacation, convention, sports event, or reunion. See more at http://www.explorebranson.com