News
Memorial Day Weekend at Big Cedar Lodge
As Memorial Day weekend approaches, Big Cedar Lodge invites you to embark on a memorable and meaningful weekend getaway nestled in the heart of nature. With breathtaking Ozark Mountain backdrop and unparalleled hospitality, Big Cedar Lodge provides the perfect setting to honor and remember our nation's heroes.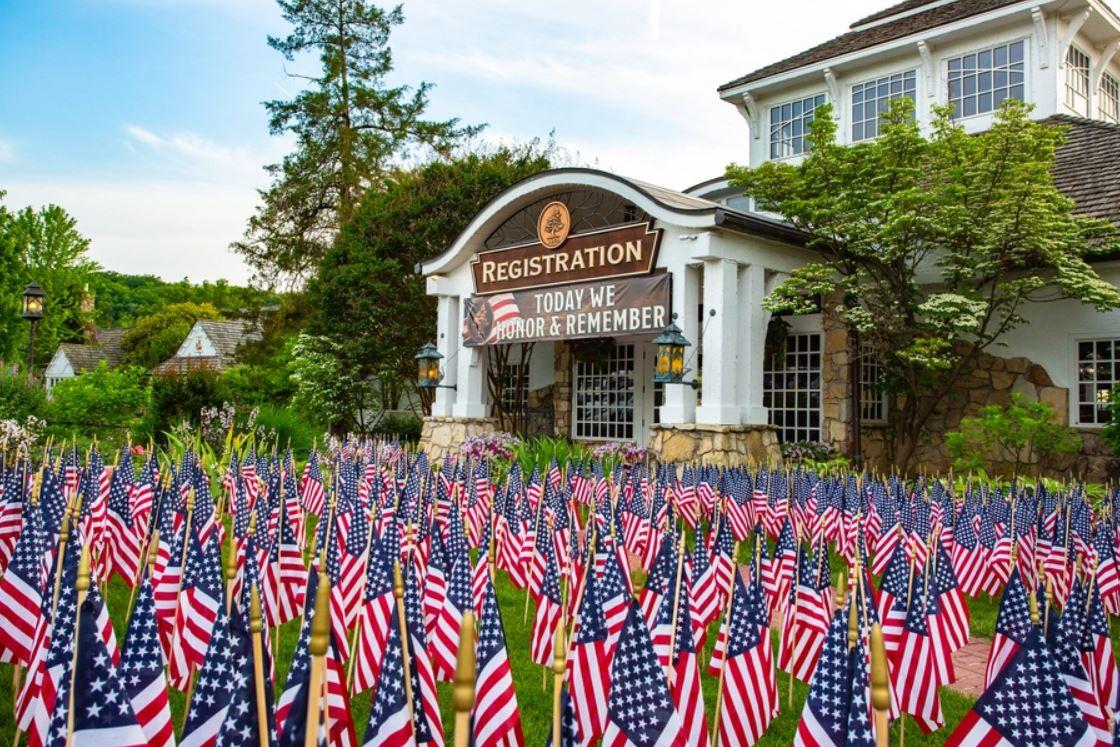 Madison Horner
Public Relations Manager
Cell: (417) 342-0853
Email: [email protected]
---
This Memorial Day weekend, guests can indulge in a myriad of activities, events, and ceremonies designed to pay tribute to the brave men and women who have selflessly served our country. From a moving memorial ceremony to an exhilarating run to remember 5K, this weekend promises a patriotic experience that will touch the hearts and minds of all who attend. Join us at Big Cedar Lodge and be a part of this unforgettable celebration of courage, sacrifice, and gratitude.
See below for details on all Memorial Day weekend events at America's Premier Wilderness Resort:
Vietnam War Memorial: Walk, honor, and remember with Big Cedar Lodge at the replica of the famous Vietnam War Memorial Wall. Featuring 55,000 names of the fallen, this Vietnam War display highlights courage, sacrifice, and the American spirit.
Located on Registration Lawn
Friday – Monday
Run to Remember 5K: Lace up your running shoes and take part in the Run to Remember 5K, a scenic and heartwarming race that pays tribute to our heroes. Set against the stunning backdrop of the Ozark Mountains, this event combines fitness, community, and remembrance in a celebration of those who have made the ultimate sacrifice.
Memorial Day Patriotic Picnic: Kick off summer with fun games, attractions, contests, crafts, entertainment, a flyover, and more. Reflect & remember with Big Cedar Lodge's annual wreath-laying ceremony honoring veterans. Enjoy a menu of mouthwatering foods prepared by Big Cedar's world-class Culinary Team. Open to the public!
Stop by Registration to purchase your BIG Pass and gain unlimited access to select attractions on the lawn during our picnic! Featured attractions include bounce houses, inflatables, air ball archery, BB Gun shooting range, face painting, a mechanical bull, and ($30 passes per person for overnight guests)- Make sure you show your resort wristband.
Paddleboat Family Fishing Tournaments: Compete in a fun evening of fishing on the amazing Table Rock Lake! Captain a paddle boat with family and friends, using provided tackle and fishing poles to catch a whopper! Will you catch the heaviest fish in the hour? Winners will be celebrated with the renowned Bass Pro Prize and a Grand Prize!
Stars and Strips Beach Bingo: Unwind by the lake with patriotic bingo on the beach! A Memorial Weekend exclusive, this bingo game features multiple challenges, renowned prizes, and lakeside fun to remember for years to come. Complimentary for overnight guests.
Blacklight Paint & Pour: Create a magical glowing masterpiece with family and friends! Our art instructor will walk you through step-by-step instructions for painting in a fun, laid-back environment. No painting skills are required, and we'll provide all the supplies needed. Two glasses of wine, water, soda, and our famous Chex Mix are provided for each participant to enjoy while painting. You get to take the logo-ed apron home too! ($70 pp).
Pro Angler Charlie Evans & Paw Patrol: Pro Angler Charlie Evans and his good friends Skye and Marshall from Paw Patrol will be visiting Fun Mountain on Saturday, May 27th from 11am – 4pm. Come say hi, take a picture with our special guests and play at Fun Mountain!
Splash Bash Pool Party May 27-28: Splash into your holiday weekend at Devil's Pool! The Big Cedar Splash Bash features a fun-filled afternoon complete with the Big Cedar DJ, delicious food, and celebrated pool games.
Complementary
Food & drinks available for purchase
Children must be accompanied by an adult
First come, first serve
Family Bowling Tournament at Fun Mountain: Compete in the Big Cedar Lodge annual Fun Mountain Memorial Bowling Tournament! With 10 frames of bowling, challenge yourself in each frame with granny-style bowling, opposite-hand bowling, and backwards bowling. This unique underwater-themed bowling tournament is sure to be a blast for the whole family! Everyone will receive a prize and Fun Mountain card. Reservations are required. ($20 pp).
Where can I watch fireworks? Join us for the Memorial Day Patriotic Picnic on the Grandview Conference Center Lawn to enjoy a world-class fireworks show! Fireworks will not be shown at Top of the Rock this year.
Where is parking for day guests? Day guests are invited to park at the Grandview Conference Center upper lot and Fun Mountain's lot. Parking is first come, first serve.
Against the backdrop of majestic mountains and serene lakes, this heartfelt event serves as a powerful reminder of the sacrifices made by those who served our country. Join us as we come together to pay tribute, create lasting memories, and celebrate the spirit of Memorial Day. We look forward to working with you to showcase the significance of Memorial Day at Big Cedar Lodge! Pictures of weekend events/ activities can be found here (Courtesy of Big Cedar Lodge).