News
The Ozarker Lodge, A Modern Boutique Lifestyle Hotel, Opens in Branson, Missouri
Most Anticipated New Accommodations in the Ozark Mountains Welcomes Travelers Just in Time for Summer Season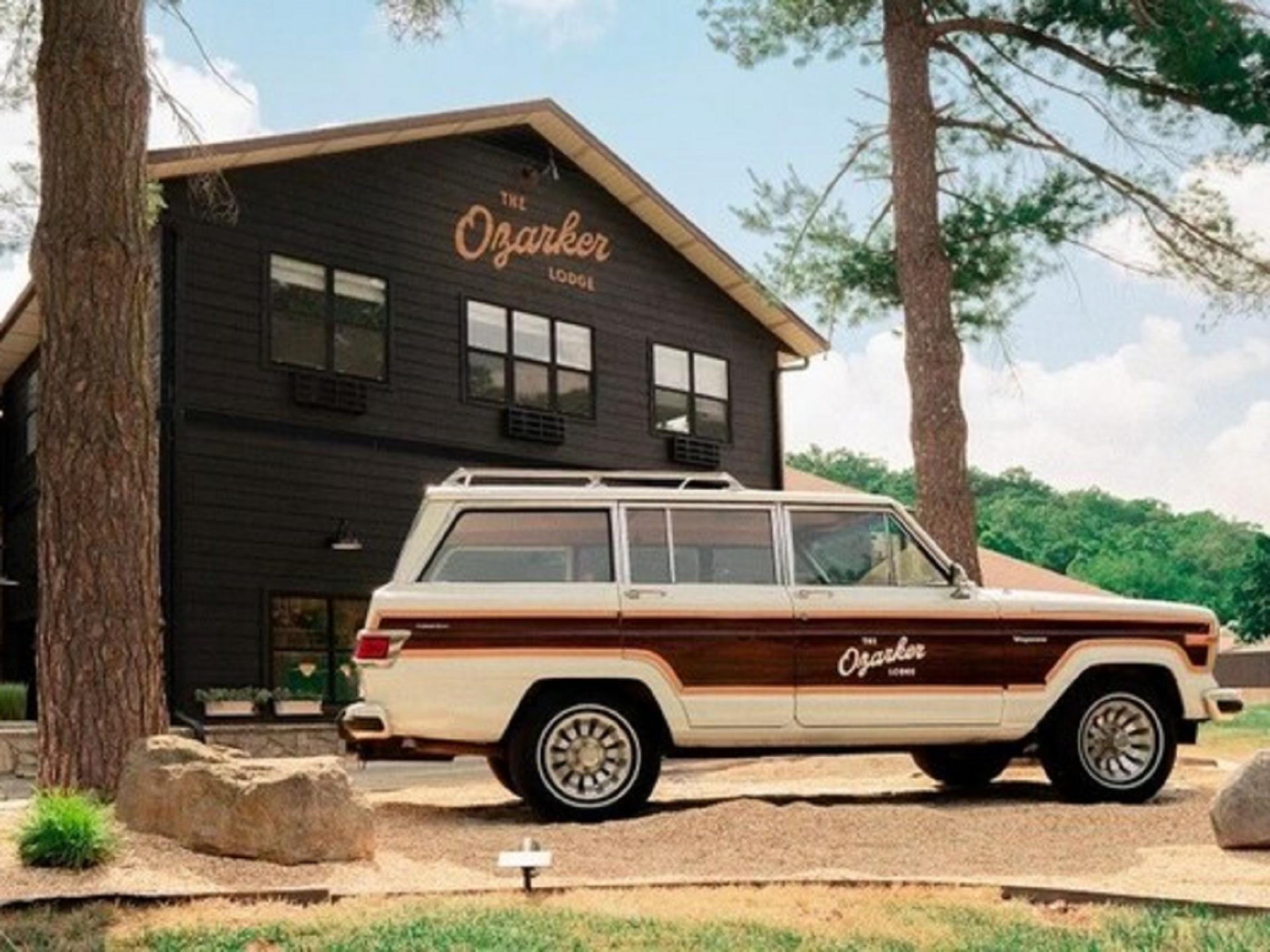 ---
BRANSON, MO., June 22, 2023 /PRNewswire/ -- The Ozarker Lodge, the first true boutique lifestyle hotel experience in the heart of the Ozark Mountains, opens today as a completely reimagined roadside lodging concept in one of America's most desirable family adventure destinations. The Ozarker Lodge invites guests to a design-forward, approachable hospitality experience with 102 all-new guest rooms, modern amenities, heated outdoor pool, cedar soaking tubs, engaging programming for all ages, coffee and wine bar, and easy access to the Ozark Mountains. Led by Eagle Point Hotel Partners and concepted by Missouri natives Jeremy Wells and Dustin Myers, founding partners of Longitude°, The Ozarker Lodge is the premier affordable option in the Lake-area with a modern,  unconventional aesthetic.
"We are thrilled to welcome guests and locals to our re-envisioned and modern lodge that brings back the nostalgia of family road trips, the thrill of outdoor adventures, and the simple charm of an evening outdoors," said Jeremy Wells, founding partner, Longitude°. "From the very beginning, our locally-based team set out to highlight the best of Branson and the surrounding region and celebrate why so many of us are proud to call the Ozarks home."
"We reimagined this beautiful setting specifically designed for the Midwest leisure traveler – bringing the best that the Ozarks has to offer with a modern perspective," said Stephen Chan, principal, Eagle Point Hotel Partners. "Working with Longitude° has been a great collaboration and we look forward to finding more properties like The Ozarker Lodge to reimagine together."
The Lodge
Upon entering the reimagined lodge, guests are enveloped by a brand-new open lobby that is the heart of the hotel and serves as a social hub for guests, greeting adventure seekers, explorers, and nomads with a vintage yet modern lounge, indoor floating fireplace, and inviting dining area and community pantry.
The Ozarker's brand-new guestrooms, designed by Midwest-based design firm PARINI, harness the energy and color palette of Branson, pulling inspiration from the destination to provide guests with an authentic experience. The guest room design is energizing, encouraging guests to go out, explore, and connect with nature and each other. The Bunkbed Rooms are ideal for families, friends, accommodating up to six people while offering double bathrooms for refreshing after a day of adventure. The Fall Creek King Suites can sleep up to four or five guests with one king bed and sleeper sofa, adorned with warm tones and fabrics that embrace travelers with signature Branson hospitality. For special occasions or guests seeking more spacious accommodations, the Ozarker Master Suite is 483 square feet and is designed for celebratory trips or romantic occasions and offers a full kitchen.
Social Spaces, Experiences, and Events
Whether guests travel solo, as couples, groups of friends, or as a family, The Ozarker Lodge has a fitting social space for every need. Nestled beside Branson's historic Fall Creek, offering an idyllic view of the region's natural beauty, The Ozarker Lodge is the perfect place for al fresco gatherings with its large heated outdoor pool, cozy fire pits, creekside cedar soaking tubs, a natural playground for little ones, and a dedicated space for local food trucks such as Jamaican Patty Co. to pop up throughout the year. 
The lodge works with local artisans and craftsmen to provide guests with one-of-a-kind experiences only found in the Ozarks. Regular programming includes guided hikes on nearby trails that leave right from the lobby, group kayaking, poolside movie nights, live music, fireside s'mores, seasonal foraging workshops, wine or beer tastings, charcuterie board and topography map reading classes, and seasonal food truck nights. The lodge is also an ideal place to hold private events or small affairs with friends and family with indoor and outdoor venue space equipped for intimate gatherings or buyouts.
Provisions
The lodge's new lobby bar, Storeroom, has partnered with several favorite brands from the region including Kingdom Coffee to offer locally-sourced coffee, along with Terrell Creek Farm to supply locally curated charcuterie boards and Grandma Ruth's for the best cinnamon rolls offered throughout the day. Guests can get a taste of local flavor by sipping on the lodge's official roast called "Scenic Blend," proudly roasted in the Ozarks.
In the evenings, Storeroom showcases a carefully selected assortment of all-natural or "low-intervention" white, red, and rosé wines from small producers and local craft breweries. Guests can also opt for Spring Branch kombucha in addition to non-alcoholic selections like delicious espresso drinks and flavored waters.
For kids and travelers with a sweet tooth, the Lodge also offers complimentary saltwater taffy made at the iconic Silver Dollar City upon check-in, as well for sale by the pound at Storeroom.  Guests will also receive wooden nickels at check-in, which can be redeemed for coffee, kombucha, or beer at Storeroom. S'mores kits are available for-purchase and popcorn is provided complimentary to enjoy by the outdoor firepits.
America's Heartland
Branson is considered one of America's most desirable family adventure destinations with over 10 million travelers visiting the destination every year. The Ozarker Lodge is appealingly situated between all the popular attractions, shows, museums, and shopping located off Highway 76 as well as the lake activities of Table Rock Lake. The hotel is only a short drive to the most popular Branson attractions such as Silver Dollar City, Branson Landing, Titanic Museum, and many more. It's not only convenient, but it feels "off the beaten path," charmingly nestled between two beautiful Ozark hillsides.
To celebrate its grand opening, The Ozarker Lodge is beckoning road trippers with a limited-time package embracing Branson's central location in the middle of the United States and being less than a day's drive for approximately 25 percent of Americans. The special offer includes 25 percent off the best available rate on stays of three nights or more, $25 food and beverage credit, $50 gas credit, choice between one seasonal bottle of low-intervention wine or a four-pack of Spring Branch Kombucha, two items of Ozarker Lodge branded merchandise, and a custom road trip playlist on Spotify to entertain travelers on their journey to the Ozarks. Rates start at $109/night.
To explore the new Ozarker Lodge or book a stay, please visit www.theozarkerlodge.com. Follow The Ozarker Lodge on Facebook and Instagram @theozarkerlodge.