Article
Explore the Lakes in Branson, Missouri
A guide to the three scenic Branson lakes.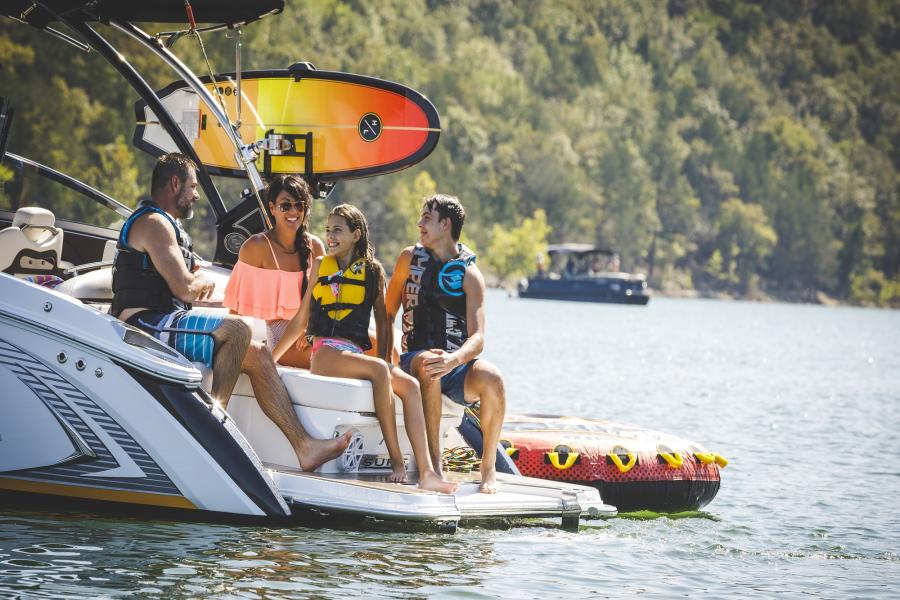 The Branson area is well known for its three pristine lakes: Table Rock, Taneycomo and Bull Shoals. Water sports enthusiasts can swim, water ski, wakeboard, tube, boat, sail, scuba dive, jet ski, parasail, kayak and, of course, fish. The lakes' waters never freeze, welcoming visitors to enjoy activities on the water year-round.
All three Branson lakes offer resort lodging, camping and picnicking facilities. Enjoy easy access to the water at a number of public marinas and boat dock/launch areas. Several commercial docks offer fishing guide services and a wide range of boat rentals, including ski boats, pontoon boats, bass boats and wave runners. Many of the resorts on the three lakes offer guide service, rental boats, snack bars and private dock facilities for visitors' boats.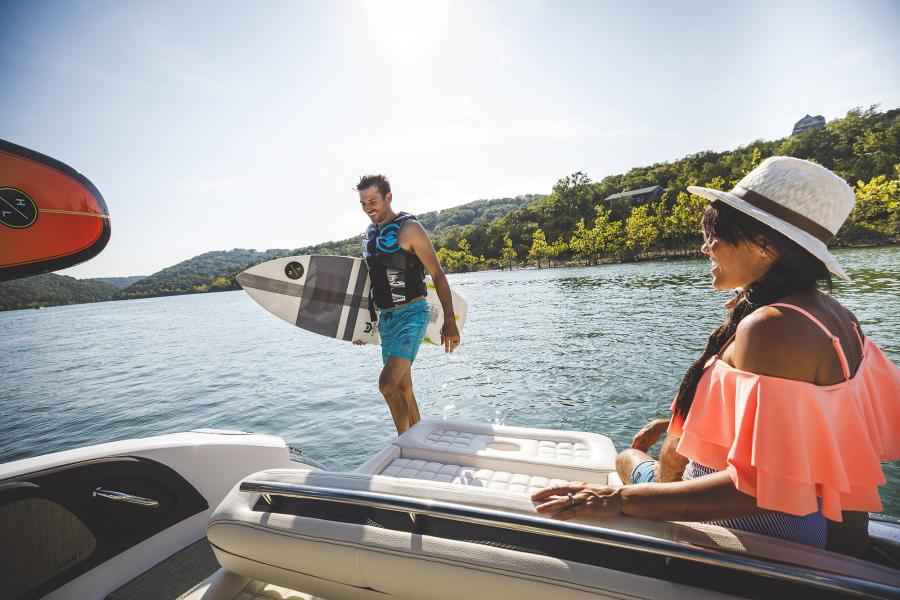 #1
Table Rock Lake
Accessible from multiple public and privately owned locations just minutes west of Branson, Table Rock Lake has been delighting visitors and residents alike since it was formed by the damming of the White River in 1959.
While visitors can find dozens of places to stay and play along the banks of Table Rock Lake, the area's commercial developments have placed a high priority on preserving the scenic beauty of the Ozarks' natural shoreline, bluffs, forests and wildlife.
Guide to Table Rock Lake
Fishing Table Rock Lake
Missouri's deepest (200 feet) and clearest reservoir, Table Rock is nationally recognized as a top bass fishing lake. Large numbers of largemouth, smallmouth, Kentucky spotted bass and white bass thrive in its diverse underwater structure and immense forage base. Bass, crappie and large bluegill are caught in abundance. Catfish of all sizes also roam the bottom of the lake.
Many area resorts and marinas can connect you with an experienced fishing guide, and there are hundreds of national, regional and local tournaments held throughout the year.
Table Rock Lake Facts
43,000 to 52,300 acres of surface area (depending on the water level)
857 miles of shoreline
Table Rock Dam was completed in 1959.
The dam is 6,423 feet long and 252 feet high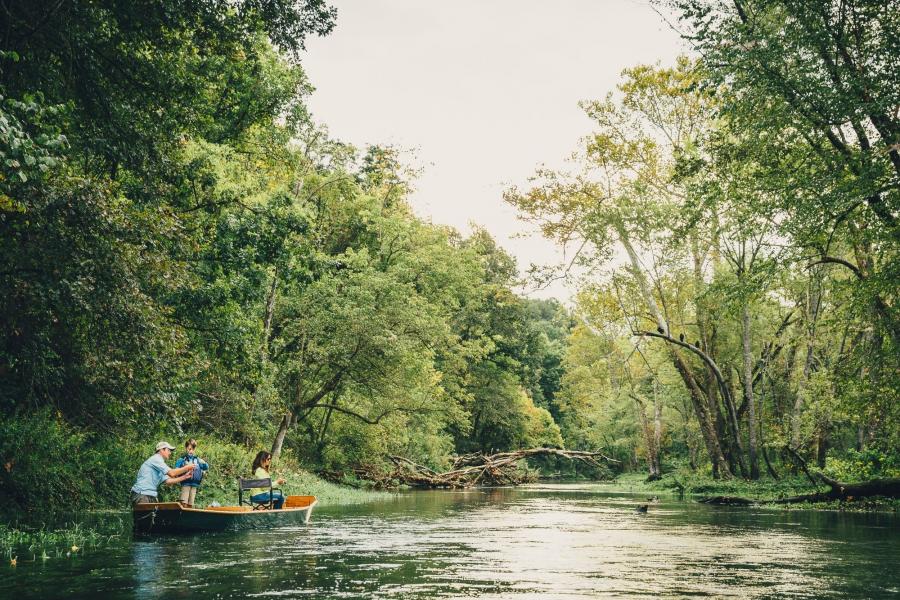 #2
Lake Taneycomo
Accessible from many points, including downtown Branson, Rockaway Beach, Forsyth, Powersite, Hollister and the Fall Creek area, Lake Taneycomo was formed with the completion of Powersite Dam in 1913. Originally a section of the White River, Taneycomo is now technically a lake yet retains the look and feel of a river. When Table Rock Dam was completed at Taneycomo's headwaters in 1959, the nature of the lake changed. Taneycomo's water now comes from the bottom of Table Rock Lake, making it a cold-water lake. The cold, clear water, stocked annually with approximately 750,000 rainbow trout, makes Lake Taneycomo a world-class trout fishery.
Resorts and full-service public marinas offer canoeing, kayaking, fishing boats, motorboats, guides, tackle and pontoons for relaxing and fun-filled lake activities.
Guide to Lake Taneycomo
Fishing Lake Taneycomo
The uppermost portion of the lake is reserved for artificial lures only, such as tiny jigs and crankbaits. These headwaters are also ideal for fly fishing with flies that imitate the freshwater shrimp and other natural bait that trout feed upon.
The locals say the best way to catch trout is by drifting salmon eggs or angleworms. Affix the eggs or worms to a small hook and cast into holes with an ultra light rod and reel. This method used from a drifting boat or dock will yield a nice stringer.
Lower Lake Taneycomo harbors a well-kept secret. The downstream area closer to Forsyth offers considerably warmer water and many other species of fish. This makes Taneycomo a versatile and challenging destination for anglers who are aware of its changing character from one end to the other. Fishing guides are available to help you make the most of your Lake Taneycomo experience.
Lake Taneycomo Facts
2,000-plus acres of surface area
40-plus miles of shoreline
Average water temperature of 58 degrees
750,000-plus rainbow and brown trout stocked annually
#3
Bull Shoals Lake
Bull Shoals begins where Taneycomo ends and flows eastward from Forsyth into Arkansas. Bull Shoals Dam, the fifth-largest concrete dam in the United States, is located seven miles north of Cotter, Arkansas. The lake's shoreline is relatively undeveloped and features steep bluffs and rock ledges. The lake has many areas within 20 feet of the shoreline measuring 50 feet deep or more. Its crystalline water makes the lake an ideal spot for scuba divers. Light tackle and line are the best choice for anglers.
Bull Shoals also provides a variety of public access points and a selection of quaint fishing lodges that offer privacy and a chance to explore surrounding Ozark Mountain scenery at its finest.
Guide to Bull Shoals Lake
Fishing Bull Shoals Lake
Bull Shoals Lake is popular for its white, largemouth and spotted bass. It is a popular tournament lake and has a reputation for producing lunker fish of several varieties, including stripers that weigh in at more than 50 pounds.
Record catches on this lake include a five-pound, five-ounce white bass, a 13-pound, 14-ounce largemouth bass and a 21-pound, one-ounce walleye. Crappie, bream and catfish of all sizes can also be found in Bull Shoals Lake.
Bull Shoals Lake Facts
45,440 to 71,240 acres of surface area (depending on the water level)
1,200-plus miles of shoreline
Bull Shoals Dam was created in 1951
The dam is 2,256 feet long and 256 feet high
---
Fishing Licenses
A fishing license is required to fish in the state of Missouri. Residents younger than 16 and older than 65 are not required to have a basic fishing license, and daily fishing permits are available. Military serving in the armed forces of the United States, and all former members of the United States armed forces and their immediate families stationed and residing in Missouri, may receive resident permit privileges.
Check out the Missouri Department of Conservation for more information about trout fishing permit requirements prior to your visit to Branson lakes. You can also consult a local guide service, marina or resort for up-to-date fishing regulation information. Area merchants also offer fishing licenses.