Where Can I Watch Fireworks in Branson?
Branson's firework displays are unmatched in the Ozarks area. Whether you're celebrating the holidays or just a summertime evening of fun, Branson is known for lighting up the sky with some spectacular displays that locals and visitors alike enjoy. 
We've made it easy for you to pick your favorite firework display. See below the many places that light up the Branson skies!
Fourth of July Firework Displays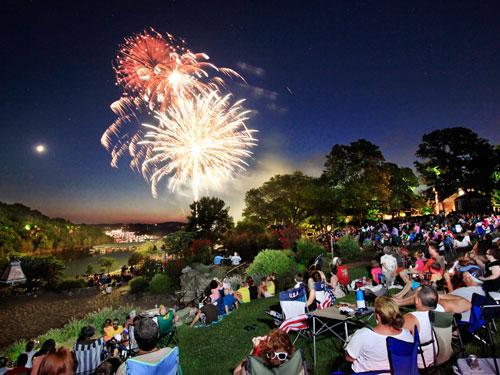 Kimberling City Firework Display
July 2
Not far from the Branson excitement, Kimberling City hosts its annual 

Fireburst

 fireworks show near the Kimberling City Bridge. Viewable by boat, car or lawn chair, this display attracts thousands to watch fireworks over the waters of Table Rock Lake on July 2!
Branson Landing's Liberty Light Up Celebration
July 3
You won't want to miss the 

Branson Landing's annual Liberty Light Up celebration

 on July 3! This year's event will include the Liberty Light Up concert, featuring Dirty Saints on the Branson Landing stage from 7 p.m. - 10 p.m. After the show, sparks will fill the night skies over Lake Taneycomo with an amazingly choreographed fireworks display that's sure to leave spectators in awe.
Treasure Lake Firework Display
July 3
Treasure Lake honors America each year on July 3rd with a spectacular display! The fireworks start at 10:00 PM. Best views are in the mini golf parking lot - bring your lawn chairs or blankets! 
Annual Hollister

Firework Display
July 4
A favorite local July Fourth celebration includes the fireworks show in Hollister, Missouri. The celebration begins at dusk on Independence Day and features the oldest fireworks exhibit in Taney County! 

The fireworks can be seen along scenic Lake Taneycomo or anywhere in Downtown Hollister. Arrive early for the best parking and seating; lawn chairs or blankets are suggested, and if you want to have dinner at the Landing, get there extra early - the restaurants get busy!
Chateau on the Lake Firework Display
July 4
Chateau on the Lake, Resort, Spa & Convention Center is one of the most popular resorts in the Branson area. Its 

Fourth of July Celebration

 features a spectacular fireworks display at dusk that lights up the evening sky. Contact the Chateau for hotel reservations so you don't miss out on a day full of fun and activities!
Big Cedar Lodge Firework Display
July 4
Kick-off Summer with fun games, inflatables, an air show, entertainment and more! Come hungry and enjoy a picnic-style All-American menu of mouthwatering foods prepared by Big Cedar's Culinary Team available on the Swimmin' Hole Lawn. The Wavetones from Oklahoma will perform and there will be a dance party and concert. Fireworks are set for dusk.
New Year's Eve Firework Displays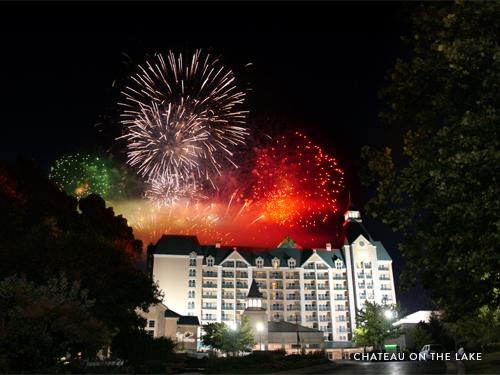 Chateau on the Lake Firework Display
Find a parking spot near Table Rock Lake and enjoy Chateau on the Lake's spectacular New Year's Eve firework celebration. Guests staying at the resort can enjoy festivities on-property, but the fireworks can be seen from anywhere nearby. 
Big Cedar Lodge Firework Display
Big Cedar ends each year with a bang! Anyone is welcome to view fireworks from land or from Table Rock Lake. Resort guests can partake in festivities on-property. 
Special Event Firework Displays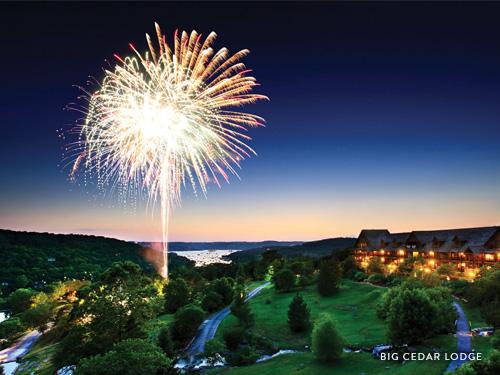 Silver Dollar City Moonlight Madness Firework Display
Silver Dollar City provides quite the summertime treat during their Moonlight Madness weeks. Each evening ends with a firework finale! See their Moonlight Madness schedule here
Night Water Firework Display
If you're looking for the perfect way to cool off from the summer heat, White Water kicks off its annual 

Night Water

 extended hours over Fourth of July weekend. The park will be open until 10 p.m., allowing you time to beat the heat late into the evening. Brave the drop of the Kalani Towers, splash to your heart's content in Splashaway Cay, or relax by floating the Aloha River. White Water's Night Water is the ultimate way to stay cool while celebrating the peak of summer!
Chateau on the Lake Holiday Firework Displays
On both Memorial Day and Labor Day, Chateau on the Lake hosts a celebration that includes a meal and live entertainment followed by a display of fireworks. The fireworks can be viewed from land, on the lake, or on the Chateau property as part of the festivities. 
Big Cedar Labor Day Firework Display
Fireworks on Labor Day are held at Big Cedar and are viewable from surrounding areas. Their Memorial Day fireworks are offered at their Swimmin' Hole Lawn at the resort but can also be viewed from Table Rock Lake. Drinks, appetizers, and live entertainment come with Big Cedar's special Sunset Fireworks Cocktail Cruise on their Lady Liberty yacht. Reservations are required.
Shows with a Boom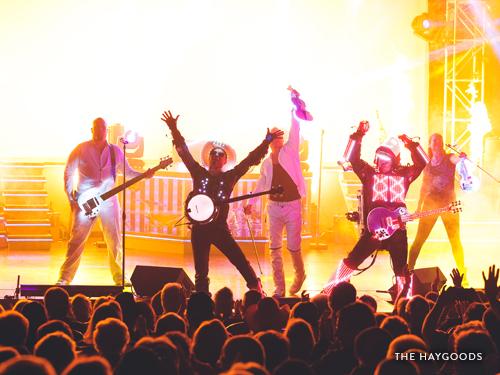 Shepherd of the Hills Firework Display
The 

Shepherd of the Hills Outdoor Theatre

 ends a performance of their historic drama with fireworks; a ticket to that evening's performance is required to view the display from the amphitheater seating area.
Branson Landing Fountain Show
At the heart of the Landing is a vibrant town square terracing down to an extravagant water feature with 120ft fire cannons blasting, all choreographed to light and music. Take the Branson Landing scenic boardwalk to enjoy! The water and fire spectacle is a creation of internationally renowned Wet Design, the producers of world-class shows for Downtown Disney marketplace in Orlando, Universal City Walk in California and the Bellagio in Las Vegas. Performances of the Branson Landing Fountains starting at noon daily. See the daily schedule here
Dolly Parton's Stampede Ring of Fire
It's not exactly fireworks, but if you want to be impressed by a fire stunt, grab a ticket to Dolly Parton's Stampede during the show! Among other tricks, a horse rider jumps through a ring of fire and impresses all ages in the crowd. 
The Haygoods
You won't experience anything quite as impressive as the pyrotechnics and fire effects seen throughout the Haygoods show! This Branson staple features co triple laser systems, instruments and clothes that light up, spark and fire tap dancing, an unmatched state-of-the-art light show and many more surprises. 
For more ways to celebrate in Branson, check out our events calendar here!
Places Mentioned
Find Your Next Branson Adventure