Article
Branson Golf Offers Great Course Combinations
Golf trips to Branson offer players many options, thanks to a diverse yet complementary collection of playing choices to suit everyone's game or budget.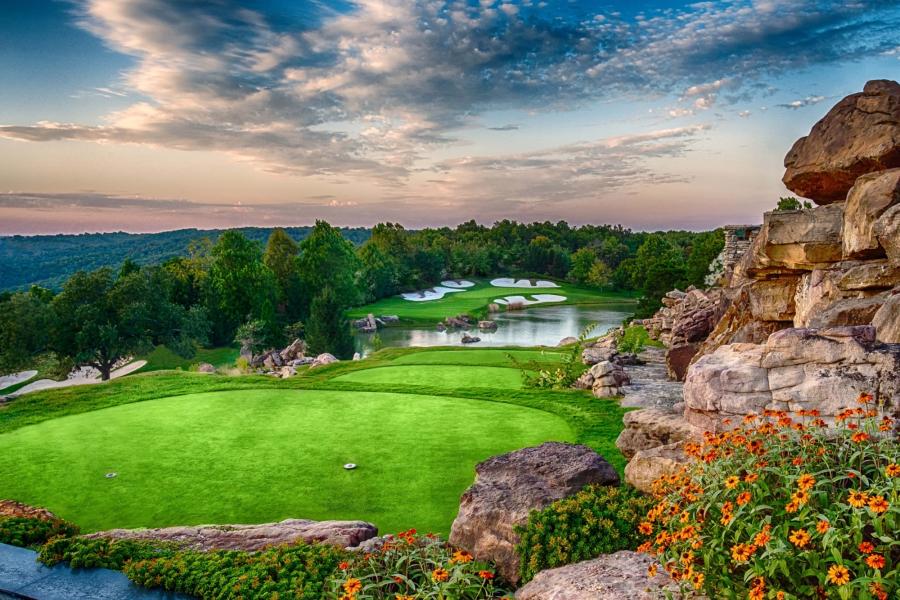 Branson is one of the fastest-growing, most-compelling golf destination in America. Several new and highly acclaimed courses have opened recently, including designs by Tiger Woods, Gary Player, Bill Coore and Ben Crenshaw. They join an existing collection of popular playing venues that combine to provide golfers with 10 terrific courses, all near one another and all open to the public.
Best New Course and Tiger Woods' First
The courses: Ozarks National and Payne's Valley
Why they pair well: Golf Digest named Ozarks National "America's Best New Public Course" after it opened in 2019. Designed by Bill Coore and Ben Crenshaw, arguably two of golf's greatest architects, Ozarks National can hold its own with the top resort courses in the country, thanks to its Ozarks scenery and astounding design. Payne's Valley opened in 2020, and it is Tiger Woods' first-ever public course design. PGA TOUR players christened it upon opening in a made-for-TV match. Rory McIlroy, Justin Thomas and Justin Rose joined Tiger, and they raved about its quality, player friendliness, and stunning 19th hole, which is nestled below the towering exposed limestone backdrop with waterfall and an island green. It's a scintillating "bonus" hole for settling bets that perfectly complements the wonderful regulation 18 holes.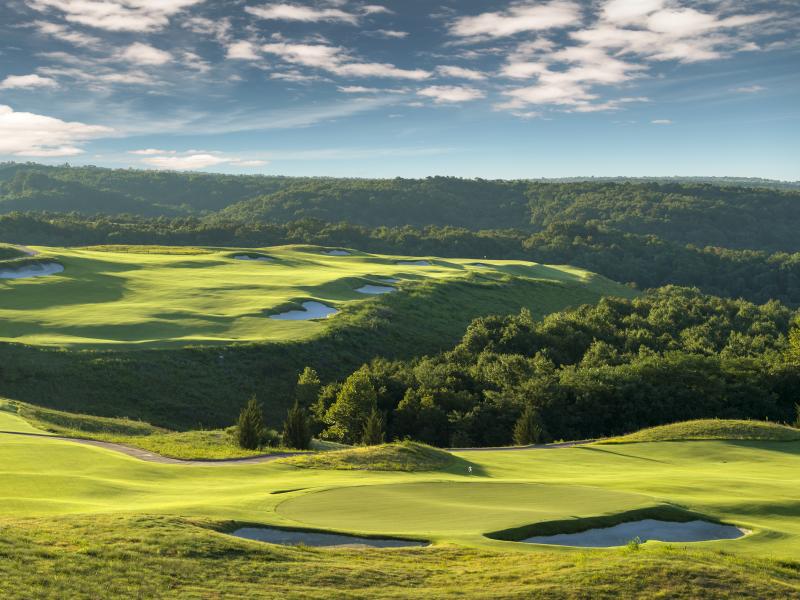 Ozarks Undulation Meets Creative design
The courses: LedgeStone and Thousand Hlls
Why they pair well: Both of these 18-hole courses brilliantly illuminate how the Ozark Mountains' terrain lends itself to designs that are fun, rollicking, and dramatic (yet fair). LedgeStone's holes are named, and they're indicative of their unique qualities and exciting features – "Deception," "Temptation," and "The Mermaid," for example. Thousand Hills is a par-66 course that is one of the area's favorite playing spots. Golf course architect Bob Cupp crafted a compelling collection of holes that are as unique as they are complementary. From short, risk-reward par-4s to longer holes with demanding approach shots over hazards, the variety is on full display. Best of all, Thousand Hills is one of the most budget friendly courses in Branson, so playing there offers the best of both worlds.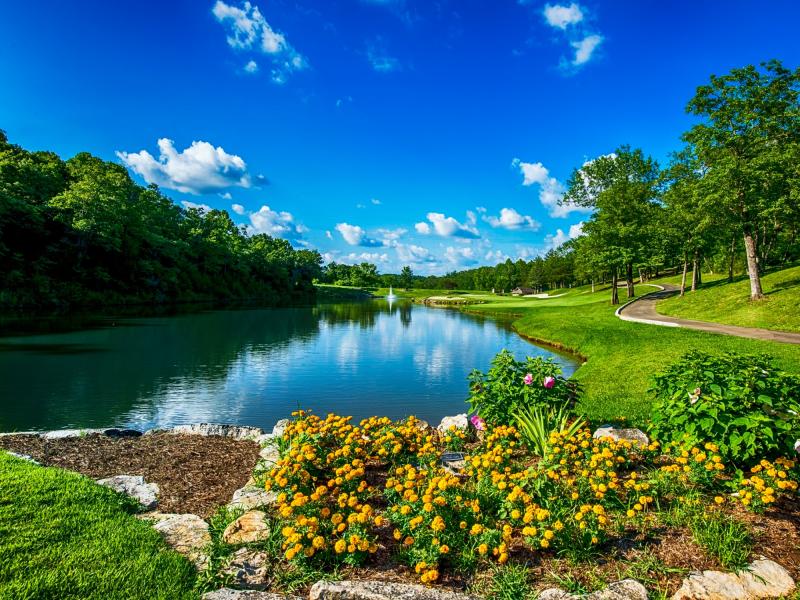 The Top of the Rock Two-Step
The courses: Top of the Rock and Buffalo Ridge Springs
Why it's a good combo: Jack Nicklaus designed Top of the Rock, a 9-hole, par-3 course that is so good that it was played with Buffalo Ridge by the PGA TOUR Champions during the Bass Pro Shops Legends of Golf at Big Cedar Lodge. It's virtually unheard of for a par-3 course to be part of a professional tournament; but, it should not be a surprise coming from a collaboration between the Golden Bear and Big Cedar Lodge founder Johnny Morris. Buffalo Ridge is a perfect complement to it, a brawny, gorgeous 18-hole layout that gloriously displays the beauty of the Ozarks on another top-notch course.
Popular and Player friendly
The courses: Holiday Hills and The Pointe at Pointe Royale
Why it's a good combo: A couple of Branson's more mature courses, they are popular places to play, are reasonably priced, and their layouts are different than other Branson Golf courses. Many of The Pointe's tee boxes are hugged by mature trees, meaning you'll need to be solid with the driver. Driving well leaves open approach shots to imaginative green complexes. The putting surfaces have subtle undulations that require a keen eye and deft touch with the putter. Holiday Hills was Branson's first course, and it's ideal for players who aren't long off the tee. Its 18 holes range from 4,400 yards to just under 5,800 yards, depending on the tees played. Forty well-placed bunkers make shot selection a key to success, and water is a factor on six holes.
The Long and Short of It
The courses: Branson Hills and Mountain Top
Why it's a good combo: These two courses jive well as one (Branson Hills) is muscular and long, and Mountain Top a short course. Branson Hills was designed by Chuck Smith with former U.S. Amateur champion Bobby Clampett. It was voted one of the top 50 courses in the U.S. by players via Golf Advisor's Golfers' Choice 2021. Branson Hills rewards players who are long off of the tee, especially from the rear tees, where three holes play more than 550 yards (including one at 599).  But there are many tee-box options, including the silver tees at 6,300 yards. Mountain Top opened in 2017 and is a 13-hole par-3 course by World Golf Hall of Famer Gary Player. It's one of Branson's most beautiful venues, thanks to its perch high above the surrounding landscape. There are no golf carts, it's a walking only course, but golf "trolleys" are available to push/pull your clubs. The holes play from 82 to 221 yards, and jaw-dropping, exposed limestone formations add stunning geological wonder to the experience.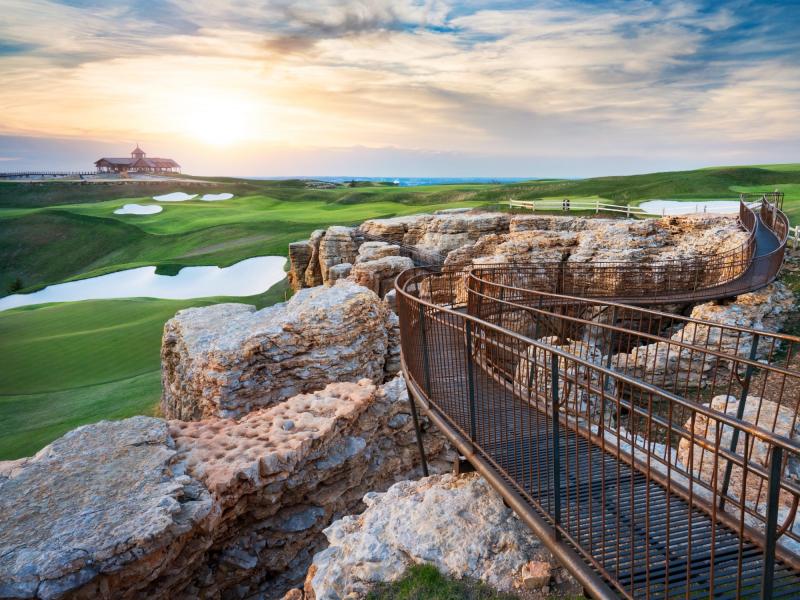 These are just a few of the excellent golf courses waiting for you in Branson, where a day on the links is part of a fun and well-rounded vacation experience.