Article
Branson's Growing Golf Experience - Big Cedar Golf
Johnny Morris at Big Cedar Golf is constantly teeing up more legendary golf experiences in Branson.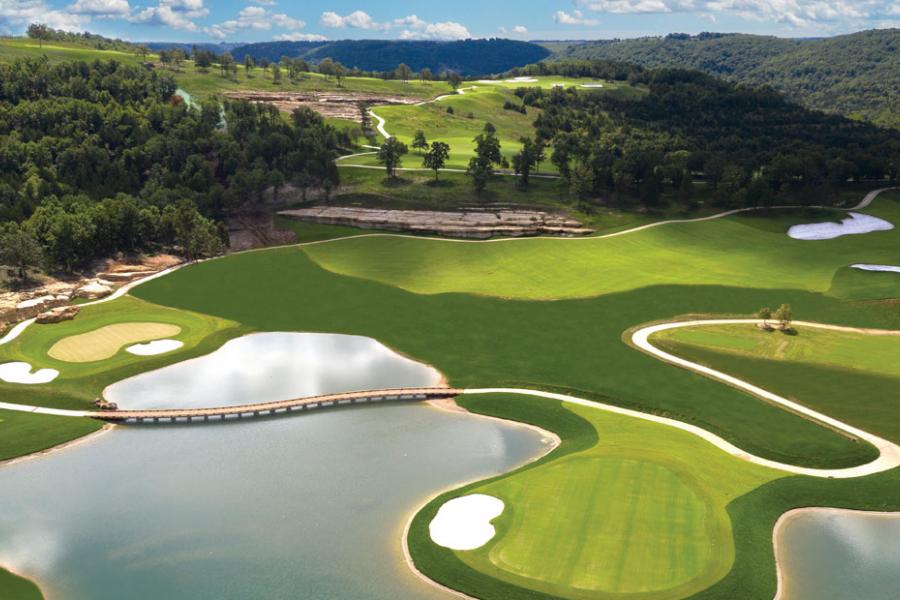 Morris developed another course in 2020 that joins Top of the Rock, Buffalo Ridge Springs, Mountain Top and Ozarks National in Big Cedar Lodge's stable of incredible golf amenities - Payne's Valley. 
Payne's Valley Course
Payne's Valley is America's first TGR Design public access golf course. The unique feature about this course is the extraordinarily 19th hole. Known as "The Rock", the 19th hole can be used for settling unfinished wagers. Set on one of the most dramatic geological features imaginable, the player-friendly walkable course ends with a breathtaking natural cavern system which returns to the clubhouse after the 19th hole completed.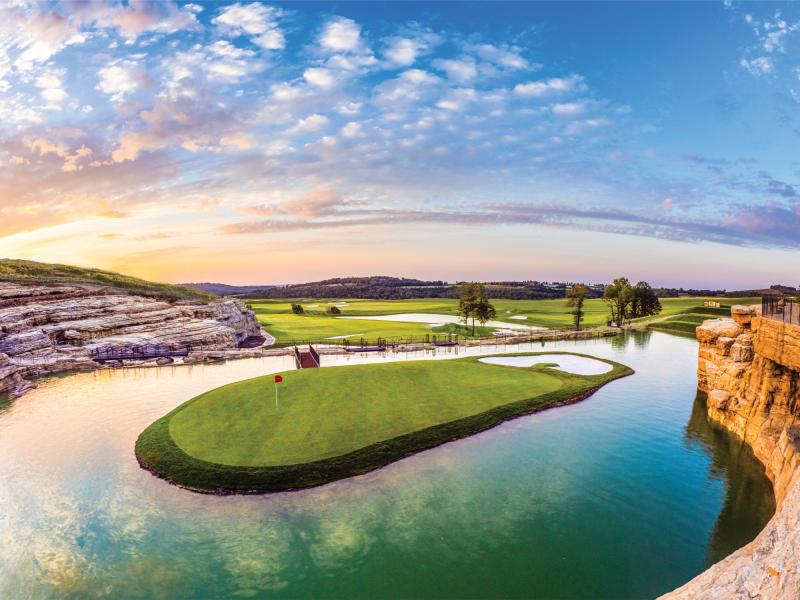 The Mountain Top Course
The Mountain Top Course appeals to golfers juggling busy lifestyles. Located on the Buffalo Ridge property, the 13-hole par 3 course will require less time to play. Golfers are required to walk – no carts allowed. Players can complete a round in less than two hours. Convenient and healthy – ideally aligned with Players' legendary lifelong dedication to fitness.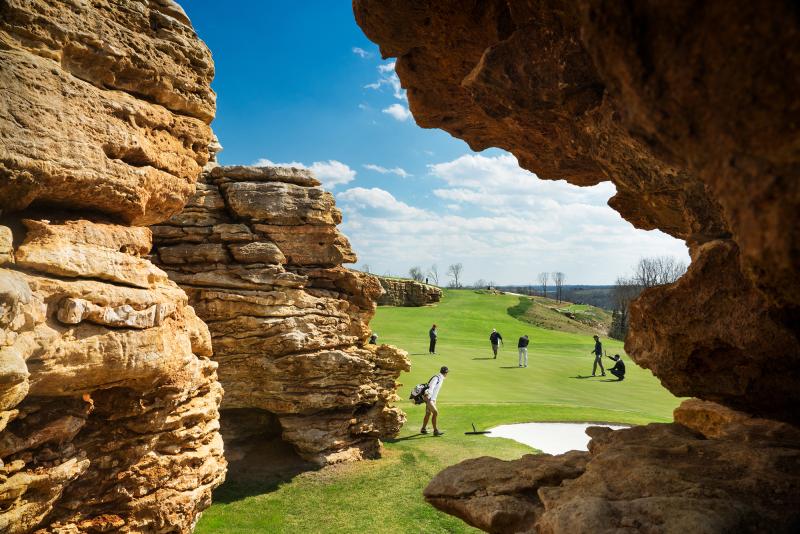 Ozarks National
This 18-hole course, designed by Bill Coore and Ben Crenshaw, is integrated into the beautiful terrain of the Ozarks just south of Branson. Ozarks National measures 7,036 yards from the back trees, is masterfully carved into the landscape, and produces holes that both challenge golfers' games and delight their senses. The most visually unique feature at Ozarks National might be the 400-foot wooden beam and plank bridge on the 13th hole that towers 60 feet above a rushing creek, but each turn of the course brings new sights that connect players to the nature around them.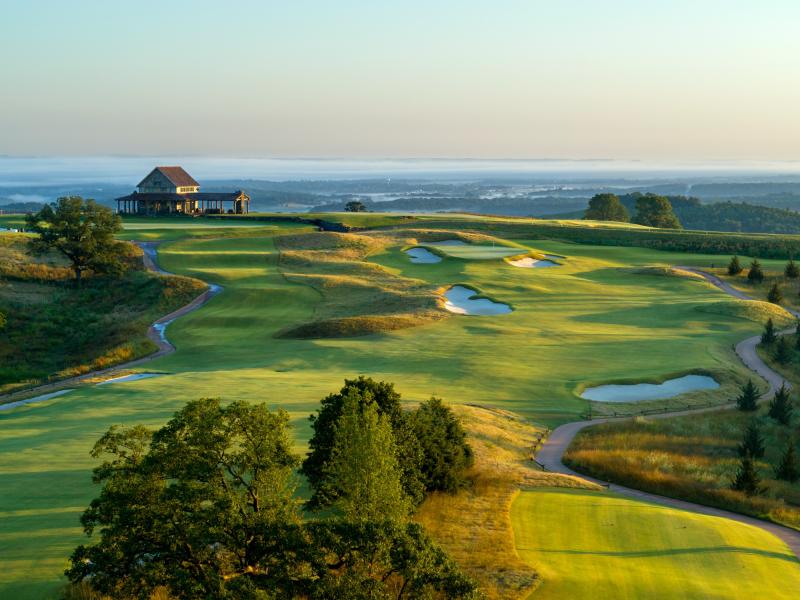 Buffalo Ridge Springs Course
Another course with high praise from golfers worldwide is the Buffalo Ridge Springs Course. Designed by Tom Fazio, this 18-hole course allows players to experience Ozark beauty in while enjoying a round of golf. Rated #1 Public Course in Missouri by Golf Magazine and one of the Top 10 Missouri Courses by Golf Digest, this course is a must see.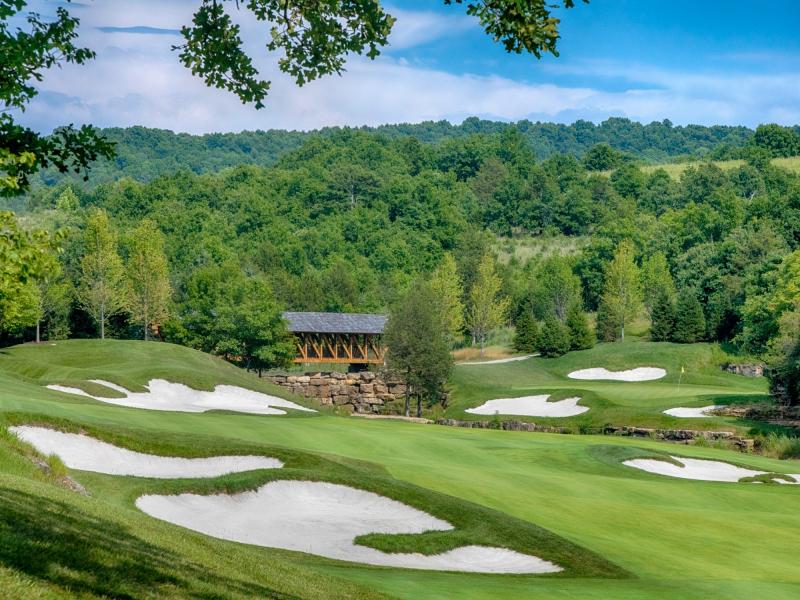 Top of the Rock Golf Course
Known as the first-ever Par-3 course included in a professional championship, Top of the Rock Golf Course is one of the first golf courses that Morris brought to life. This amazing golf experience was created over seven and half years with the help of Jack Nicklaus, Tom Watson and Arnold Palmer. These golf legends, along with Morris, worked diligently to give each player an experience to remember.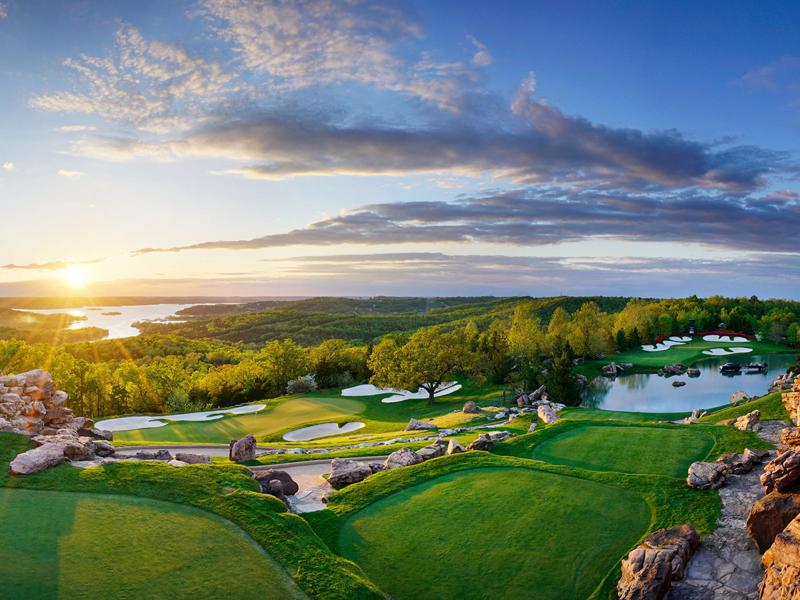 All of these courses add to Branson's growing reputation as a top golf destination and there are several other top-notch courses throughout the area. Learn more about these courses and others here. 
Places Mentioned
Find Your Next Branson Adventure