Article
Make a Splash at White Water in Branson
On a hot, Missouri summer afternoon, nothing beats cooling off in the refreshing waves of White Water, Branson's 13-acre premier water park.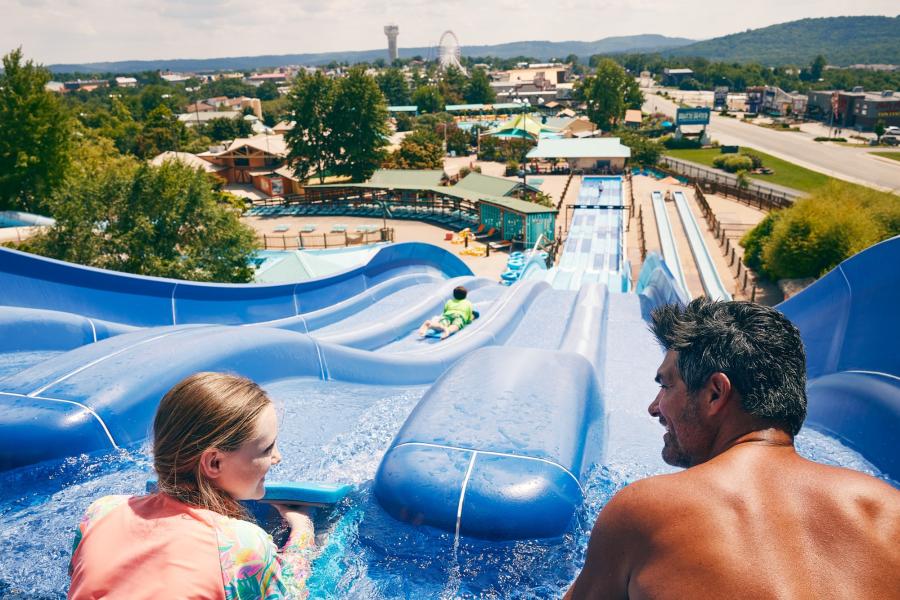 From heart-pounding rides and delicious eats and treats to after-dark attractions and cascading waterfalls, White Water in Branson is full of wet and exciting adventures! Check out some of the park's major features:  
Rides and Attractions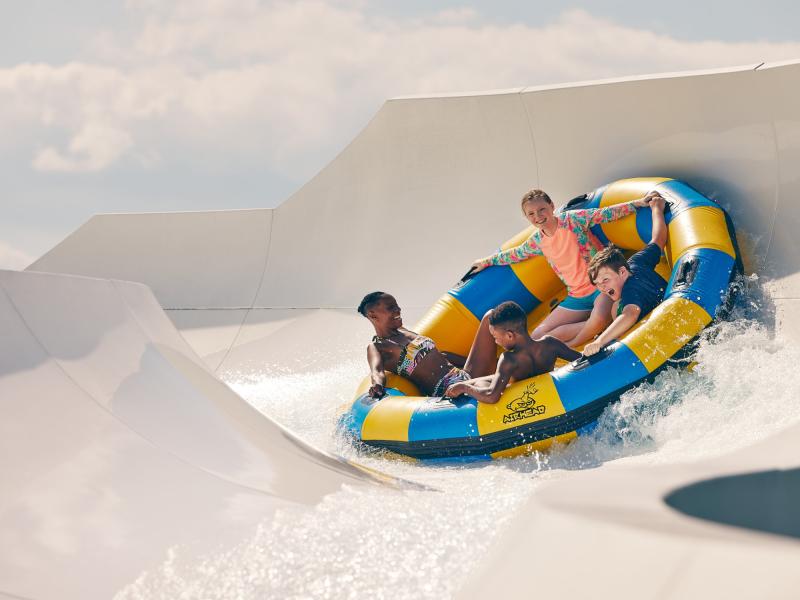 Whether your idea of fun in the sun includes splashing in shallow waters or riding the tides for a liquid adrenaline rush, you're sure to find a cool way to stay entertained at White Water. 
KaPau Plummet, which topped all sorts of must-ride lists when it opened in 2014, is one of White Water's most exhilarating attractions. This ride is not for the faint-hearted! Two 245-foot waterslides send riders on a pulse-pounding free fall from 40-feet in the air, resulting in an epic plunge.
Challenge friends and family in an ultimate race to the bottom on favorites like Kalani Towers, Waikiki Wave and Pipeline Plunge. Each ride features thrilling waterslides, dramatic dips and drops, and the opportunity to claim bragging rights. If competition isn't your thing, grab the gang and head to Ohana Falls — you'll find rafts big enough to fit the whole family and excitement that will keep you coming back for more.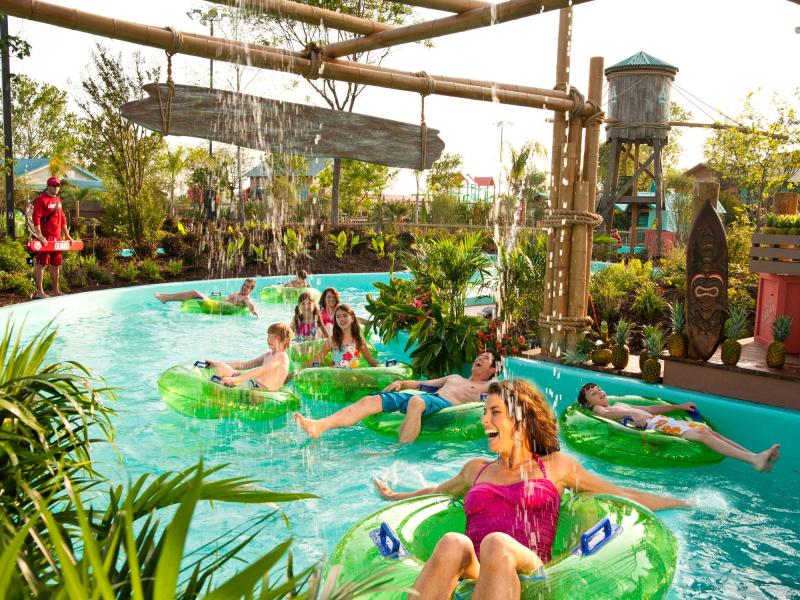 Hangout in the Surf's Up Wave Pool, perfect for floating, swimming and playing. Just be aware that fresh waves come every time a bell rings. While four-foot breakers are ideal for body surfing, those who wish to sunbathe should retreat until the surf calms, or grab a tube and head to White Water's longest ride, Aloha River at Hula Hula Bay. This ride stretches more than the length of two-and-a-half football fields. Its calm current and waterside flora transport visitors to a remote island landscape. If you have small kiddos, Coconut Cove and Splashaway Cay are both family friendly areas of the park that offer hours of sun-soaked entertainment tailored especially for the little ones.
** Know Before You Go ** Create a home base by reserving a private cabana for you and your crew. Regular 12' x 12' cabanas are located next to six main attractions and provide your family with shade and privacy, as well as four lounge chairs, a 32" TV with Dish satellite access, a ceiling fan, four tubes, a personal locker, a table and four chairs.
Night Water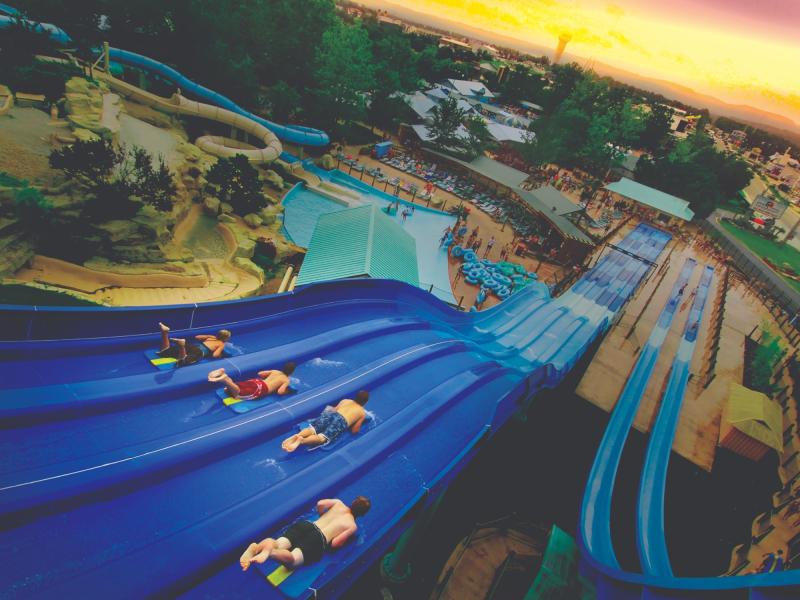 You can keep the water park fun going all day and night on select Fridays and Saturdays this summer with White Water's extended hours. The park's Night Water starts in July and runs through August. It includes accessibility to park rides after dark and even a special fireworks display on Saturday evenings at 9:45 p.m. 
Dive-In Movies 
Catch a flick during "Dive-In" movie nights on some summer Fridays. Animated favorites from Disney, Pixar and others are featured on a whopping ten-foot screen above the massive Surf's Up Wave Pool. Grab a tube, hop in the pool and enjoy the show.
Delicious Dining
Swimming and splashing certainly works up an appetite! White Water boasts a bounty of on-site dining options. For quick snacks to cool you off and tide you over, stop by Big Island Marketplace or North Shore Coffee & Cones for ice cream treats, ice-cold frappes and smoothies, pretzels and more. Surf's Up Snacks serves up concession favorites, like mouthwatering corn dogs and fragrant funnel cakes. You can even chow down on a slice of pizza from CiCi's Pizza. For sit-down dining, grab a table at High Tide Hannah's Island Café and sample their hearty cheeseburgers, all-American hot dogs, refreshing salads and an under $5 kids' menu. Satisfy any craving for barbeque or tacos with Big Kahuna BBQ and Hula Hula Taco. 
** Know Before You Go ** With two million gallons of H2O to splash around in, who wants to play in the rain? If your visit coincides with 30 minutes of nonstop rain or other weather-related interruptions, stop by Guest Relations for a complimentary return ticket or guest voucher as part of White Water's generous "Sunny Day Guarantee."
With 2 million gallons of fun waiting to be splashed around, White Water in Branson is the perfect place to beat the heat this summer! Start planning your summer Branson getaway here.