Article
Mini Golf Courses in Branson
Branson is famous for its variety of family entertainment. Shows, museums, amusement rides and water recreation are just a few ways visitors make memories every day, but did you know that Branson is also home to another classic family activity? That's right – miniature gol!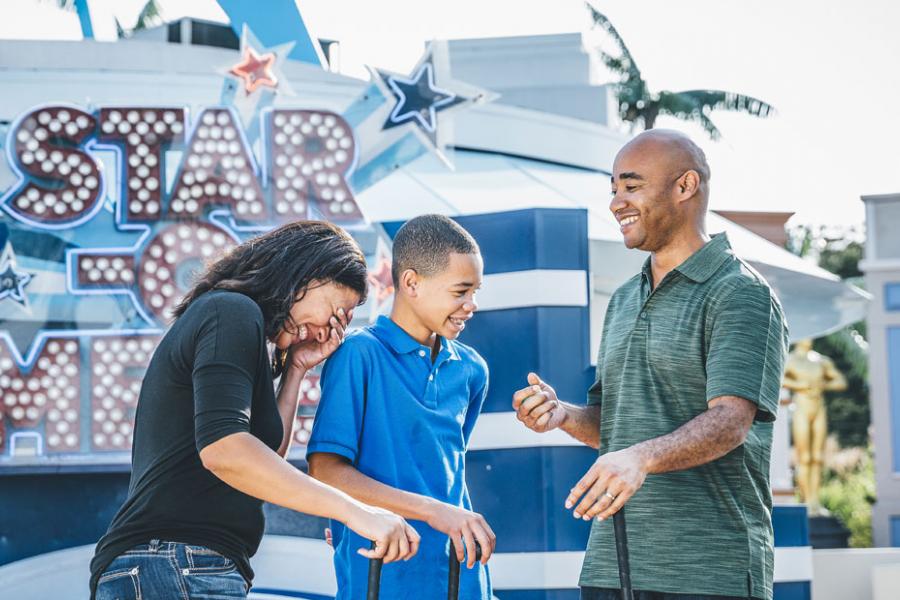 Whether it's a traditional mini-golf course with props and hazards or a modern glow-in-the-dark course with plenty of visual effects, you can find the perfect course to suit your taste for a round of putt-putt in Branson. Want to take the full tour? Try your hand at Branson's top mini golf courses and see if your game is up to par.
Shoot for the Stars Mini Golf 
3110 W. 76 Country Boulevard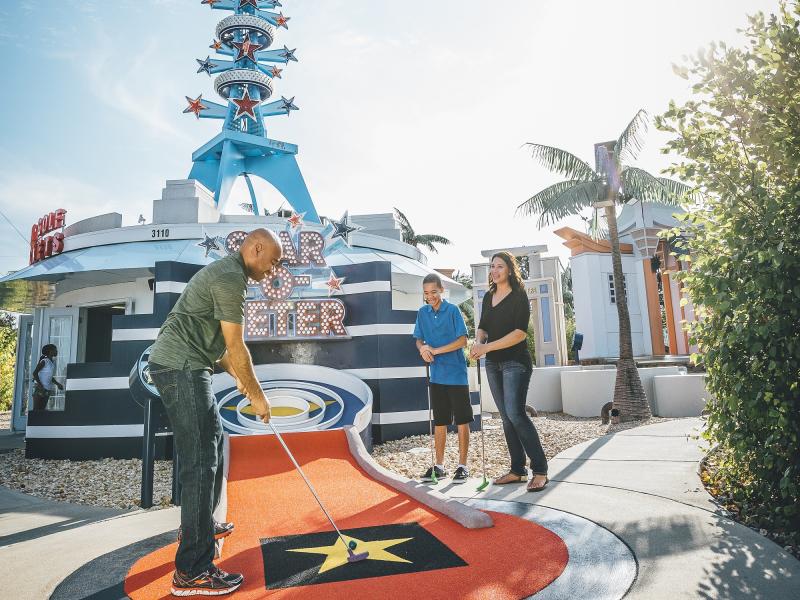 Putt your way to fame at Branson's Shoot for the Stars mini golf course, which includes 18 holes that feature Hollywood landmarks such as Grauman's Chinese Theatre, Capitol Records and the Hollywood Bowl, as well as plenty of palm trees, parties and paparazzi. Each hole also offers golfers tips on how to become a star. A wisecracking agent, Marty McBooster, guides the journey with hilarious words of advice.
Cave Country Mini Golf 
423 Fairy Cave Lane, Branson West
Visitors touring Talking Rocks Cavern love to enjoy a classic game of miniature golf before or after their tours – or both! Cave Country Mini Golf, a mostly shaded nine-hole course, features a cascading waterfall and plenty of fun props, in addition to a sinkhole housing the first hole. As you play, you'll learn about groundwater, sinking streams and other interesting facts about the water cycle and the canyon – Talking Rocks refers to it as "edutainment."
Wild World 3D Adventure Mini Golf 
2020 W. Highway 76
Mini golf enthusiasts and amateurs love to experience the 3-D black-lit miniature golf course at Branson's Wild World Animal Adventure Park and Aquarium. Set amid the venue's snakes, crocodiles, frogs and lizards, the nine-hole course features plenty of illuminated pirates, a jungle, a treasure cave, a volcano and an island. Golfers can even add an extra level of dimension and excitement to their games by wearing available 3-D glasses.
Grand Country Resort Mini Golf 
1945 W. 76 Country Boulevard
This grand Branson family destination offers visitors a complete vacation experience all in one location. Located in the heart of Branson's entertainment district, Grand Country Resort features a water park, arcade, laser tag, restaurants, lodging, shopping, shows and miniature golf. The resort's three mini golf courses include black lights, 3-D effects, plenty of obstacles and animated farm animals.
Farm Mini Golf, Grand Country's newest course, takes guests back home to the farm with two different courses, each featuring life-size animated farm animals, as well as barns, ponds, coops and more. Special sensors bring the outdoor course to life by activating animations and sound effects as golfers progress through the game.
Indoor Golf, Grand Country's classic indoor course, features 36 holes of exciting game play, complete with waterfalls, rivers, plenty of obstacles and a good old-fashioned Ozarks' rainstorm every 30 minutes. This course was even deemed one of Top Ten Mini Golf Courses by USA Today! 
White River Black Light  will test your true mini golf skills, taking you through the sights and sounds of old river towns. As you play your way through the 3-D black-lit course, you'll experience river boats, fishing scenes and kids painting fences in the style of Tom Sawyer. It's truly a miniature golf course you have to see to believe, thanks to computer-generated effects and special animations. 
Pirate's Cove Mini Golf 
2901 Green Mountain Drive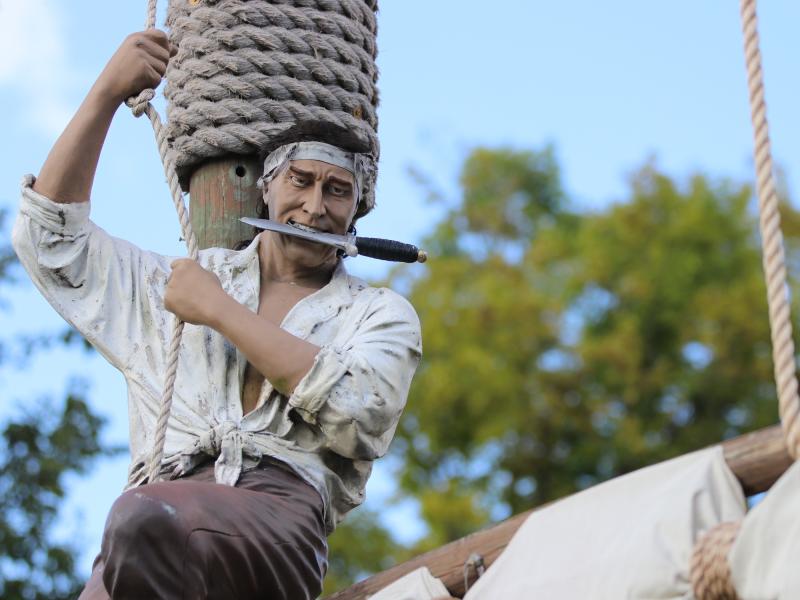 Pirate's Cove, an ultimate Branson mini golf experience, features two 18-hole courses, designed to promote family fun. Both award-winning courses include elaborately themed buildings, cascading waterfalls, exotic fauna and even a full-scale pirate ship. One step onto the course, and golfers are magically transported into the 18th-century world of carousing pirates. 
Professor Hacker's Dinosaur Canyon Mini Golf 
2501 Green Mountain Drive
Follow the fictional Professor Duffer Hacker as he seeks his way through a volcanic canyon inhabited by creatures thought to be extinct. Dinosaur Canyon features two 18-hole courses and a volcano that blows real fire surrounded by waterfalls, caves, streams, ruins and giant lizards. Players love the exciting scenery, and putting around a T. Rex, Stegosaurus and other dinosaur pals makes for lasting family memories.
Lost Mine Mini Golf and Route 76 Glow Golf at The Tracks 
(Multiple locations) W. 76 Country Boulevard
The Tracks Family Fun Parks may be best known for their exciting go-kart tracks and proximity to the Branson Ferris Wheel, but they also feature plenty of other games and activities, including two mini golf courses. Try your hand at a classic game at the 18-hole Lost Mine Mini Golf course located at Track 3 (2505 W. 76 Country Boulevard), where you can explore and putt your way through an old mining town. Afterward, trot down the street to Track 5 (3525 W. 76 Country Boulevard) and tackle the Route 76 Glow Golf, a custom-designed nine-hole course lit by black lights that features models of some of Branson's most famous landmarks and attractions.
Brookside Mini Golf 
2925 Shepherd of the Hills Expressway
Mini golfers can relax and play along the banks of a babbling brook at the Brookside course. Masterfully landscaped to include waterfalls, fountains and even outdoor misters to keep players cool, the grounds feature two golf courses to extend hours of enjoyment. Brookside also features well-kept greens and flags at each cup, resembling a traditional golf course. The lack of cartoonish props and scenery makes Brookside an ideal fit for more serious mini golfers.
Professor Hacker's Lost Treasure Mini Golf 
3346 W. Highway 76
Professor Hacker is at it again, leading two expeditions to the Fogclift Islands to search for ancient gold and diamond mines. Golfers take a mining car to the top of a mountain to putt their way through an exciting expedition. Lost Treasure features two 18-hole courses, as well as a mining train that takes players from the clubhouse to the first hole. As they embark on their mini adventure, golfers also encounter a host of waterfalls, streams, ruins and an airplane.
Greatest Adventures Mini Golf
4800 N. Gretna Road
Greatest Adventures Mini Golf, a 36-hole themed miniature golf course, includes medieval castles, knights, waterfalls, caves, gorillas, Egyptian artifacts and even a smoking dragon! Divided into two 18-hole courses, Greatest Adventures features two separate themes: medieval and Egyptian, as might be assumed from the aforementioned props and scenery. Play either one or two games, or splurge for the all-day pass. Greatest Adventures also offers an onsite restaurant, serving golfers cold drinks and tasty meals before, after or in-between games.
Bigfoot Adventure Golf 
3608 W. Hwy 76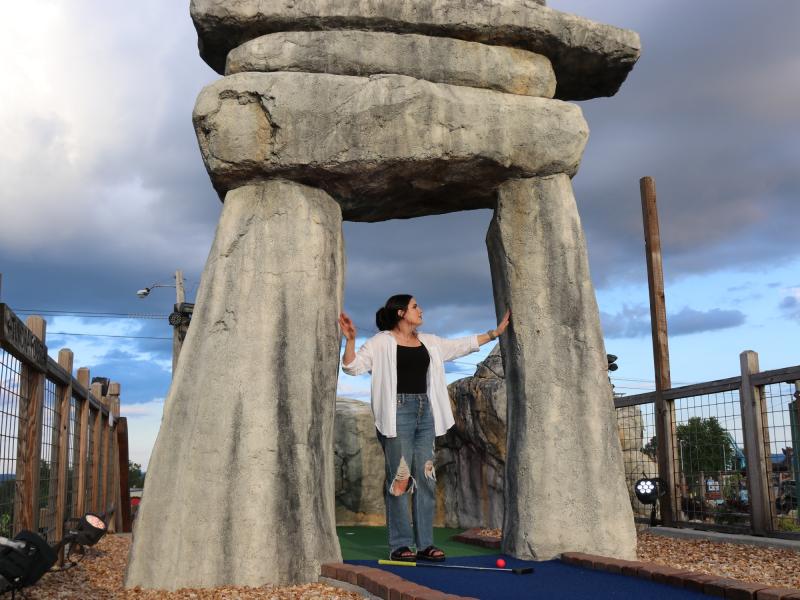 Bigfoot Adventure Golf™ is a mini golf adventure that will leave you in awe over the 18-hole Bigfoot-themed course. Marvel at Bigfoot's tracks, woodlands, research lab, and frozen tundra as you make your way along the 18 different putt-putt holes. Walk through a cave decorated with glow-in-the-dark and blacklight paintings of bats, wolves and other creepy-crawlies. You might spot evidence of Bigfoot after following some large footprints along each hole! 
Wildwood Mini Golf 
200 S. Wildwood 
Step into the Wild West as you putt your way across the prairie at Wildwood Mini Golf. This indoor course is perfect for family outings or group retreats. Watch out for Branson's Most Wanted, and be sure you don't get stuck in jail! Wildwood Mini Golf is open daily, 9 a.m. to 9 p.m. Winter hours may apply.
For more attractions in Branson, visit here. 
Places Mentioned
Find Your Next Branson Adventure