These luxurious spas will pamper and spoil you. Unwind from the stress of the daily grind and get refreshed for all the other excitement Branson offers.
To fully experience a fun, yet relaxing Branson getaway, be sure to work in some spa time. During your visit, you'll quickly see that pampering you is the priority No. 1. And it's okay if you don't feel like going it alone, as several Branson spas offer couples massage options and cater to groups (including bridal parties and girls' getaways), too. 
Read on to learn about three great spas in Branson, including Chateau on the Lake Resort, Spa and Conference Center and Big Cedar Lodge. Among Branson's most well-known resorts, Chateau on the Lake and Big Cedar are also home to word-class spas.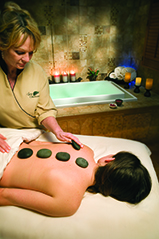 Spa Chateau
Spa Chateau at Chateau on the Lake has a variety of services to help you unwind from your days dealing with work, kids, your significant other or whatever else is on your mind. Options include stone massage, Swedish massage, body scrubs, body wraps, manicures, pedicures and salon services.
No matter which type of treatment or service you select, remember to arrive a little early to take advantage of the steam room and sauna (or linger after your treatment to keep the relaxation going). Oh, and just a tip: Spend as much time as possible in one of the spa's robes. Sitting around in these comfy, cozy wraps is almost like a vacation in and of itself.
Cedar Creek Spa
Over at Big Cedar, Carriage House Spa and Lakeside Spa are the go-to spots for relaxation at Cedar Creek Spa. Regardless of when you go and which spa facility you choose, know that it's okay to treat yourself with a spa day. And perhaps there's no better experience than Big Cedar's Signature Package, a three-hour treatment that includes massage, body polish and a body wrap. Yes, three hours. You've earned it.
But if you have planned too much fun to spend that much time relaxing, try the 30-minute neck, shoulder and foot massage. Big Cedar also lets younger guests get in on the party, with custom nail services and facial treatments designed specifically for those ages 15 and younger.
Spa O2
Spa O2 is a new premier day spa in Branson, offering massage therapy in the form of Couples Massage, Swedish/Relaxation, Bamboo-fusion, Prenatal, Sports, Deep Tissue, and Sinus Massage w/ Aromatherapy. Spa O2 also offers customized facials for men and women, waxing services, ionic foot detox, Himalayan Salt Detox, and the very first Oxygen Bar in Branson. With an Oxygen Bar session, you breathe filtered 90% oxygen combined with an aromatherapy of your choice.