Rise high in the sky and encounter two of the best views in Branson on Parakeet Pete's Steampunk Balloon and Waterfront Zipline attractions.

Parakeet Pete's hosts two of Branson Landing's favorite attractions: the Steampunk Balloon and Waterfront Zipline. The Steampunk Balloon is located at the north end of Branson Landing near Belk Department Store and Paula Deen's Family Kitchen, while the Waterfront Zipline is further south, near the Fountain Show in Town Square.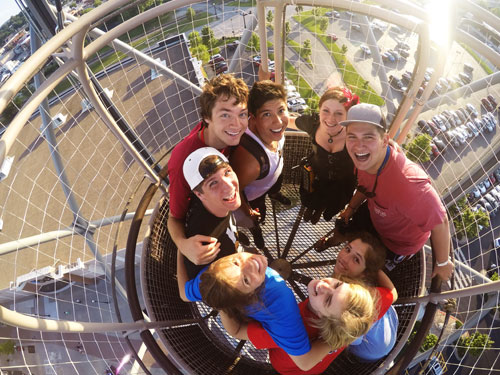 The Steampunk Balloon can take as many as 12 riders 188 feet up, and offers incredible photo ops and a 360-degree bird's eye view of Lake Taneycomo and the surrounding Ozark Mountains. With its steampunk-style atmosphere, Parakeet Pete's balloon pays tribute to the sci-fi subgenre and a post-apocalyptic world run by steam, complete with Victorian and industrial Era-themed décor, costumes and gifts. The only of its kind on Earth, the balloon ride lived the first seven years of its life near Paris' famous Eiffel Tower before being shipped across the Atlantic and on to its final destination of Branson. In fact, it took four 40-foot containers to move the ride over the ocean.
Parakeet Pete's Steampunk Balloon ride is unique in that it offers passengers the experience of soaring sky-high in a balloon without being subject to wind. Instead, the hot-air balloon rises within a metal tower, assembled with 6,500 bolts atop a foundation that reaches 50 feet underground. The ride is so secure, in fact, that it can operate in gusts as fast as 70 mile per hour, rain or shine. Some of the best views are actually availed to passengers who ride during a rain shower as they rise up into the clouds and look down at the weather. Other passengers have overcome their fear of heights by securely riding in the balloon, which is also accessible to strollers and wheelchairs. The experience is so unique that one happy couple even exchanged wedding vows aboard the balloon in May 2015.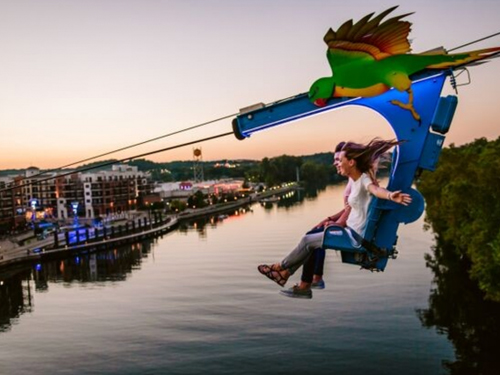 The full Parakeet Pete's Steampunk Balloon experience lasts less than 10 minutes, but during that time passengers are not only treated to spectacular views, but the balloon's "pilots" offer an aerial tour of the Branson area, complete with little-known Branson trivia. Parakeet Pete's Steampunk Balloon offers an affordable way for anyone to experience ballooning.
After embarking on the balloon ride, adventuresome Branson visitors can take the short trek over to Parakeet Pete's Waterfront Zipline. Unlike a traditional zipline in which passengers wear a harness, Parakeet Pete's Waterfront Zipline whisks participants across Lake Taneycomo in a proprietary seat system. Riders are taken on a backwards journey across the span of Lake Taneycomo and experience a momentary pause to take in the view when they reach the other side of the shore. Without warning, the two-person seat will take off (moving forward) toward its base destination, reaching thrilling speeds along the way. Guests must be at least 42" to ride. 
Full day of fun but need your empty stomach to catch up? Check out Branson Landing's vast restaurant spread.