Article
Branson Landing Restaurants
Branson Landing reaches new heights as a shopping and entertainment destination by offering a variety of restaurants.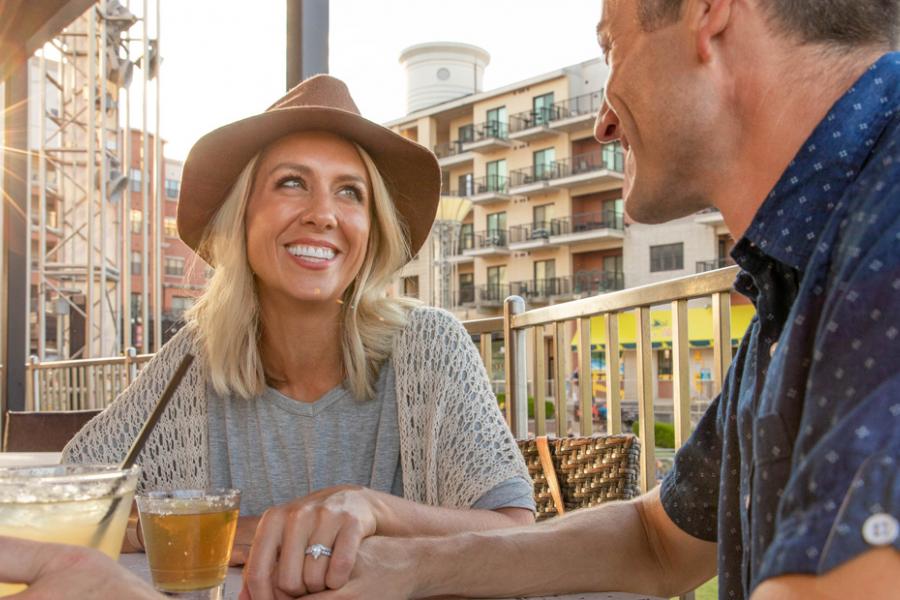 From grab-and-go chains to unique-to-Branson favorites, Branson Landing has dining options for every preference, budget and craving. As one of Branson's most visited locations, it's no wonder you'll find the most variety of dining options at Branson Landing.
Andy B's Bowl Social
405 Branson Landing Blvd.
At Andy B's Bowl Social, you'll find a full-service, modern-American restaurant and hand-crafted beverages that are sure to satisfy your cravings. While you eat, enjoy a handful of games and attractions in a modern, industrial atmosphere with mid-century attitude.
Big Whiskey's American Bar And Grill
301 Branson Landing Blvd.
Big Whiskey's American Bar and Grill is known for excellent food and an impressive collection of whiskey and spirits. They specialize in hand-cut steaks, street tacos, craft burgers, award-winning wings, salads and 100+ whiskeys. Located in the heart of the Branson Landing, Big Whiskey's is the perfect stop after a day of sightseeing and shopping!
Black Oak Grill
601 Branson Landing Blvd.
You'll find Black Oak Grill as you enter the north end of the Branson Landing. Black Oak Grill celebrates American food and leisure in a relaxed yet refined atmosphere. Guests are encouraged to come as they are and come hungry – they'll take care of the rest!
Cantina Laredo
1001 Branson Landing Blvd.
For authentic Mexican food with a modern twist, check out Cantina Laredo. Many of their mouthwatering Mexican dishes are topped with signature sauces like chipotle-wine, portobello mushroom, sautéed artichoke heart and roasted bell pepper. When the weather's nice, be sure to ask for a patio table and watch the fountain show at the top of every hour!
Garfield's Restaurant & Pub
1221 Branson Landing Blvd.
Check out Garfield's for a large variety of yummy cuisines the whole family will enjoy. From burgers and sandwiches, to steaks, ribs, pasta and salads, Garfield's has something for everyone. Garfield's casual environment and timeless food brings great times and great tastes for all.
Guy Fieri's Kitchen + Bar
1111 Branson Landing Blvd.
New to Branson Landing, enjoy the uniquely crafted tastes of famous chef, author and television personality, Guy Fieri. This new Kitchen + Bar showcases some of Guy's award-winning dishes alongside his favorite craft beers and cocktails. The atmopshere inside is hopping and the outdoor view of Lake Taneycomo is stunning. 
Joe's Crab Shack
717 Branson Landing Blvd.
For an informal and delicious seafood dining option, check out Joe's Crab Shack. Order a crab bucket or some stuffed shrimp to experience seafood Joe's way! Delicious American comfort food and gluten free dishes are also available.
Landshark Bar & Grill
915 Branson Landing Blvd.
LandShark Bar & Grill feels like it belongs on the shore of Lake Taneycomo as it is inspired by the great "beach joints" that once lined the Atlantic Coast. The menu consists of American beach food with a fresh coastal twist, cold draft LandShark and fabulous frozen concoctions. Be sure to dine on the covered patio for a front row seat to the Branson Landing fountain show.
Mellow Mushroom
333 Branson Landing Blvd.
Mellow Mushroom is an eclectic indoor/outdoor restaurant that has quickly become one of the trendiest place to grab a bite or a drink. Mellow Mushroom serves delicious appetizers, hoagies, salads, calzones and stone-baked pizzas. There are also a variety of vegan and gluten free options. Don't leave without trying a Dude's Daiquiri drink. 
Paula Deen's Family Kitchen
545 Branson Landing Blvd.
Enjoy Paula Deen's Family Kitchen - where good food brings people together! This family-style restaurant will keep your mouth watering from start to finish. While you're in, check out Paula Deen's store, featuring over 3,000 retail items from the First Lady of Southern Cooking.  
Qdoba
482 Branson Landing Blvd.
Qdoba is a tasty, modern Mexican restaurant located at the north end of the Branson Landing. In addition to their unbeatable menu, flavors and varieties, Qdoba lets you top off your dish with guacamole and queso at no extra charge.
Saltgrass Steak House
801 Branson Landing Blvd.
Enjoy a meal from a steakhouse that aims to recapture the flavor of the open campfire. Saltgrass' steaks, chicken and seafood are chargrilled to perfection and complimented by hand-made breads, soups and desserts.
Subway
109 Branson Landing Blvd.
Subway guarantees freshness with every bite. Stay healthy with one of Subway's signature wraps or chopped salads. This well-known chain is a great casual, quick bite option for a midday break from shopping.
Waxy O'shea's Irish Pub
235 Branson Landing Blvd.
Get ready to be transported to Dublin when you walk through the doors at Waxy O' Shea's Irish Pub. Waxy's offers amazing live entertainment, unbeatable happy hour specials and impeccable food and drink options. This is a one-of-a-kind bar you don't want to miss!
White River Fish House
1 Bass Pro Dr.
The White River Fish House's floor-to-ceiling, panoramic windows provide a stunning view of Lake Taneycomo. Bass Pro Shop's scenic White River Fish House is a floating barge that serves American dining favorites.
See what makes Branson Landing fun for all ages here. 
Places Mentioned
Find Your Next Branson Adventure