Article
Resorts Near Table Rock Lake
Looking for the best lakefront resorts in Branson? Look no further than Branson's resorts near Table Rock Lake.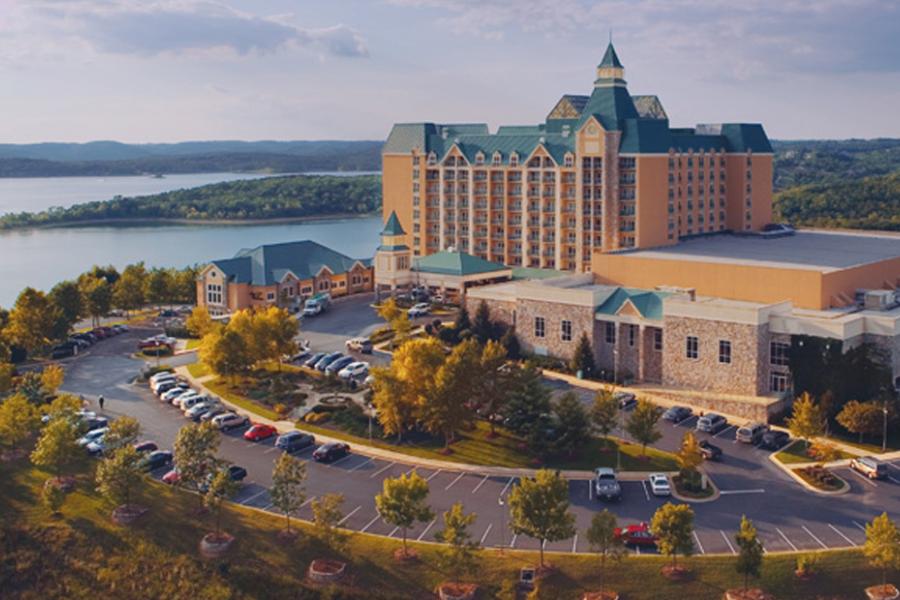 Branson resorts found near Table Rock Lake offer fun, inclusive adventures for their guests and are minutes away from all the entertainment that Branson has to offer. Find the perfect resort for your stay in Branson from this list of resorts near Table Rock Lake. 
Big Cedar Lodge
Big Cedar Lodge is a massive resort situated on the banks of Table Rock Lake. Rustic cabins, large lodges and unique glamorous camping sites provide a variety of lodging options. Amenities and activities such as boat rentals, guided fishing trips, movie nights on the lawn, multiple swimming pools, five exceptional golf courses and exquisite dining options. Plus, you can catch the sunset from Top of the Rock and experience all that Fun Mountain, an indoor paradise of attractions, has to offer.
Branson Shores Resort
This premium, family-focused lakefront resort is located on a quiet, cul-de-sac just three miles from Branson's Entertainment District, and five miles from Silver Dollar City. Choose from two lodging options: six bedroom with three baths or seven bedroom with four baths. Branson Shores offers a long list of free amenities to its guests including pontoon boats, paddleboards, water trampoline, swimming pools, sand volleyball, a basketball court and more.
Chateau on the Lake Resort, Spa and Convention Center
Chateau on the Lake is a modern-day "Castle of the Ozarks" that offers spectacular views of the lake and endless opportunities for adventure in Branson. Complete with nature trails, a full-service marina, a movie theatre, indoor and outdoor pools, a full-service spa and delicious dining facilities, Chateau on the Lake is hard to beat. Make sure to visit during the Ozark Mountain Christmas season to experience a magical holiday escape.
Cliffs Resort Table Rock Lake
With multiple types of suites available, the Cliffs Resort at Table Rock Lake will quickly become your home away from home. Located just one mile from Silver Dollar City, two miles from Table Rock Lake and six miles from Branson's Entertainment District means you can take advantage of all of Branson's top attractions during your stay, too. Guests have access to a picturesque infinity edge pool, unbeatable views of the Ozark Mountains and a picnic/barbecue area.
Indian Point Resort
Choose between lakefront cabins, condos and lodges at Branson's Indian Point Resort. Boasting all the comforts of home wrapped inside luxuriously designed spaces, staying at this shoreline resort will be an experience you won't soon forget. Spend your time relaxing in a hot tub or soaking in their new saltwater pool. Indian Point's convenient access to both Table Rock Lake and Silver Dollar City makes family fun in Branson a breeze.
Still Waters Resort
Still Waters Resort is ideally set on Table Rock Lake and offers gorgeous lodging options and unmatched amenities. Choose from a range of one-bedroom condos to six-bedroom condos and enjoy three swimming pools, two large waterslides, on-property dining options, hiking trails, free lake excursions and quick access to all the best entertainment in Branson. Still Waters Resort is one of the highest rated family lodging destinations in the area.
Tribesman Resort
The Tribesman Resort on Table Rock Lake is located on the Indian Point peninsula alongside Still Waters Resort and Indian Point Resort. Focused on families, Tribesman Resort provides multiple family activities at no additional cost and is just minutes from Silver Dollar City. Step outside your personal condo to a beautiful scene of the lake and a wide variety of amenities.
Watermill Cove Resort
Choose between small and large villas, lodges, cabins and houses at Branson's Watermill Cove Resort. At this resort, you will be surrounded by a rustic yet elegant atmosphere. Also situated minutes from Silver Dollar City and Branson's Entertainment District, you are in the perfect location for fun! Watermill Cove is equipped with an arcade, direct access to Table Rock Lake, multiple sporting areas, treehouses, firepits, fishing poles and so much more.
Westgate Branson Lakes Resort
Westgate Branson Lakes Resort is fondly known as the gem of Table Rock Lake. Here you will find one- and two-bedroom villas with scenic lake view – all near the heart of Branson. Westgate offers a wide range of fun activities and classes daily. Shuffleboard, multiple pools, horseshoes, sand volleyball, basketball and more are all available for resort guests. Bringing a group to Branson? Look no further than Westgate Branson Lakes Resort for your group lodging needs.     
Check out our top Table Rock Lake adventures here, and make the most of your lakeside stay. 
Places Mentioned
Find Your Next Branson Adventure