Article
Silver Dollar City Roller Coasters
From speeds close to 70 miles per hour to 90-degree drops, roller coasters at Silver Dollar City in Branson will leave you speechless. Not a fan of extreme rides? Silver Dollar City has a wide variety of coasters with the right amount of thrill for every theme park visitor.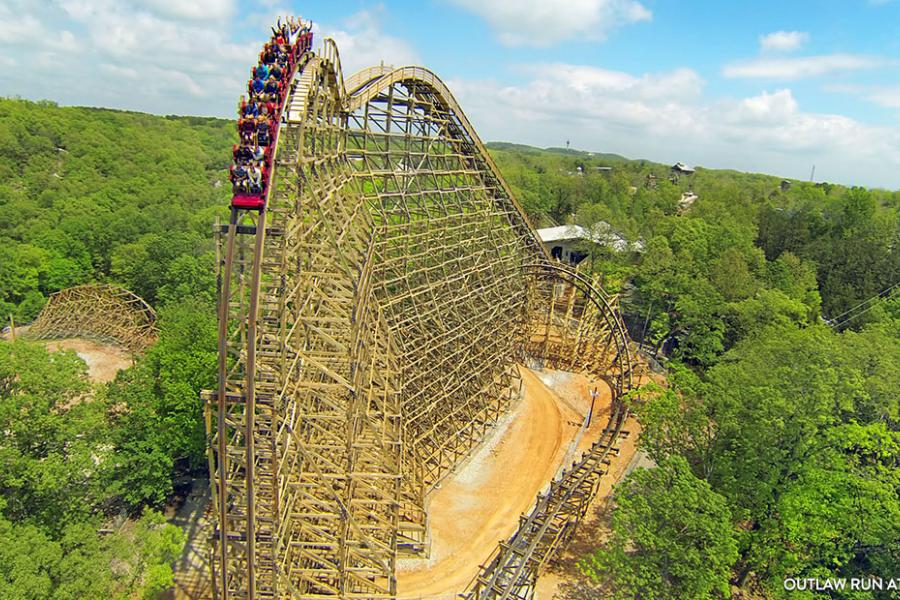 Get ready to ride during your next visit to Silver Dollar City! The popular 1880s theme park features several roller coasters made for young visitors to extreme thrill-seekers.
Buckle up, sit back, and settle in for the ride (or rides!) of a lifetime with these coasters:
Grand Exposition Coaster
This coaster is ideal for young visitors and those who aren't quite ready for the larger rides. Still full of excitement, the rail coaster dips, turns and flies 20 feet upwards along its tracks at speeds up to 20 miles per hour. 
Fire In The Hole
Step indoors to see what awaits when you ride Fire in the Hole, which puts you in the midst of an Ozarks adventure and a burning town with only one way out – a bridge engulfed in flames. You never know what may be around the corner!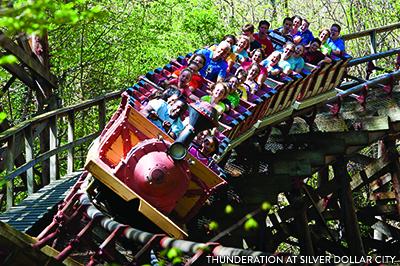 Thunderation
Prepare to crank up the speed a bit with this coaster, which is known for its incredible 80-foot drop and top speeds nearing 50 miles per hour. Thunderation also features amazing views of the surrounding Ozarks scenery and soars through an underground tunnel before ending its expedition. 
Wildfire 
Along with a series of upside-down thrills, WildFire riders will drop 15 stories and reach top speeds of 66 miles per hour. The coaster performs inversions including a full loop, cobra roll, corkscrew and high-speed spiral.
Powderkeg
As its name suggests, PowderKeg is a truly explosive coaster! Right out of the gate, riders soar from 0 to 53 miles per hour in less than three seconds. There's a huge 110-foot drop, and top speeds later in the ride reach 64 miles per hour.
Outlaw Run
This coaster is one of the world's fastest wooden roller coasters, with a top speed of 68 miles per hour. Other highlights include upside down loops and a 720-degree barrel roll.
Time Traveler
Time Traveler, the newest addition to Silver Dollar City's roller coasters, is the world's fastest, steepest & tallest spinning coaster. This coaster is truly one of a kind, featuring three inversions, a 10-story, 90-degree vertical drop, loops and more, all while spinning on the track's path. Talk about a coaster ahead of its time! 
From coasters suited for young visitors to rides drawing international attention, Silver Dollar City's roller coasters are the perfect addition of thrill to your next Branson vacation. Learn more about Silver Dollar City here.
See you at the finish line!