Article
Silver Dollar City is Fun for All Ages
No family vacation to Branson is complete without a trip to Silver Dollar City, one of the area's largest and most famous attractions.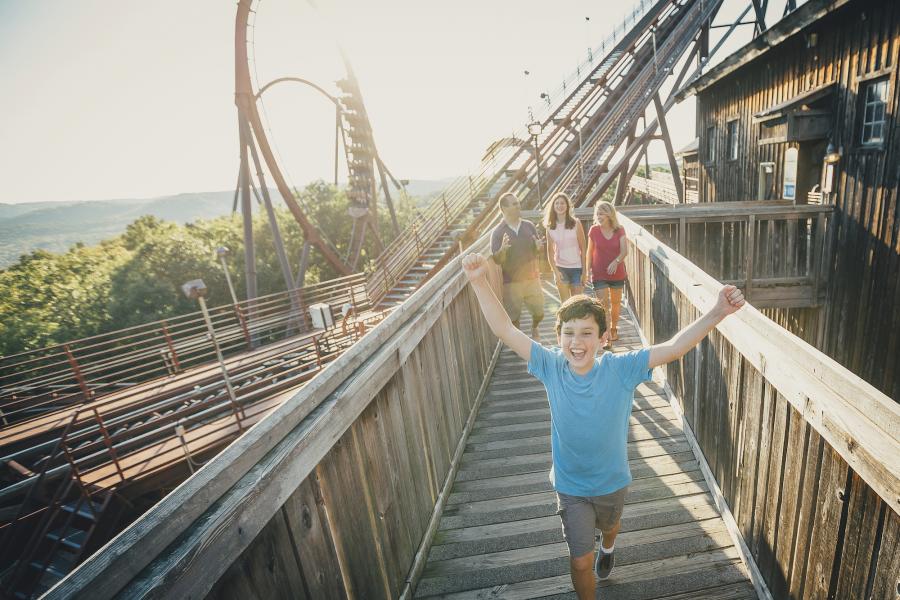 With over 40 rides and attractions, dozens of unique shops and tasty restaurants, and even 100 demonstrating craftsmen scattered across the beautiful rolling Ozark landscape, there's something for everyone to love at this internationally-acclaimed, 1880s-style theme park!
Rides and Attractions
Silver Dollar City thrill seekers can satisfy their adrenaline-appetites on the world's fastest, steepest & tallest complete-circuit spinning roller coaster, Time Traveler. Or, hold on tight during the hair-raising, double-barrel-rolling wood coaster, Outlaw Run, with its 81-degree drop featured in 2015's Guinness World Record book as the steepest drop on a wooden coaster. Wait, there's more! Don't forget PowderKeg with its 0-to-53-mph launch in just 2.8 seconds, WildFire's artful loops and corkscrew, and even a 7-story Giant Barn Swing with speeds of up to 45 mph, swinging an entire 230 degrees!
Plenty of classic rides sure to delight even the youngest in the family, call Silver Dollar City their home, too. Rides at Fireman's Landing, Half Dollar Holler, The Grand Exposition and even the Frisco Silver Dollar Line Steam Train provide countless hours of laughter and fun for younger adventurers.
As temperatures rise outside, the park's many water rides are some of the most popular among visitors. Guests can ride a screaming splash-down aboard the new Mystic River Falls ride, the tallest drop on a raft-ride in the Western Hemisphere that opened in 2020. Younger family members can enjoy more tranquil splashes at the Firehouse Splash Yard.
Shows & Festivals
Just like Branson itself, Silver Dollar City features a plethora of live shows, performances and entertainment. Throughout the park, there are shows from the boisterous fun at the Silver Dollar City Saloon to traditional bluegrass tunes at Homestead Ridge.
Seasonal performers are featured during festivals. Held at various venues, show lovers and music fans will find great country music, Cajun tunes, storytelling and more during a visit.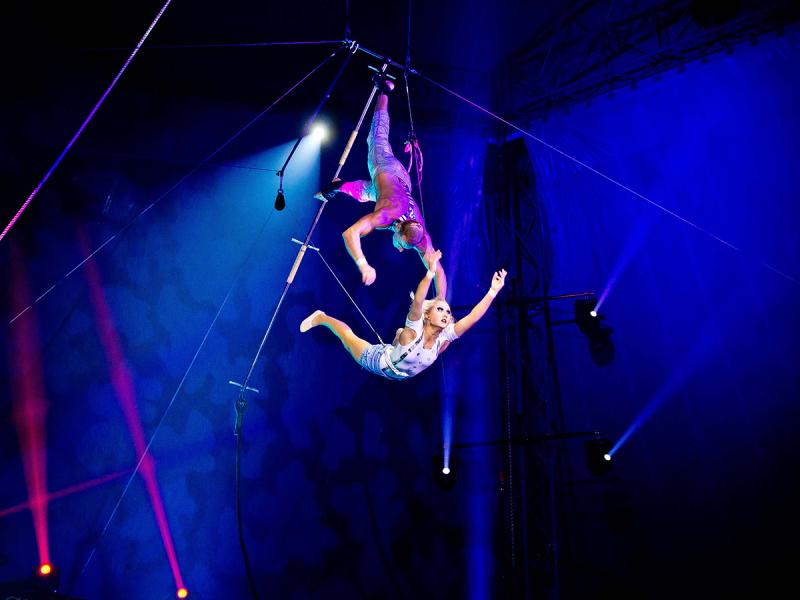 During seasonal festivals, visitors will experience Silver Dollar City in a whole new way. With at least eight different festival through out the year, no two adventures are alike! Kick off the year by exploring the thrills of over 40 different rides during Spring Ride Days! Next in line is the all new Street Fest, which features incredible outdoor entertainers throughout the park and delicious culinary delights. Other festivals include: Bluegrass and BBQ, Star-Spangled Summer, Moonlight Madness, Southern Gospel Picnic, Country Music, Harvest Festival featuring Craft Days and Pumpkins in the City and the world famous An Old Time Christmas. Pick your favorite or come experience them all, Silver Dollar City is the place to make memories worth repeating!
Demonstrating Craftsmen
At this 1880's-style theme park, rides are only part of the fun. With 100 local craftsmen on-site demonstrating 1880s craft techniques and practices, Silver Dollar City celebrates craftsmanship and the hardworking-spirit of the Ozarks and is even proclaimed by the US Congress as The Home of American Craftsmanship. You'll find blacksmiths, glassblowers, candy-makers, furniture-makers, and even potters practicing their trades throughout the park, along with a wealth of other demonstrating craftsmen. Plus, plenty of opportunities to find unique souvenirs and gifts made right in front of your eyes at the park.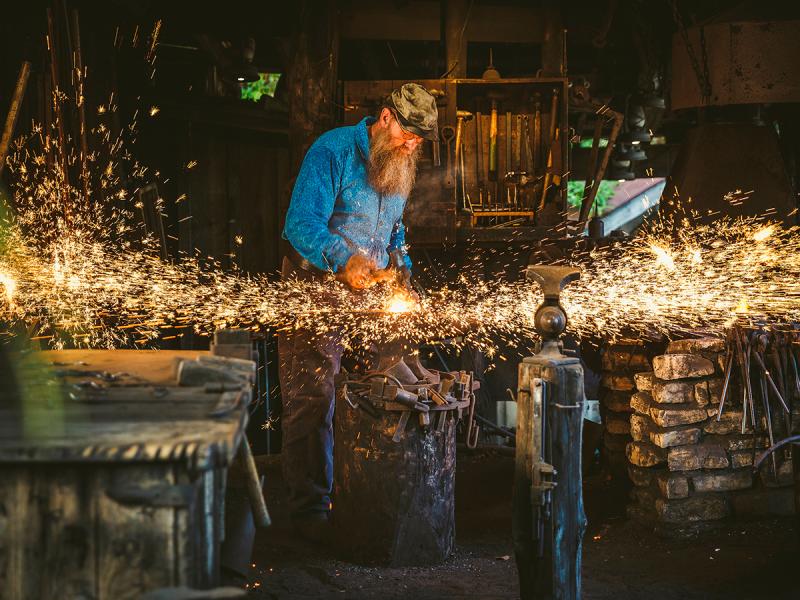 Dining at Silver Dollar City
With plenty of restaurants waiting to be discovered around the property, you'll find everything from homemade fried chicken and giant skillet bowls, to scrumptious indulgences like baked-fresh cinnamon bread and handmade ice cream. The City actually churns over 9000 gallons of ice cream per year at its 1880s ice cream parlor! Molly's Mill Restaurant and the Lucky Silver Mine offer southern-inspired, home-style buffets, while Percy's Southwest Grill brings a fully-customizable, southwestern menu of delicious flavors and fresh ingredients.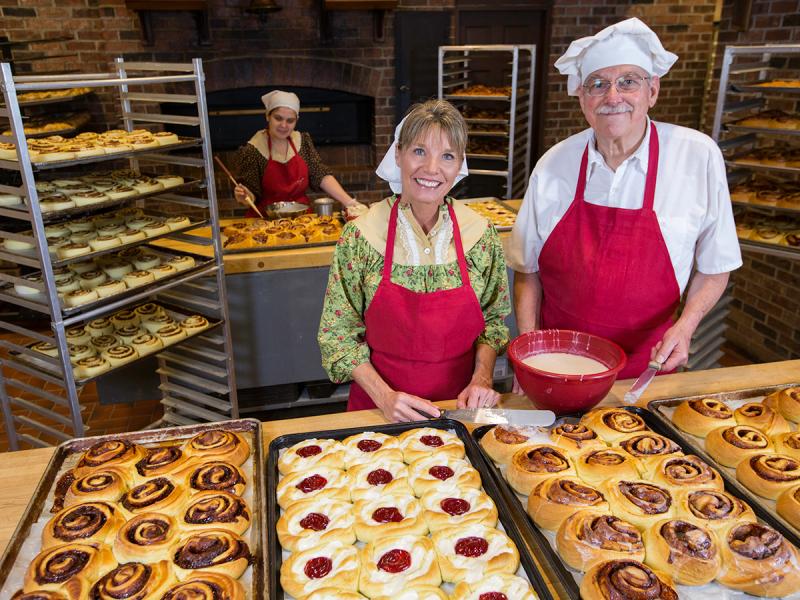 Marvel Cave and the Origins of Silver Dollar City
Underground, beneath the park, is Marvel Cave, a beautiful, intricate cave named a National Natural Landmark by the US Department of the Interior. One of the park's most popular and historical attractions, Marvel Cave is Silver Dollar City's original attraction.
The cave, mistakenly named Marble Cave due to its walls' deceiving appearance, was one of Branson's first attractions. Eons old and hidden beneath the hills, it was first discovered by the Osage tribe in 1500, described by geologists in the 1860s and explored in the 1880s by adventurers who lowered themselves on ropes 200 feet into the main chamber. A Canadian miner named William Henry Lynch bought the cave, sight unseen, from a group of Union Civil War veterans who had previously mined nitrogen-rich bat guano from the cave in 1880s.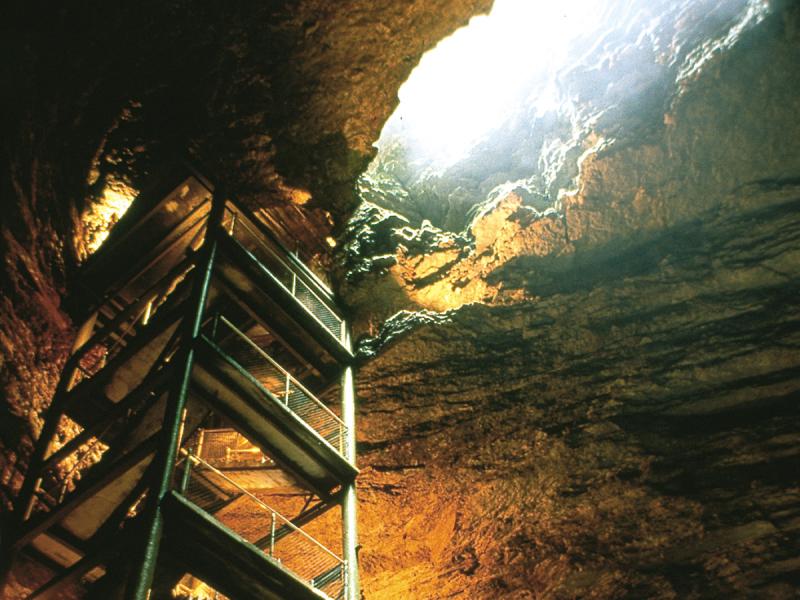 William Lynch owned and managed the cave attraction—named Marvel Cave by its new owner–with his two daughters for more than five decades before offering a 99-year lease on Marvel Cave to Hugo Herschend and his family in April, 1950. The Herschends saw 8,000 visitors visit Marvel Cave that summer, and members of the Herschend family are still involved in the management of the park today!
Experiencing Silver Dollar City: Location, Parking, Tickets & Accessibility
Approaching Silver Dollar City from W 76 Country Blvd, guests can find ample, free parking with free shuttles that transport them to Silver Dollar City's iconic entrance. Disabled parking spots, as well as preferred and VIP parking is available as well. Visitors with disabilities or guests who need additional assistance are encouraged to stop by Guest Relations at the entrance of the park for detailed information regarding rider requirements, accessibility entrances, service animals, and much more.
Tickets are available online at silverdollarcity.com, but may also be purchased at the park's ticket booths located at the entrance to the park. Group rates are available for groups of 10 or more.
See the updated safety procedures and what you can expect on your next visit.