Silver Dollar City's Time Traveler in Branson
Get ready to experience a roller coaster ride like you've never experienced before here in Branson. Silver Dollar City's Time Traveler is the world's steepest, tallest and fastest spinning roller coaster ever designed!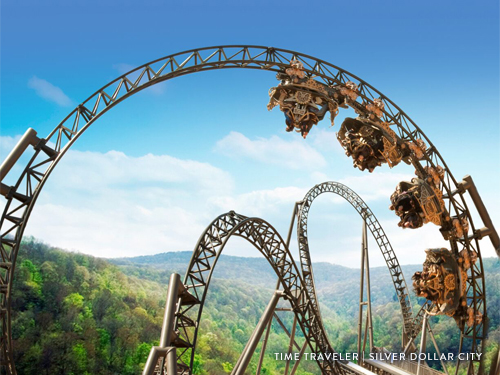 The $26 million coaster is officially Silver Dollar City's largest attraction ever, and it's easy to see why. Time Traveler will launch with a ten-story, 90-degree drop, jumping from zero to 47 miles per hour in just three seconds. Through the course of the ride, riders will also experience another launch, going from 30 to 45 miles per hour in 3.5 seconds. Time Traveler will also feature three inversions: a dive loop, vertical loop and zero-gravity roll, all while riders are spinning right-side up and upside down. But that's not all. In addition to a 95-foot vertical loop, riders will reach the tallest point of the coaster at 100 feet. The Time Traveler coaster track crosses over itself 14 times. Talk about a thrill!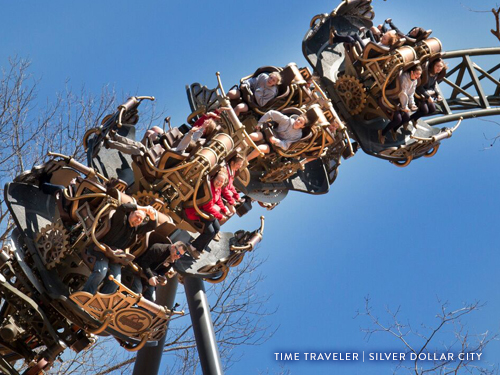 Kept under wraps for approximately two years, Time Traveler was designed in part by the German roller coaster manufacturing company MACK Rides in Waldkirch, Germany. Designers worked to develop the coaster specifically for the Ozarks' mountainous terrain.
For a simulation of the coaster, take a look at the virtual clip below:
News of Time Traveler is spreading far and wide, making national headlines at Fox News, CNN, USA Today and more. Anticipation and excitement are building everywhere. 
The atmosphere of Time Traveler is slightly different from other Silver Dollar City attractions. While most of the theme park's attractions and rides feature a theme taking visitors to the fascinating 1800s era, Time Traveler has been deemed as "a revolutionary coaster ahead of our time." Ultimately, Silver Dollar City hopes the world-class coaster's exhilaration will inspire riders to "dream big and do good."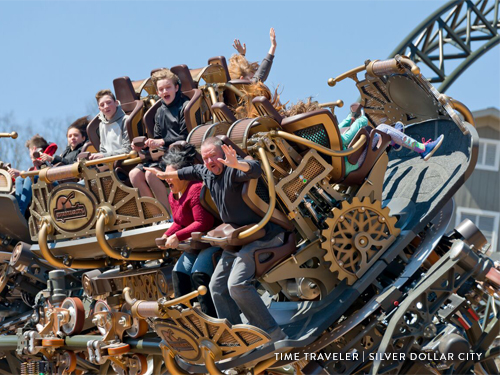 Mark your calendars, and plan to experience history – and the future – in the making. Time Traveler will be a revolutionary experience you'll have to experience!