List
11 Small Wedding Venues in Branson
Whether you're looking to elope or to hold an intimate ceremony with closest friends and family, Branson has your dream small wedding venue.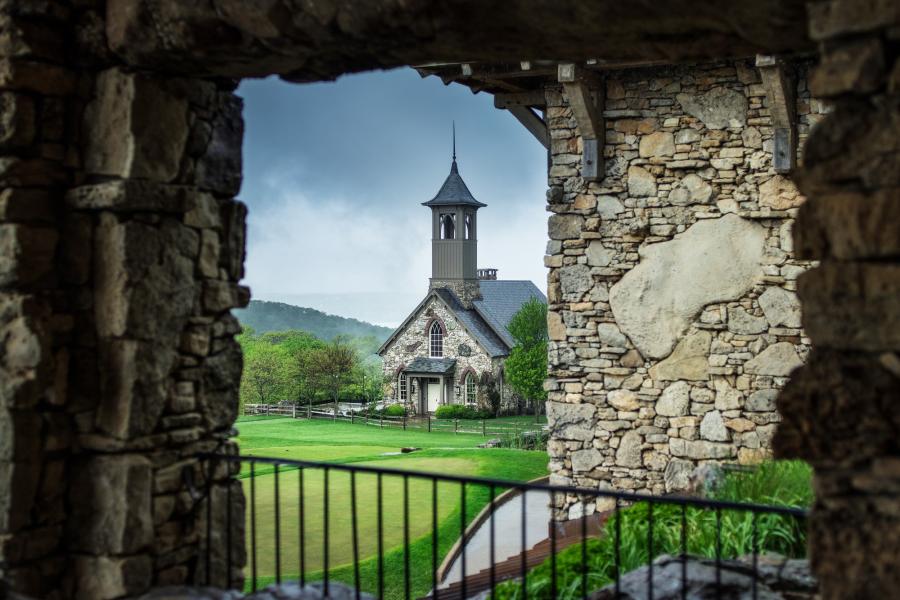 Branson is the perfect choice to host your small wedding or elopement ceremony. Check out some of the area's top small wedding venues in Branson below:
Big Cedar Lodge
190 Top of the Rock Rd, Ridgedale, MO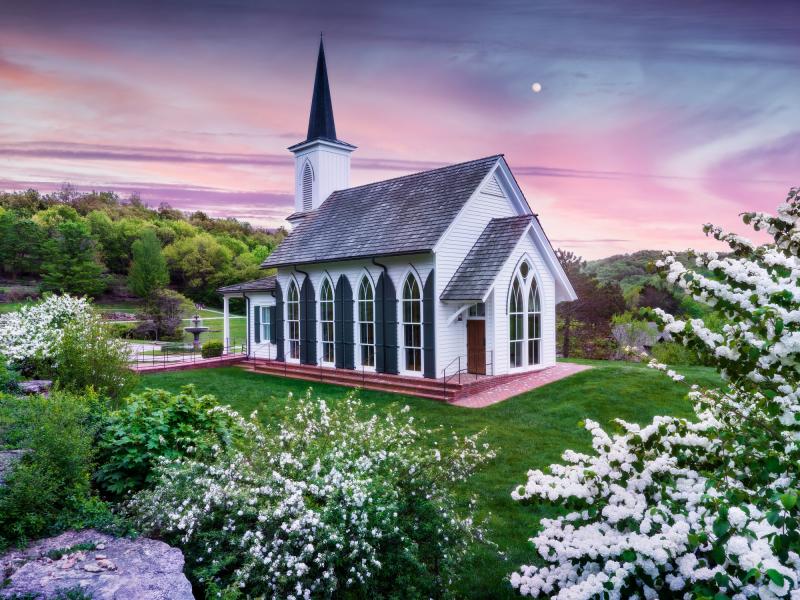 Big Cedar Lodge and Top of the Rock are home to eight of Branson's gorgeous, small wedding venues.
Here you'll find a wide array of locations from grand chapels to rustic rooms. Towering over the Ozark Mountains and Table Rock Lake is the largest and most scenic venue on property: Chapel of the Ozarks. This chapel holds 180 people and has floor-to-ceiling glass backdrops overlooking the Ozarks. Lady Liberty Yacht is the smallest venue at Big Cedar with a maximum capacity of 42 people, and holds a front row seat to the beauty of Table Rock Lake. Additional adored Big Cedar Lodge wedding venues are listed below:
- The Garden Chapel – 80 guests
- Lakeview Rooms – 120 guests
- Cedar Creek Rooms & Patio – 70 guests
- The Worman House – 140 guests
- The Worman Room & Patio – 50 guests
- Wine Cellar Event Room – 100 guests
Branson Garden Weddings at Bear Creek
1320 Keithley Rd, Walnut Shade, MO
Branson Garden Weddings at Bear Creek offers all-inclusive packages that remove all stress from your big day. They have two venues on location including a intimate garden setting and a small indoor chapel, both of which are able to hold 150 guests. Bear Creek makes the perfect elopement destination as they are a wedding venue, winery and lodge wrapped into one. Bear Creek is found just minutes outside of Branson. 
The Homestead at Rosewood
673 Rosewood Dr, Branson, MO
Being over a century old, The Homestead cabin at Rosewood offers a treasured, intimate wedding space. Able to hold up to 50 guests in the indoor or outdoor space, the Homestead at Rosewood is a dream small wedding venue for many. 
Dooley Chapel on the Lake
1060 Crow's Nest Trail, Branson, MO
Dooley Chapel on the Lake allows you to choose between a rustic or elegant mood. The loft and main floor of the indoor chapel can hold up to 150 guests. They also offer discounted accommodations for your party and guests in their gorgeous lodges. 
 

Dogwood Canyon Nature Park

2038 West State Hwy 86, Lampe, MO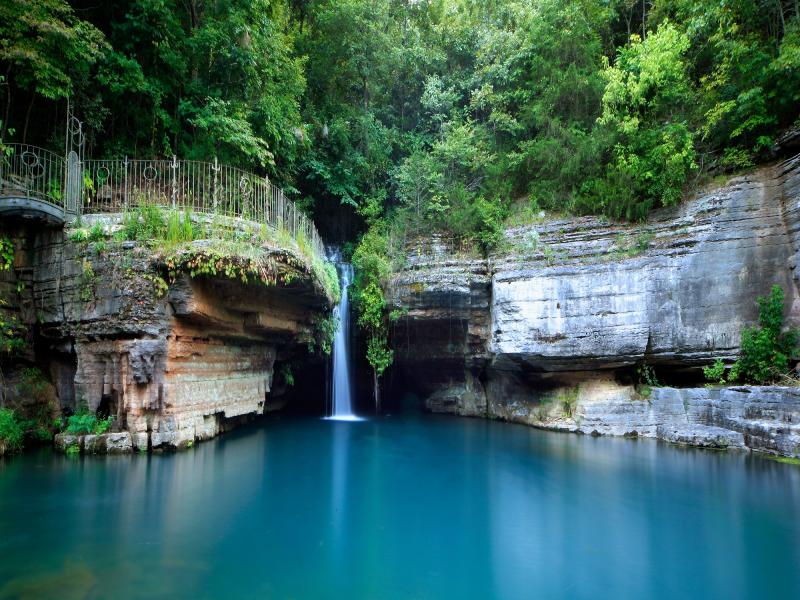 For the adventurers and nature-lovers, the wedding venues at Dogwood Canyon Nature Park may be hard to top. Dogwood Canyon is home to the Hope Wilderness Chapel which holds up to 120 guests and four reception areas: Canyon Grill Patio Reception, Canyon Grill Restaurant Reception, Chapel Patio Reception and Chuckwagon Reception. The Hope Wilderness Chapel offers a full wall of windows overlooking a stunning waterfall as the backdrop for your service. 
The Branson Hotel
14 West Main St, Branson, MO
As a staple piece of Branson's history, The Branson Hotel provides a unique and eclectic venue for a small wedding or elopement. The hotel is located a few blocks from Branson Landing in Historic Downtown Branson. The quaint, outdoor wine bar and the indoor luxury accommodations provide a treasured romantic escape for newlywed couples.  
Log Chapel of the Ozarks
1708 Bee Creek Rd, Branson, MO
For the smallest, most intimate wedding venue in Branson, check out Log Chapel of the Ozarks. Because each group is allowed no more than 15 people including the bride and groom, and because the venue offers specific packages based off your specific needs, this location is preferred for all-inclusive elopements, small ceremonies and vow renewals.  
Lindwedel Winery
3158 St Hwy 265, Branson, MO
Lindwedel Winery specializes in unforgettable outdoor weddings held at the foot of the beautiful Ozark Mountains. Here you and 50 guests will be invited to indulge in great wine and the greatest time. 
Shiloh Ridge at Sycamore Creek Family Ranch
2657 Sunset Inn Rd, Branson, MO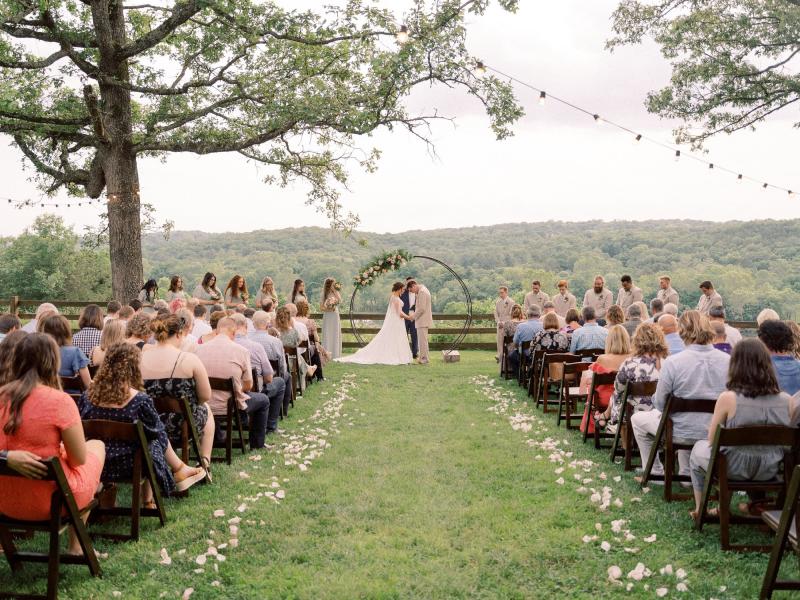 Shiloh Ridge at Sycamore Creek Family Ranch is a nature-inspired venue beautifully nestled between Lake Taneycomo and the Ozark Mountains. Up to 100 guests will be able to attend both the indoor and outdoor event spaces. For a larger event space, don't miss Sycamore Creek Family Ranch's Heartwood Barn. 
Morgan Chapel at Shepherd of the Hills
5586 76 Country Blvd, Branson, MO
Morgan Chapel was saved from demolition and transported to the historic Shepherd of the Hills Homestead in 1991. Today, it provides a intimate wedding space for up to 75 guests. 
Looking for a larger wedding venue? Check out our list of best venues for 200+ guests in Branson here. 
Places Mentioned
Find Your Next Branson Adventure