Article
Top Wedding Venues for 200+ Guests in Branson
Branson's large wedding venues are sure to keep you forever dreaming of your wedding day. Check out the stunning Branson wedding venues able to host 200+ guests.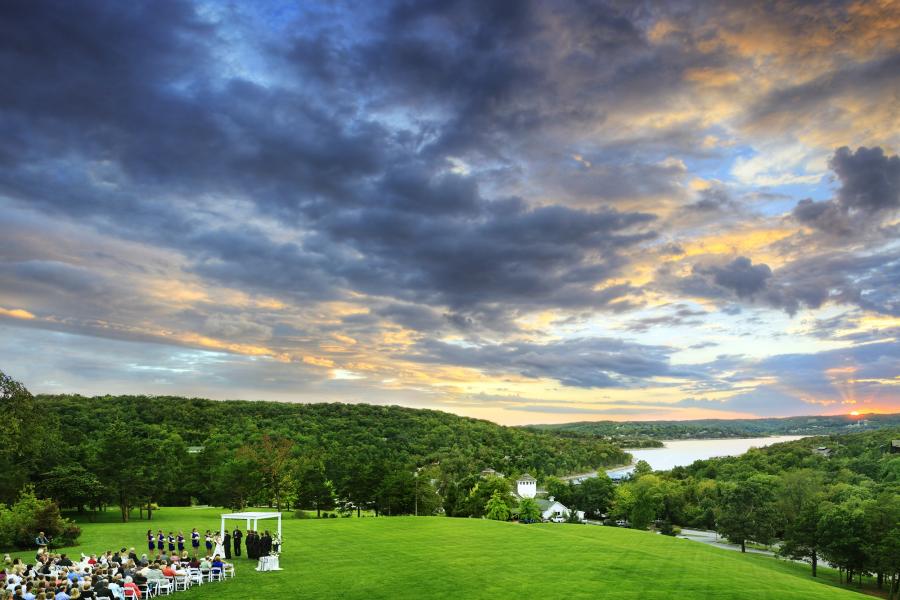 Take out the stress of narrowing down your guest list by booking a large wedding venue in Branson. 
The Atrium Wedding and Event Center
10500 Hwy 160, Merriam Woods, MO
This is Branson's newest wedding and event center. The Atrium displays a modern farmhouse (not barn!) style with spacious white walls, decorative vaulted ceiling, and unique details. The Atrium venue sits atop a stunning view of the Ozark Mountains, and has both indoor and outdoor space available for 20-300 people. The Atrium is located just 15 minutes outside of Historic Downtown Branson, where endless lodging and entertainment options will be available for all wedding guests.
Big Cedar Lodge
190 Top of the Rock Rd., Ridgedale, MO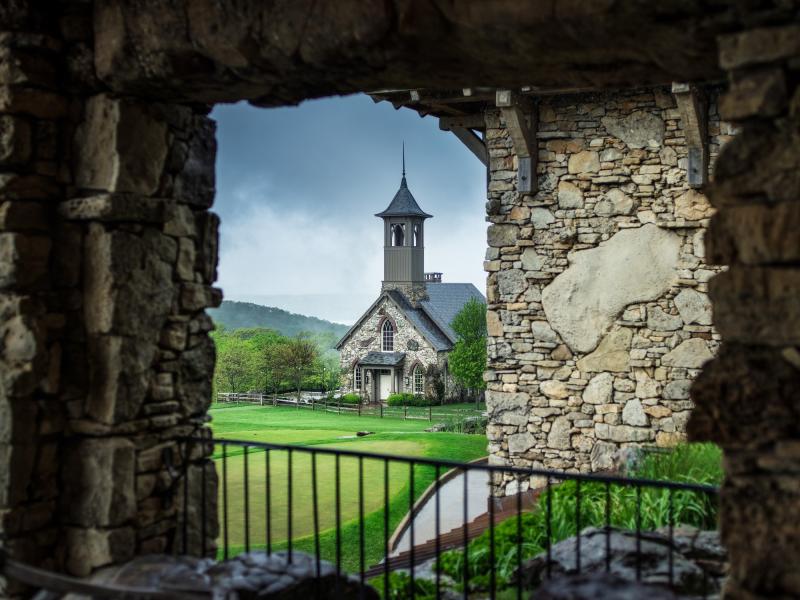 Big Cedar Lodge hosts a variety of gorgeous wedding venues:
Integrity Hills Chapel
Integrity Hills Chapel is majestic, European-inspired chapel overlooking Table Rock Lake
on an Ozark Mountain hillside. Open the two large swinging doors to iron chandeliers, pew seats, stone floor and panoramic windows. This stunning Big Cedar indoor venue holds up to 200 guests.
Integrity Hills – The Stables
This classic barn was crafted to resemble an English riding stable. There are two levels of rustic elegance available in the barn allowing for hosting up to 240 guests. The Stables at Integrity Hills is a dream indoor reception venue for any couple.
Grandview Ballroom
The Grandview Ballroom at Big Cedar Lodge can host up to 550 guests, making it one of the largest wedding venues in Branson. Located in the heart of Big Cedar, the grand windows display immaculate beauty of the property and the Ozarks. Multiple catering options are provided by Big Cedar.
Grandview Lawn
An endless sky, a beautifully manicured lawn, the Ozark Mountains, and a stunning Table Rock Lake backdrop are what await you at Big Cedar's Grandview Lawn. The lawn space can accommodate up to 500 guests. Pair this outstanding outdoor ceremony venue with a Grandview Ballroom reception for a night you could never forget.
Bass Pro Shops Shooting Academy
The Bass Pro Shops Shooting Academy is a unique, rustic wedding venue. The lawn, patio, and clubhouse are available for your special day and can hold up to 600 guests. The patio is one of the only covered outdoor venues in Branson. You'll be amazed by the overwhelming beauty of the Ozarks surrounding this handcrafted venue.
Branson Airport
4000 Branson Airport Blvd, Hollister, MO 
The Branson Airport is one of the most unique wedding venues in Branson. Choose between two locations throughout the airport to host your wedding. The outdoor hangar holds up to 250 people, while the inside of the airport holds up to 400 people.
Chateau on the Lake
415 North State Highway 265., Branson, MO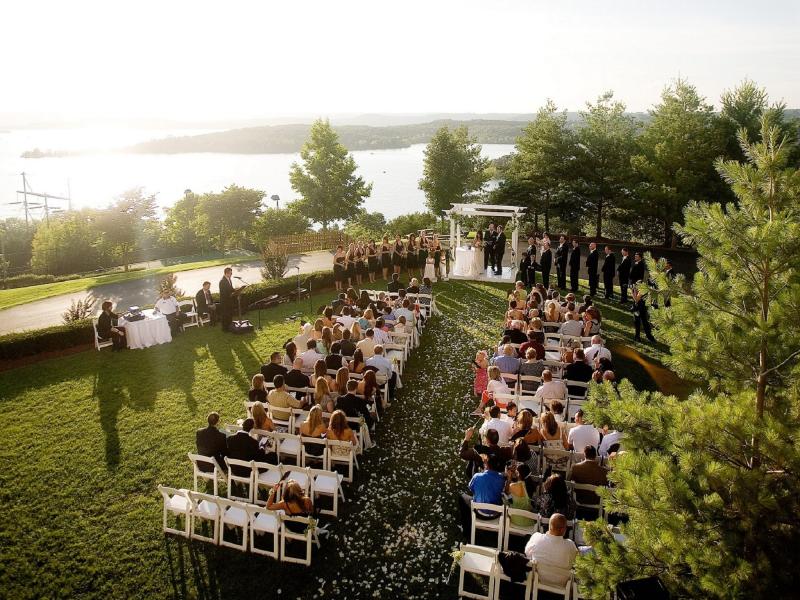 With over 53,000 sq ft of indoor event space, Chateau on the Lake Resort Spa & Convention Center is the dream location for a wedding of 50-300 guests. Outdoor spaces are available for less than 200 guests. Chateau has multiple wedding packages available, as well as a scrumptious lineup of catering options. The venue is spacious, well-lit and beautifully designed. Additionally, Chateau offers upscale resort amenities that are sure to enhance the event experience.
Branson Convention Center
200 E Main St, Branson, MO
At the Branson Convention Center, invite 20 to 2,000 people to share in the most special day. The talented staff at the Convention Center specialize in making your dream wedding a reality. Wedding guests will be delighted by the incredible cuisine the Convention Center's culinary team provides. Conveniently, everyone in your party will have the chance to lodge within the a joining Hilton Convention Center Hotel. The Convention Center is suitably located next to Branson Landing, which features some of the best nightlife entertainment in the city.
Stonegate Glass Chapel
11027 MO-176, Walnut Shade, MO
Stonegate Glass Chapel is the ideal location for a destination wedding of up to 200 guests. Inside the Chapel, you will find endless natural lighting displayed through countless windowpanes. The Glass Chapel recently added a beautiful reception hall which allows both the ceremony and reception to be held in one beautiful location. Although this venue gives feelings of escape and seclusion, it is located just 11 miles from Downtown Branson, where boundless hotels and attractions are available for guests.
Sycamore Creek Family Ranch
2657 Sunset Inn Rd, Branson, MO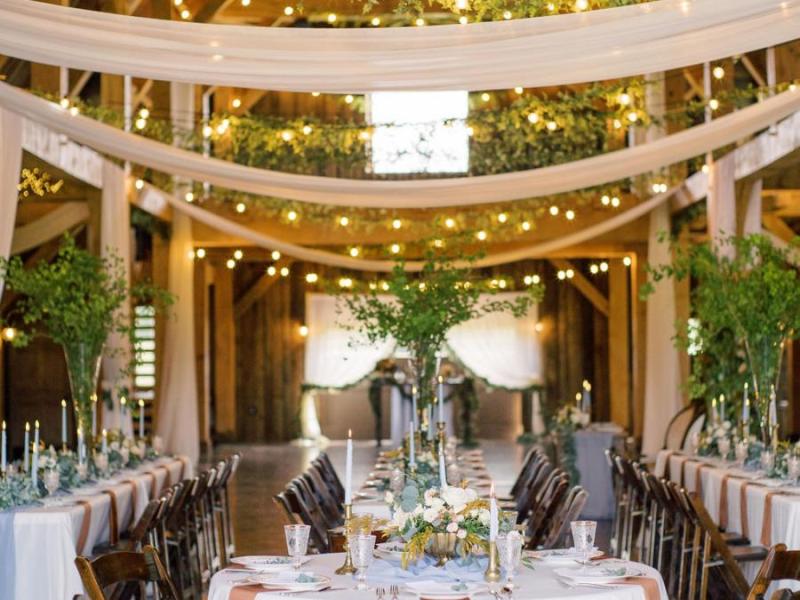 The Heartwood Barn at Sycamore Creek Family Ranch was custom created in 2016 and has since become one of the most loved wedding venues in the Branson area. The large barn doors open to rolling pasture hills and the gorgeous outdoor ceremony space at the grand sycamore tree. Both the indoor and outdoor space can hold up to 300 people. The Hartwood Barn features bridal suites, banquet tables and wooden chairs, a catering prep kitchen, a bridal borrow closet and more.
Weddings at the Homestead
262 Collins Rd, Branson, MO
For a down-home, country-style wedding experience, consider Weddings at the Homestead. A beautiful timber-framed barn with sliding doors and an outdoor dance floor is available for your special day. For those looking for a picturesque outdoor venue, the Homestead features a unique fireplace with flagstone patio. Both indoor and outdoor spaces accommodate weddings of up to 300 guests. There are climate-controlled bridal suites for both the bride and groom available on property.
Branson has the perfect venue for every size party! For more venue ideas, check out our wedding page here.
Places Mentioned
Find Your Next Branson Adventure
Trip Ideas
You May Also Like