Article
Outdoor Adventure in Branson
Explore things to do in Branson's scenic surroundings.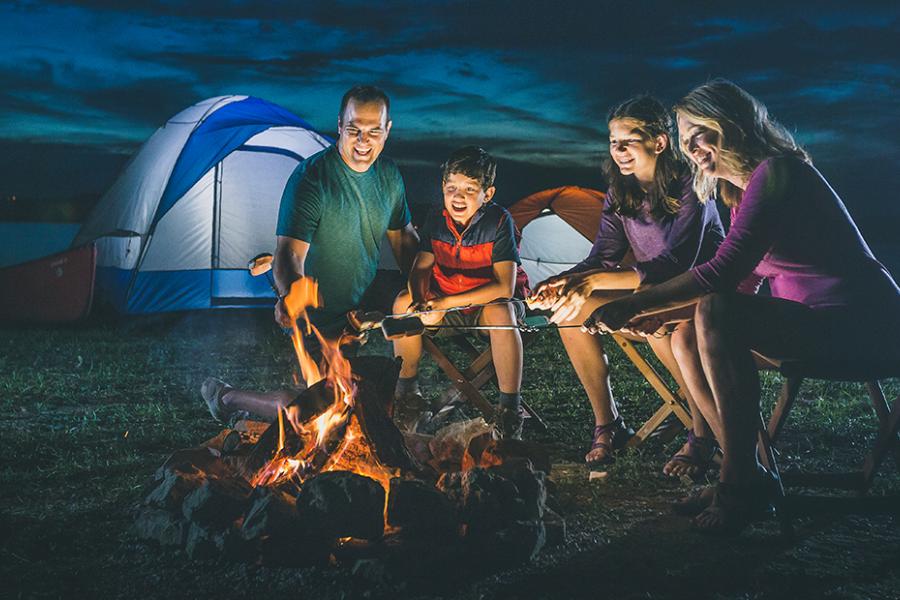 Outdoor enthusiasts will enjoy zip lining, hiking, biking, riding a motorcycle, canoeing, kayaking, horseback riding, trout and bass fishing, hunting, trap and skeet shooting, spelunking and rock climbing, as well as recreational and competitive sporting activities right in Branson's backyard! Public parks, beaches, resorts, campgrounds, national forests and recreational facilities abound.
Topography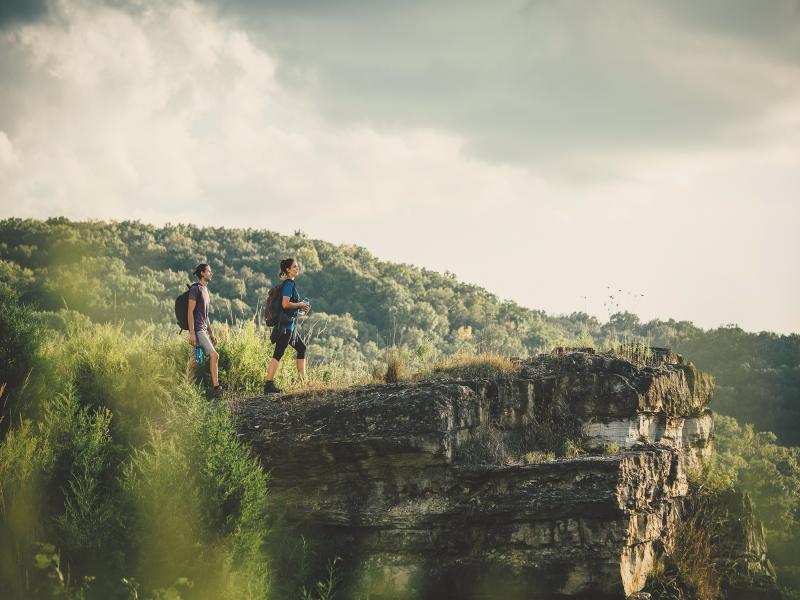 The Ozark Mountain terrain of caves, streams, rivers, lakes, waterfalls, grasslands, forests, steep rocky hillsides, bottomland and glades make up the breathtaking topography of the area.
The Branson area boasts three pristine lakes with hundreds of miles of natural shoreline. Around these scenic lakes, travelers can access more than 100,000 acres of city, state, federal and privately owned forest, conservation, wilderness and park areas.
Visitors can hike trails at the 1,500-acre Ruth and Paul Henning Conservation Area. In addition, there are three hiking trails, a cave and a view of Lake Taneycomo within the 130-acre Lakeside Forest Wilderness Area on Fall Creek Road.
Missouri's 1.5-million-acre Mark Twain National Forest offers outdoor recreational opportunities in and around the nearby towns of Kimberling City and Forsyth.
Balds
Although hardwood forests cover much of the Branson area, one of the most intriguing features are the glades. These areas are frequently referred to as "balds" by locals because of their characteristically sparse terrain of semi-desert soil, ledge-rock, scattered cedar trees and prairie plants amidst rolling seas of oak and hickory trees. You'll most often see glades on the south- and west-facing slopes of hills where intense and prolonged sunlight—coupled with fires started by lightning, Native Americans or early settlers—have kept them relatively clear of trees.
Bald Knobbers
The area's balds served as important meeting spots for the 1880s vigilante justice gangs that organized in Taney County after many years of lawlessness immediately following the Civil War.
Started by upstanding citizens, the Bald Knobbers, as they became known, concealed their identities for fear of retribution by criminals. The group eventually lost popular support due to their increasingly ruthless, seemingly indiscriminate and sometimes murderous tactics.
You can still see "Baldknobbers" in Branson—the musical-instrument-toting kind—at the Branson's Famous Baldknobbers show, celebrating its 60th year of bringing live music and good, clean family entertainment to audiences.
Dogwood Canyon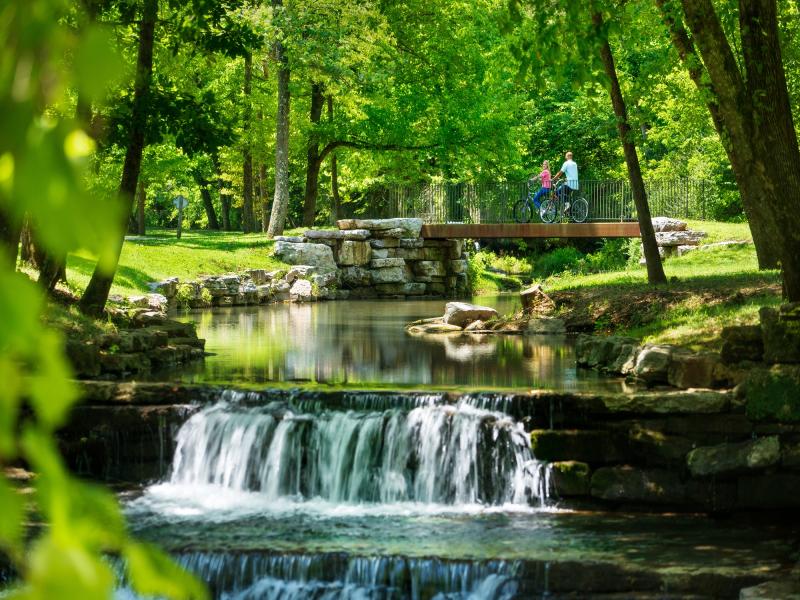 The 10,000-acre Dogwood Canyon Nature Park offers the best outdoor experience in the region for visitors of all ages. Miles of paved trails allow for walking and biking alongside cool spring-fed streams with rainbow trout and waterfalls.
Guided tram and jeep tours offer a ride-along trek into pastures where herds of bison, elk and longhorn cattle roam. Other one-of-a-kind experiences include Segway nature tours, fly fishing for trophy rainbow trout and horseback riding alongside towering limestone bluffs.
You won't want to miss exploring the Nature & Conservation Center, with live animal and fish displays, hands-on crafts and wilderness survival demonstrations.
Journey to the treetops for a bird's-eye view of the park as you experience a tree house built by Animal Planet's Treehouse Masters.
A working gristmill with live demonstrations and an extensive artifact hall offer a look into what life was like in the Ozarks hundreds of years ago. The Mill & Canyon Grill restaurant rounds out your experience with a full lunch menu of locally sourced dishes and indoor/outdoor seating with stunning waterfall views.
Wolfe Mountain
Wolfe Mountain, just seven miles north of Branson, is home to Branson Zipline Canopy Tours. An authentic zip line canopy tour has visitors soaring through the trees while traversing a series of zip lines, sky bridges and platforms. Or try the SnowFlex Tubing Park and feel the wind in your hair as you slide down the slope.
The guided eco-adventures include third-party safety-certified guides sharing topographical, ecological and historical information. Guests can choose from four canopy tours or opt for the Blue Streak Fast Line with Freefall Xpress—a thrilling zip with a 100-foot free fall.
Table Rock Lakeshore Trail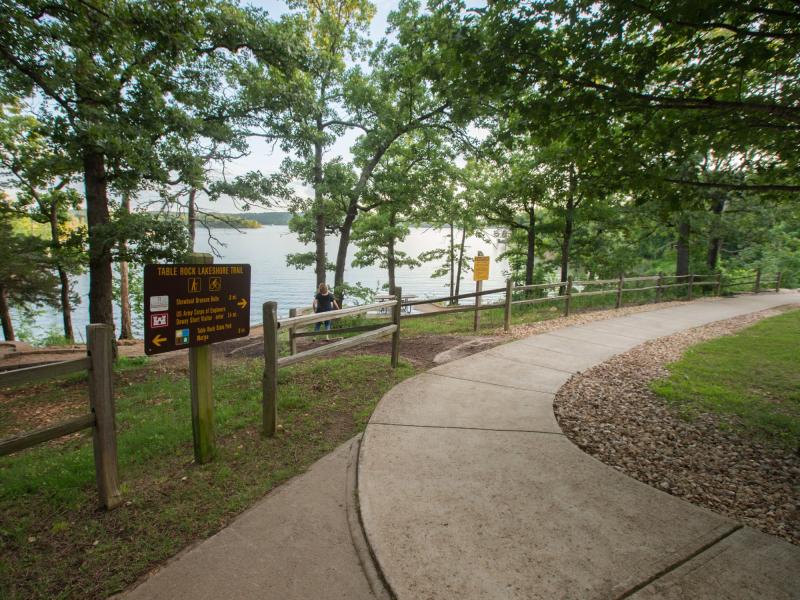 The two-mile Table Rock Lakeshore Trail connects the Dewey Short Visitor Center to the Showboat Branson Belle and Table Rock State Park. The eight-foot-wide paved trail is open from dawn to dusk and can accommodate foot traffic, motorized wheelchairs, bicycles, skateboards, Segways and scooters.
The Ozark Mountain Nature Trail Association hopes to eventually extend the trail into a 12-mile hiking and biking trail reaching from Lake Taneycomo in historic downtown Branson to the town of Reeds Spring.
Wildlife in the Ozark Mountains
Every day is a great day for hiking in Branson, and there are some beautiful valley views and vistas. Sometimes you may see wildlife scurrying about: deer, foxes, squirrels, opossums, skunks and a few armadillos.
It's not uncommon to see wildlife within the city limits of Branson. If you visit one of the area's lakes, rivers, city parks or campgrounds, you may see birds on the flyway to summer or winter grounds. The woods are teeming with deer, bald eagles, red-tailed hawks, turkey vultures, wild turkeys, great horned owls, great blue herons and pileated woodpeckers. Look for quail, songbirds, red fox, squirrels, otters, beavers, minks, armadillos, opossums, roadrunners, coachwhip snakes, garter snakes, skunks, eastern collared lizards and box turtles.
RV Parks & Campgrounds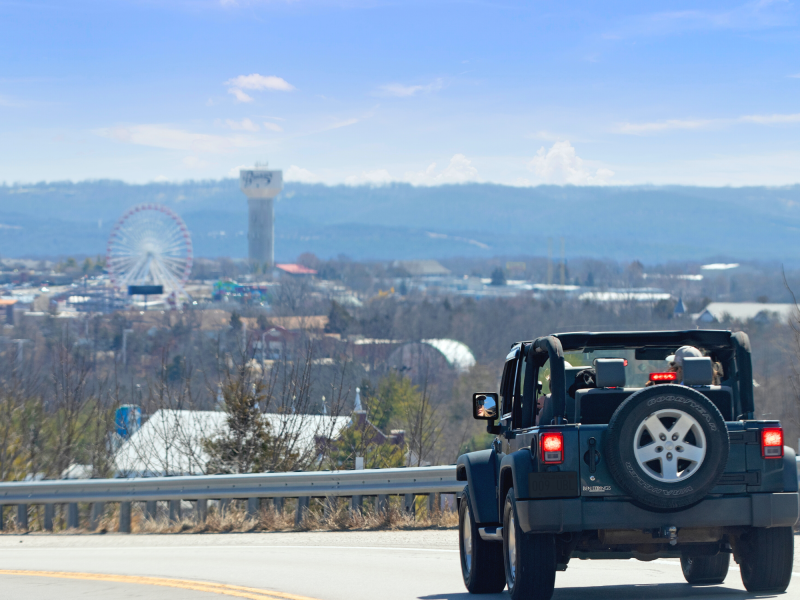 Are you planning an RV or camping trip in Missouri? If you are, you'll be happy to know that Branson offers a variety of camping sites and RV parks for you to enjoy. You may want to stay lakeside or on top of the Ozark Mountains, but wherever you stay, you are just minutes away from great live shows and exciting attractions; neon and nature beckon you.
In the Branson area, there are 35 RV parks with more than 2,500 sites. You can enjoy the comforts of a full-service 20/30/50-amp RV site, or unplug and reconnect with your family in the backwoods near one of three pristine lakes in the area. Most of Branson's RV parks and campground sites are located on or just minutes away from Lake Taneycomo and Table Rock Lake. Campers are also close to Branson shows and attractions.
Many Branson campgrounds offer Wi-Fi and internet access to help you keep up with emails from family and friends, and most are very pet-friendly. Some Branson RV parks and campgrounds are Good Sam award-winners and are often featured in Trailer Life magazine.
RVing is definitely a family affair. Kids, parents and grandparents benefit from time spent together. And you cannot beat s'mores around the firepit as you soak up the natural beauty of the Branson area while surrounded by loved ones.
Explore the Ozarks
Outdoor Activities in Branson
If you love to play outside, there are a multitude of ways to explore Branson and the Ozark Mountains—from canoeing and kayaking to hiking, biking, horseback riding and rock climbing. Branson is home to three pristine freshwater lakes, hundreds of miles of trails, several public parks, campgrounds and forests, making it an ideal destination for every type of outdoor enthusiast. 
Experience the Great Outdoors