Article
Camping in Branson
Enjoy the great outdoors on a camping trip in Branson. From campsites to hiking trails, find out everything you need to know to plan an unforgettable family excursion.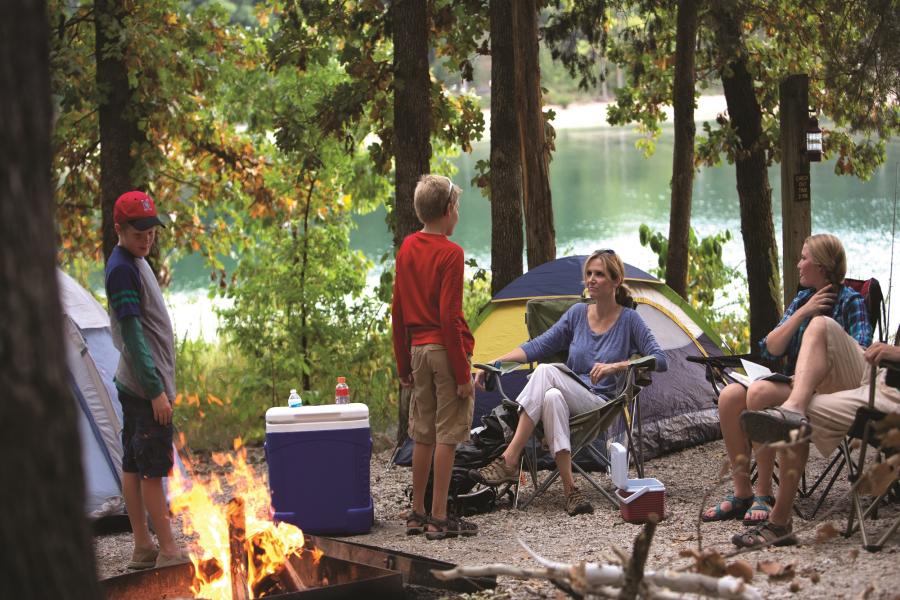 Fresh air, a cozy campfire, the sweet taste of s'mores — there's no better way to enjoy a weekend getaway than camping in Branson. Add the beautiful natural surroundings of the Ozarks and you've found one awesome outdoor adventure!
Campsites Near Branson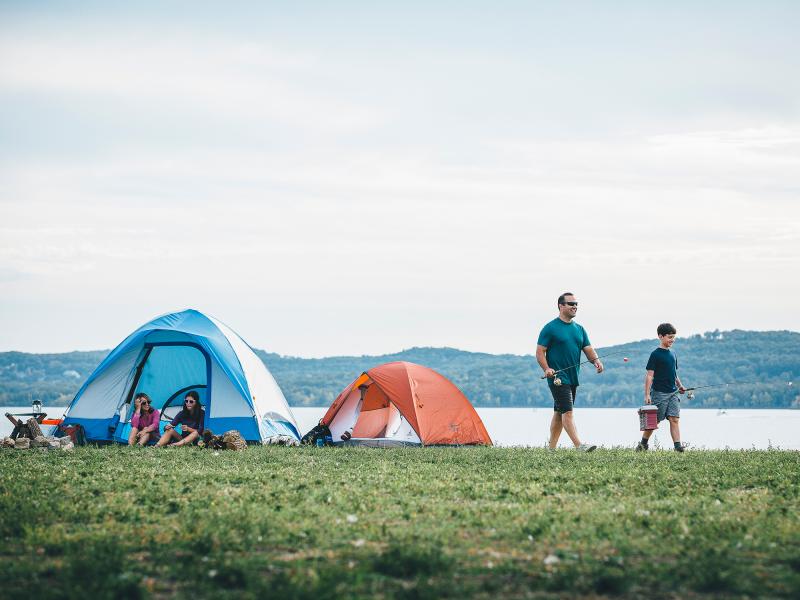 One of Branson's most popular camping destinations is Table Rock Lake, which features two campgrounds at Table Rock State Park Campgrounds. Trails of varying lengths are open to hiking and biking, while the popular Table Rock Lake is one of Missouri's top fishing destinations. The local marinas also have plenty of options for boat and equipment rentals and nearly 800 miles of shoreline to enjoy. 
Silver Dollar City Campground is minutes away from the bustle of Branson and a free shuttle-drive away from Silver Dollar City. This campground offers campsites, RV sites, hand-crafted log cabins and a Clubhouse with gear, snacks, souvenirs, free Wi-Fi and more! You can choose between a tent site with amenities, such as water and electric, or go hardcore and select a primitive tent site with nothing but a fire ring. And, if you're a season pass holder, you get a discount on your campsite, RV site and cabin!
Dispersed Camping in Branson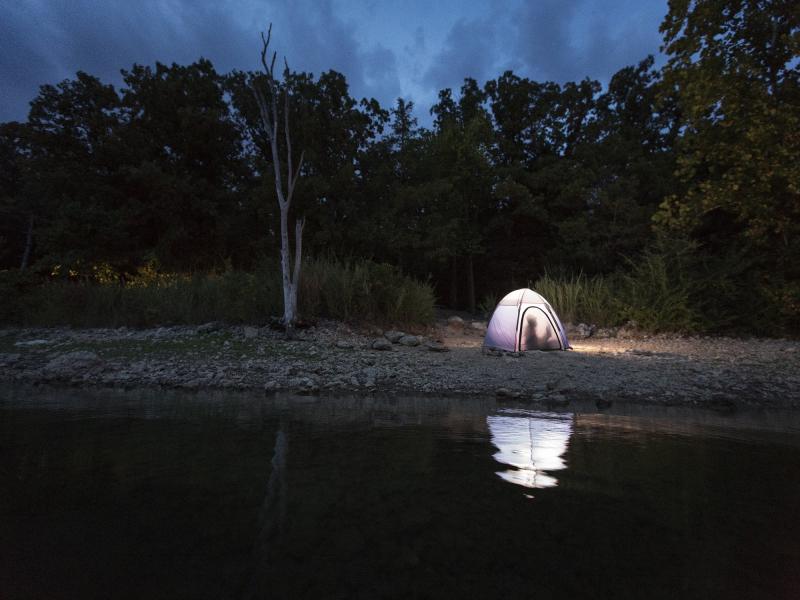 Our dispersed camping sites provide public land in and around Branson where campers can pitch a tent away from it all. Out here, it's really just you and the stars. 
The Busiek State Forest and Wildlife Area is a beautiful place to camp, though sites are limited and must be reserved in advance. There are nine primitive areas that can be found throughout the forest, each offering dispersed camping experiences with no amenities. Home to 18 miles of trail, Busiek invites you to take your horse, bike or hiking boots on an adventure. In addition, the land is a haven for bird-watchers, as 138 species have been recorded in this area. To reserve a campsite at Busiek State Forest, contact the Southwest Regional Office at (417) 895-6880.
Drury-Mincy Conservation Area is one of the Branson area's free, primitive campgrounds. Located just over 30 minutes outside of Branson, the space offers the bare minimum amenities, spread out campsites and easy access to hiking, biking, hunting and wildlife viewing near Bull Shoals Lake. If you are driving from Branson, go east on Highway 76 for 5 miles, then go south on Route J for 6 miles. Finally, take a right onto Gunnison Road for 0.75 mile and you've arrived!
Mark Twain National Forest, just a few hours northeast of Branson, offers campers a plethora of dispersed camping options. Six separate districts of the National Forest provide over 40 different dispersed camping opportunities, 750 miles of trails and 350 miles of perennial streams. As this campground is free of all amenities (even clean water sources), it is highly encouraged to prepare for your adventure in Mark Twain National Forest beforehand by studying this informative article. 
Best Seasons for Camping in Branson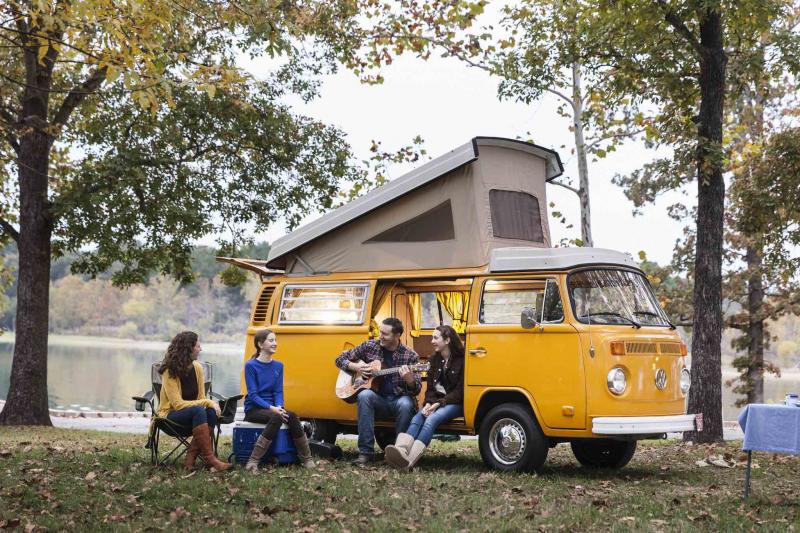 Spring in Branson, often referred to as "Ozark Mountain Spring," offers mild temperatures and new life with abundant dogwoods, redbuds, wildflowers, tulips, daffodils and forsythia in bloom. March, April and May are some of the best months to experience Branson camping. Bring a warm sleeping bag and extra warm socks for the evenings after enjoying beautiful temperatures throughout the day. 
Longer days of sunshine make summer ideal for getting the most out of camping in Branson. Take a swim in the lake, rent water sport equipment, spend the day relaxing with a fishing pole – all in warmer, but not unbearable, temperatures.
Even when fall is in full swing, cooler temperatures shouldn't dissuade you from camping in Branson. While you're en route and after you've set up camp, you'll be wowed by the brilliant colors evident during the fall months in the Ozark Mountains. And if there's a little chill in the air at night, just throw an extra log on the fire and bundle up for a cozy and comfy night's sleep. 
With so much beautiful nature to enjoy, camping in Branson is the perfect way to truly relax and take advantage of all the Ozarks have to offer. So, grab your camping gear and get ready for a trip to Branson, where fun beckons outdoor enthusiasts of all ages.
Check out our list of suggested campgrounds to find the right spot for your vacation.