Article
10 Ice Cream Spots in Branson
When the weather warms up, there's nothing more satisfying than a cold cone. Get a taste of our top 10 favorite ice cream spots in Branson.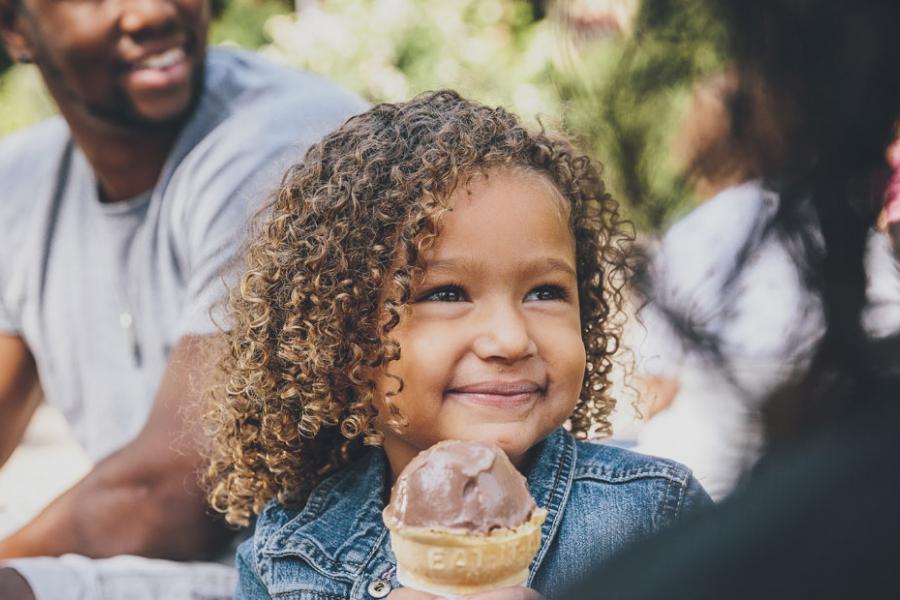 Satisfy your sweet tooth at Branson's 10 hot spots for cold treats!
Andy's Frozen Custard
3415 W 76 Country Blvd
Serving the Ozarks region (and beyond) for more than three decades, Andy's Frozen Custard always serves their high-quality custard within one hour of it being made. Andy's has a wide variety of treats from simple vanilla or chocolate cones to seasonal favorites like their Pumpkin Pie Concretes and Strawberry Shortcake Sundaes.
Billy Bob's Dairyland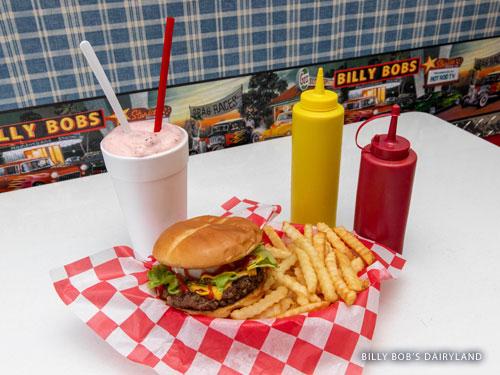 1901 W 76 Country Blvd
Billy Bob's is a dining legend here in Branson. This classic American diner offers staple items like burgers, fries, sandwiches and ice cream. We promise, their milkshakes are hard to beat. Please note, Billy Bob's Dairland is a cash only establishment. 
Cakes-n-Creams 50's Diner
2805 W 76 Country Blvd
With its bopping 50's tunes and its classic ice cream options, Cakes-n-Creams will keep you rocking 'n' rolling late into the night. Good luck trying to stop yourself from dancing along to the timeless music classics! New at Cakes-n-Creams, a nostalgic drive-in movie theater is now available. You can order in the diner and then head out to the car, or you can even wait for the car hop to make their rounds. 
Cold Stone Creamery
1615 W 76 Country Blvd
482 Branson Landing Blvd. Ste. 107
Enjoy premium ice cream, shakes and cakes customized just for you at one of Branson's two Cold Stone Creamery locations. Made fresh in-store daily, their ice cream is churned with the finest ingredients. Cold Stone also has many options available for guests with food allergies!
Dreamsicle's
110 E Main St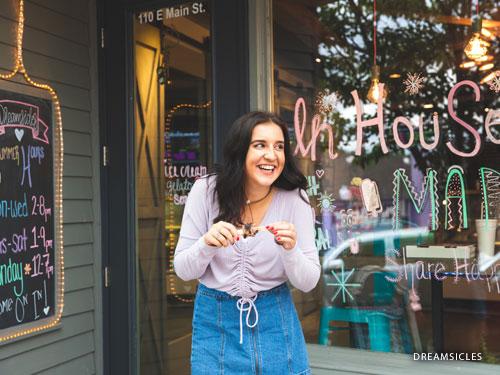 Dreamsicle's is a one-of-a-kind popsicle shop located in the heart of Historic Downtown Branson. All their ice cream, gelato, or fresh fruit sorbet pops are made in-house with the best local, organic ingredients. 
Marble Slab Creamery
1107 Branson Landing Blvd
Marble Slab is focused on providing guests with a unique and memorable ice cream experience. Their dairy is provided from local farms and is freshly churned in-store. Make a custom creation using unlimited mix-ins to top their already scrumptious ice cream!
Mel's Hard Luck Diner
2800 W 76 Country Blvd Ste. 103
A trip to Branson is not complete without visiting Mel's Hard Luck Diner, home to Branson's original singing servers. Mel's is famous for their Root Beer Malts and for serving the biggest banana splits in Branson!
Sammy Lanes Sweets 'N Treats
5586 W 76 Country Blvd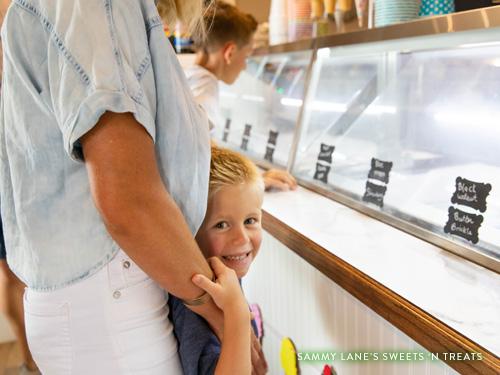 Sammy Lane is one of the beloved female leads in the famous Shepherd of the Hills play and book found at the Shepherd of the Hills Homestead. With Sweets N Treats just as sweet as Sammy Lane herself, you're sure to find the perfect match for any sweet tooth craving you may have. Enjoy Sammy Lane's delicious homemade ice cream, hand crafted fudge and specialty coffees. 
Mr. B's Ice Cream Parlor
102 S Business 65
Serving ice cream since 1958, Mr. B's Ice Cream Parlor is Branson's oldest ice cream shop. You can find their classic ice cream treats in the center of Historic Downtown Branson near Dick's 5 & 10!
Silver Dollar City
399 Silver Dollar City Parkway
Hannah's Ice Cream Factory at Silver Dollar City is a home-churned paradise. Choose from handcrafted flavors like vanilla, chocolate and strawberry, or try something new with Silver Dollar City's roller coaster themed flavors. You can also order a malt, shake, banana split, float or sundae. 
Places Mentioned
Find Your Next Branson Adventure