Branson is home to the best live shows and outdoor activities in the Midwest, but did you know it's also a favorite spot among thrill-seekers and daredevils?

From spine-tingling free falls to a rollercoaster that will keep heads spinning, real adventure begins in Branson. For a grab-life-by-the-horns-and-yell "yee-haw!" experience during a Branson vacation, this itinerary goes from zero to 60.
Silver Dollar City's largest coaster ever, Time Travel, begins with a ten-story, 90-degree drop launch and jumps from zero to 47 miles per hour in just three seconds. While traveling through the dive loop, vertical loop and zero-gravity roll, riders spin right-side up and upside down. This thrilling coaster will be a favorite for any adrenaline seeker!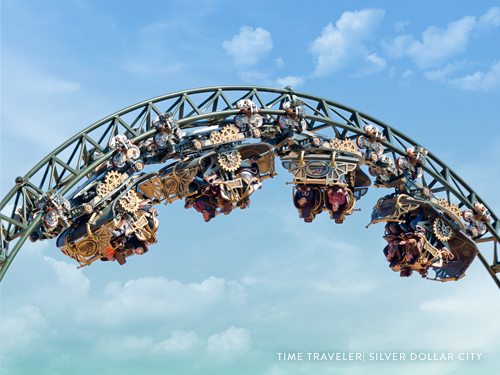 Located on the W 76 Country Blvd., a human slingshot known as the Ejection Seat launches riders 175 feet into the air, bouncing all around and upside down until gravity finally regains control. The initial blastoff creates uncontrollable pounding in the heart, a surprise for which most riders can never prepare.
Prepare for a G-force effect as you are extended through the air on two vertical windmill-like propeller arms, which extend 170 feet at their maximum height and spin up to 60 miles per hour during the ride. Skyscraper riders will experience up to four G's, similar to what a pilot feels when flying a fighter jet! Halfway through the ride, you can expect a pause at the top to take in an amazing aerial view of Branson's entertainment district and the surrounding Ozarks hills. With its extensive LED light display, it gets even cooler at night!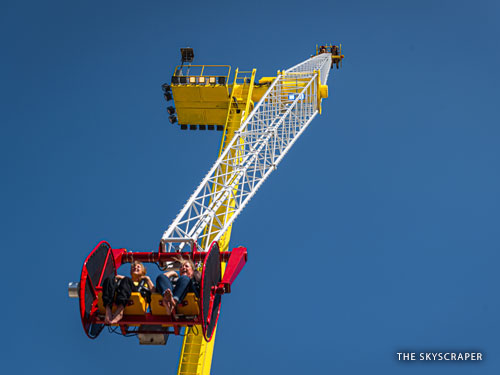 It's been a favorite activity among seafaring enthusiasts for nearly 20 years. With the boat's nifty launching and landing platform, visitors don't have to get wet to enjoy the view. Join American Parasail on a voyage across Table Rock Lake, soaring 250 feet into the air and dangling from a parachute while watching the postcard-perfect Ozarks all-around.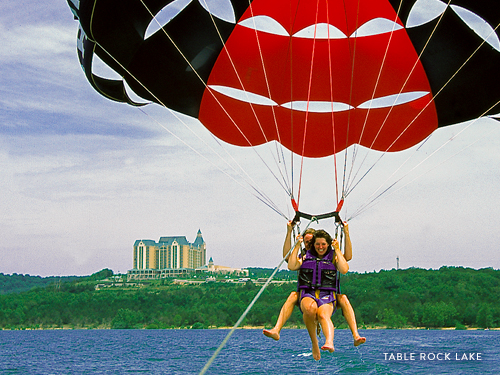 It's the kind of liquid adrenaline rush only in Branson! LA Times, NBC and the "Today Show" all agree and voted KaPau Plummet a must-ride water slide when it opened in 2014. This extreme adventure begins 40 feet above the ground inside a mammoth, 245-foot waterslide. Just as doubt begins to set in — the floor drops — down an exhilarating, 26-feet-per-second free fall until the final splash landing.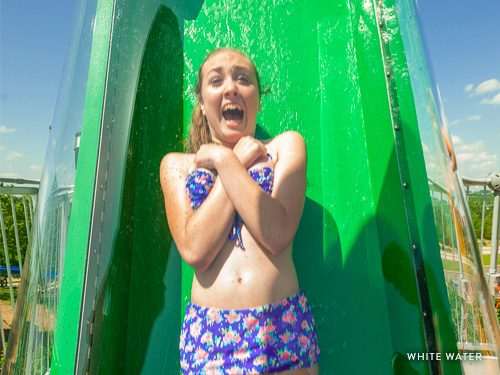 On the Vigilante Extreme Ziprider, you will launch from the 170-foot-tall Inspiration Tower, and reach 50 miles per hour during a 0.5 mile ride. You will also catch an unmatched view of Branson and the Ozark Mountains before and during your flight. Historic Shepherd of the Hills features many more thrilling elements accross the Homestead like the Adventure Park, Zipline Canopy Tour and ATV Adventures.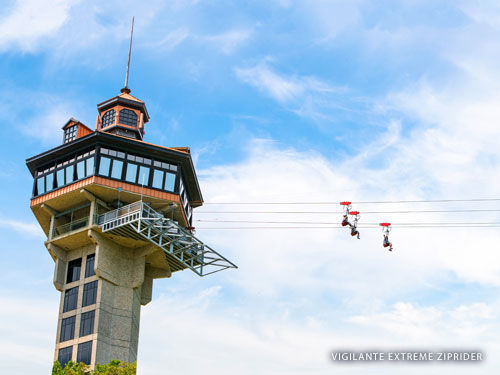 Need more reasons to visit Branson, MO this year? Check out our top eight here.