Article
Branson's Best-Kept Secrets
From international eats and record-breaking attractions to local nightlife venues and historic landmarks, Branson has many hidden gems waiting to be discovered. Take time to step off the beaten path to experience some of Branson's best-kept secrets!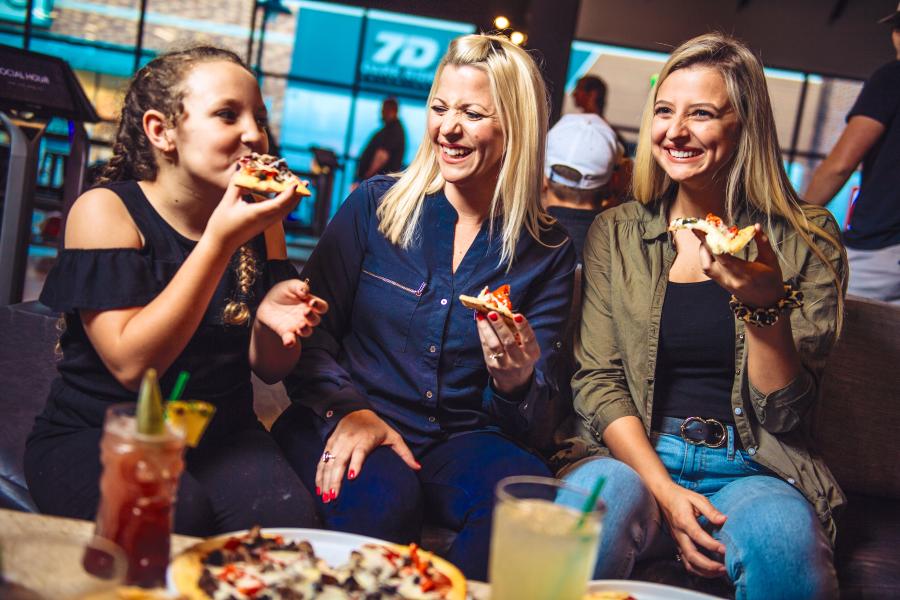 Searching for something extraordinary to add to your next vacation itinerary? Branson is full of rare treasures to explore. Find some of Branson's best-kept secrets below! 
International Flavor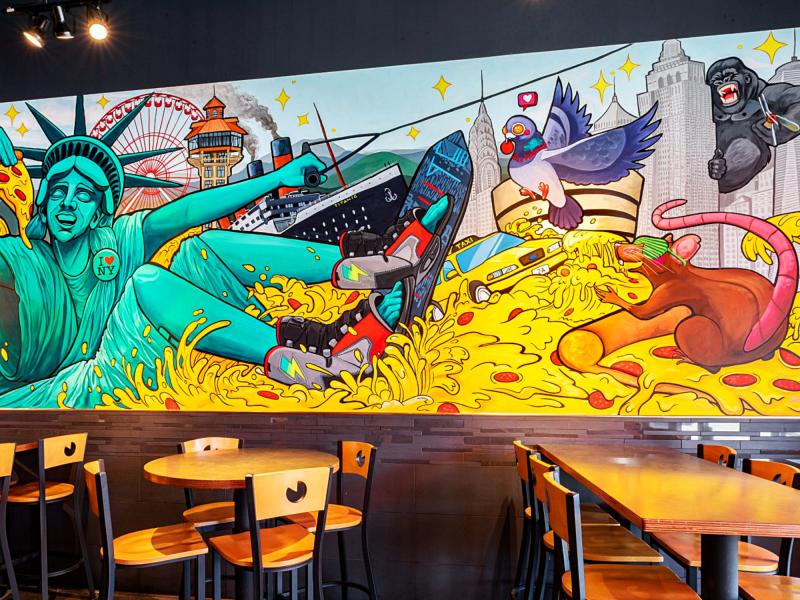 Branson's variety of restaurants make finding a satisfying meal easy during your stay. Did you know, Branson also brings tastes from around the globe to the heart of the Ozarks?
Find Mediterranean fare at Vasken's International Deli, a local favorite serving a tasty assortment of hot and cold sandwiches, salads and more. You can't go wrong with any of Vasken's delicious gyros (especially the Firehouse Gyro—a spicy, savory combination of lamb and beef), chicken shawarma, Greek salad or sample platter with falafel. For dessert, be sure to try their homemade baklava, a gooey, flakey pastry with layers of chopped nuts and honey. 
For an Indian culinary journey, visit India Clay Oven. If you've never tried Indian food, this restaurant might make you an immediate fan. The extensive menu of traditional Indian cuisine includes delicious tikka masala, pakora and warm naan bread. Order off the menu or go for the fresh, hot lunch buffet.
Serving Japanese steak and sushi, Wakyoto's offers authentic Asian cuisine and specialties. Try teriyaki entrees, tempura shrimp, edamame and the wasabi special roll, a signature menu item. A favorite among locals, Thai Thai Cuisine offers dishes such as chicken satay, deep-fried calamari, beef salad, won ton soup, spicy noodles and more. 
Want a slice of New York? Look to your left when you walk into Pizza by the Slice and you'll find an epic mural of the Branson Skyline mixed with graphics that represent the essence of New York. You'll have your choice of pizza slice, wings, salads, and deserts, a very cool place to take the friend group and family.
You'll also find multiple Mexican, Italian, Chinese, Irish and other international restaurants around Branson. See a full list here. 
Record-setting Attractions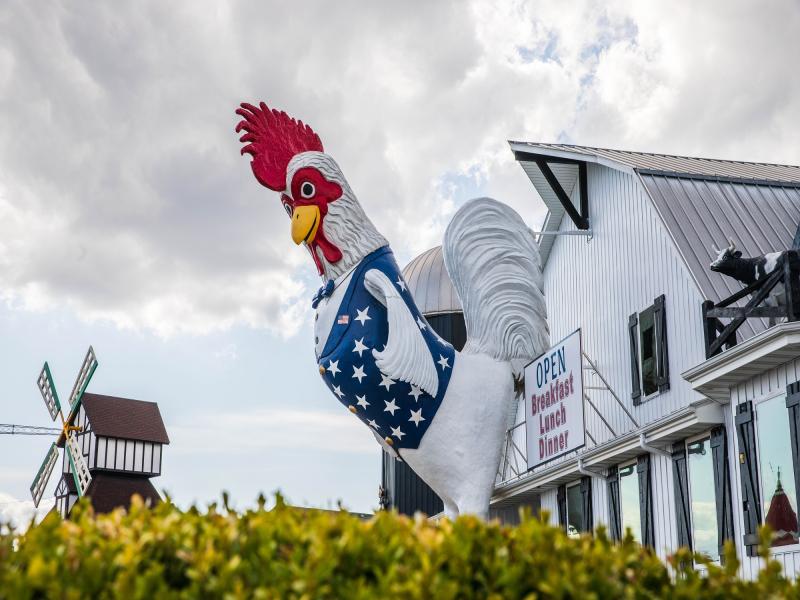 Branson is home to several noteworthy roadside attractions. The world's largest rooster, better known as Mr. Peck, stands 43ft. tall at Branson's Great American Steak & Chicken House. Stop to snap a photo by the city's feathered fiberglass friend, and try the restaurant's sizzlin' steaks and farm fresh chicken.
Music is instrumental to Branson's character (no pun intended), which is why the world's largest banjo is located inside the Fun Spot at Grand Country Resort. Towering 47ft. in the air, the banjo is a working replica of a Gibson-style banjo. It's a great quirky stop for a unique vacation photo!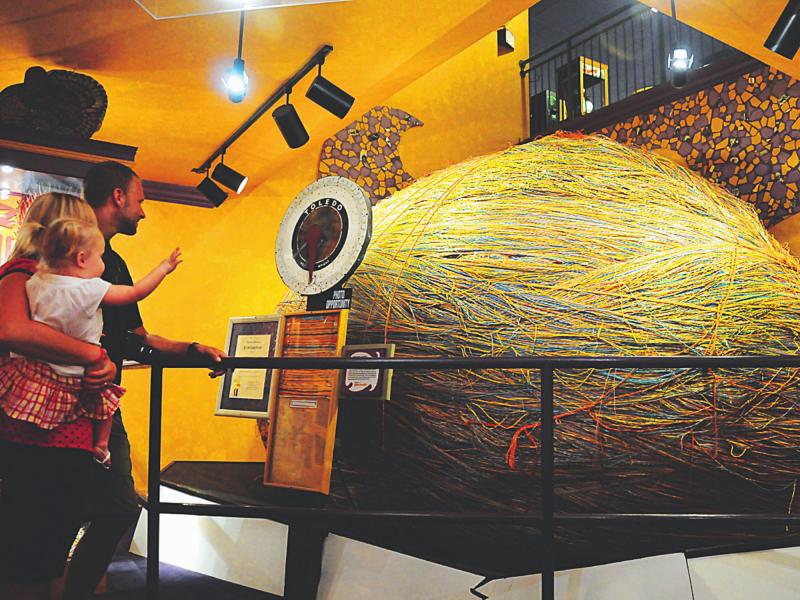 Ripley's Believe It or Not is full of eccentric items, including the world's largest ball of nylon twine. Weighing a whopping 12,000lbs. and totaling a circumference of over 40ft., the ball is a must-see attraction. Be sure to check out the museum's other 450 exhibits and artifacts, including a stagecoach made entirely of toothpicks, a spinning vortex tunnel, rare animal skeletons and more. 
Another great photo opportunity and record attraction in Branson awaits at the world's largest fork and meatball outside Pasghetti's in Branson. Bring your appetite and eat in one of the restaurant's Italian-themed dining rooms. While you wait for your food to arrive, stay entertained with a game room and indoor Ferris wheel ride. 
Local Sweet Spots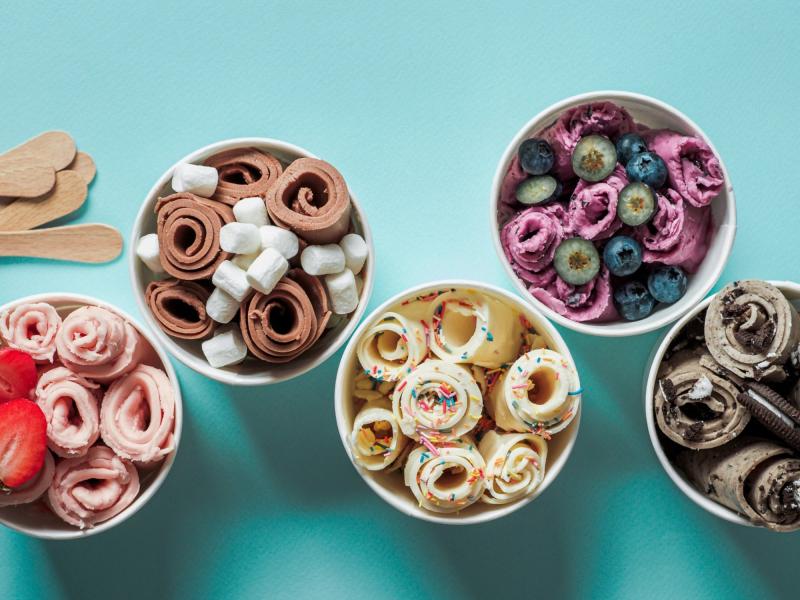 YOLO Rolled Ice Cream is quite the frozen treat locale. Watch as the "mad scientists" scoop and roll your ice cream into a beautiful ice cream taco! Choose which toppings you would like rolled inside or on top and enjoy, because "YOLO," you only live once!
Located at the College of the Ozarks, the ice cream from the creamery at the Keeter Center is so fresh you can see the cows it came from just outside in the pasture! Part of the college's "Hard Work U" student work program, the creamery's ice cream is made farm-fresh from the campus dairy. Students then pasteurize, bottle and deliver it to the Keeter Center, where natural ingredients are combined to create delicious flavors such as vanilla custard, chocolate and the very popular salted caramel.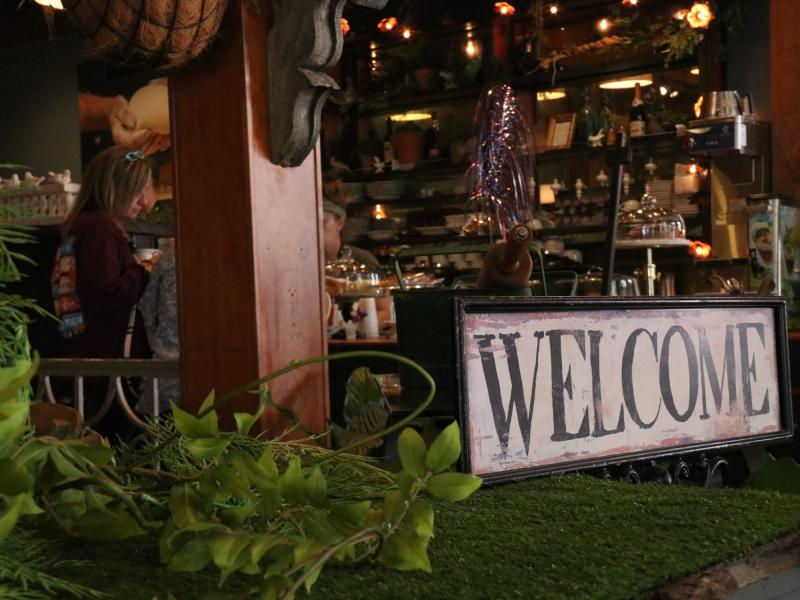 Tucked away in the Grand Village Shops, Sugar Leaf Bakery, Cafe & Espresso offers a delicious assortment of baked goods, sandwiches, salads, specialty coffee and more. Fruit cobblers, giant cookies, made-from-scratch hot chocolate with glacier marshmallows are just a few of the bakery's top sellers. This cozy spot is the perfect place for a cute date or an afternoon of fun with the girls in Branson.
Nightlife Venues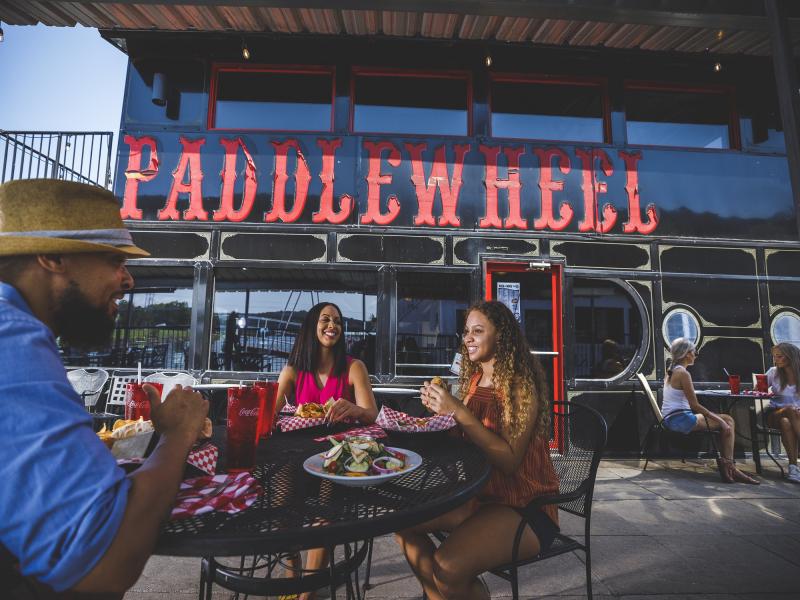 Looking for nighttime entertainment? Branson has several venues with plenty of fun to fill an evening. Near the Branson Landing, Waxy O'Shea's Irish Pub & Restaurant is a great late-night stop for enjoying drinks and live music.
Vintage Paris, a quaint, cozy, locally-owned cafe in Hollister (just a few miles south of Branson) is a popular hangout spot for the locals. They serve handcrafted espresso beverages late into the night and feature a large selection of fine wines, craft beer, cigars and scrumptious pastries. Experience an evening on the cafe's string-lit porch or stay inside and admire their vintage and eccentric aesthetic.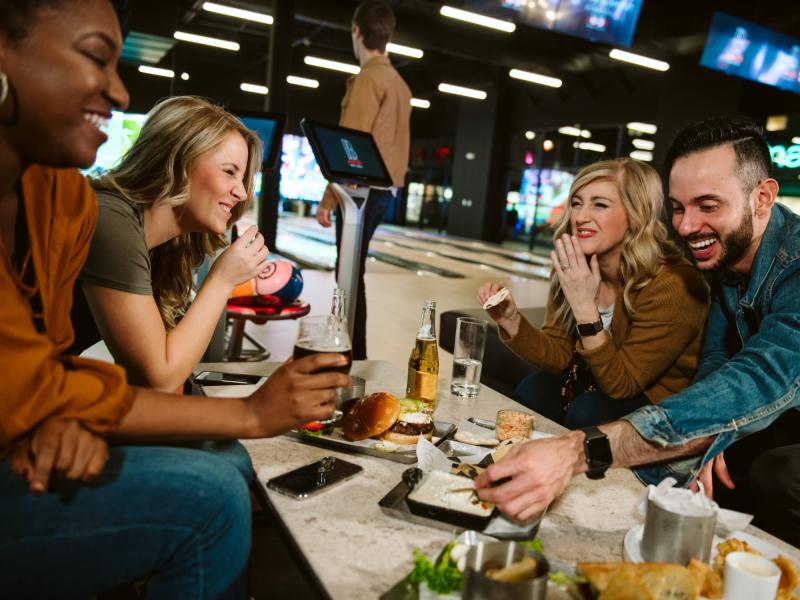 Andy B's Bowl Social at the Branson Landing is a perfect experience for evening fun with friends or family. Live it up with bowling, arcade games, private karaoke rooms, virtual reality, escape rooms and more. Andy B's full restaurant and bar will keep you fueled for the evening.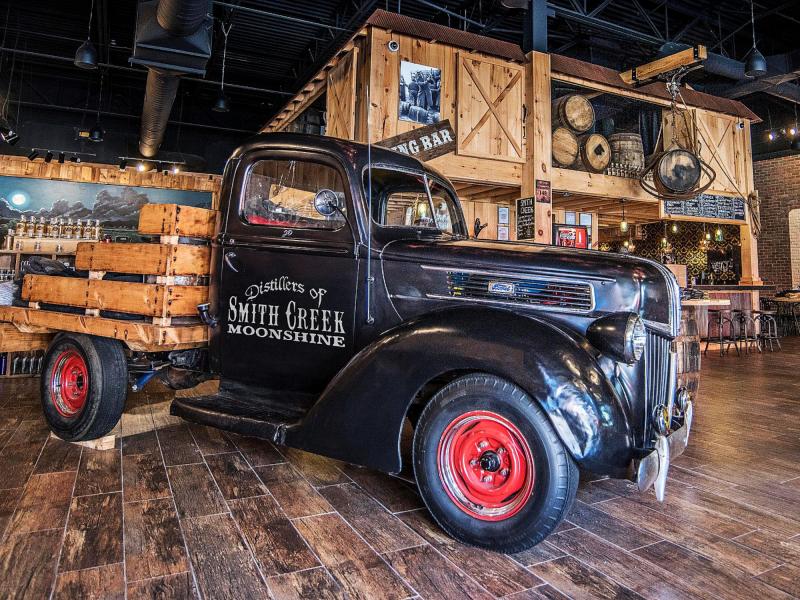 Also located at the Branson Landing, Smith Creek Moonshine not only offers tasty concoctions made with its specialty moonshine; the venue also features mouthwatering barbecue and fabulous evening entertainment. Try the caramel moonshine along with melt-in-your-mouth Pig Stickers (pork shanks that have been dry rubbed, smoked, steamed and then flash fried to perfection) for a unique culinary encounter. Be sure to save room for Moonshine Bread Pudding to end your evening on a sweet note! 
Historic Sites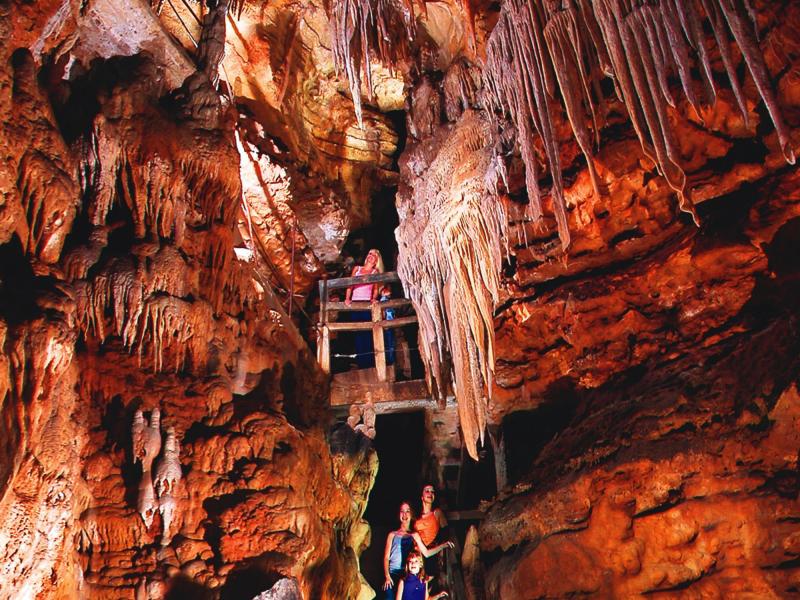 Branson literally keeps history alive with several sites in the area. Since the early 1920s, cave exploration has been a popular pastime in the Ozarks. Officially gaining its name in 1969 when Silver Dollar City purchased the cave, Talking Rocks Cavern has shown its glistening walls of crystal and rock to many guests over the years. Go on a one-hour tour to learn about the cave's history referred to by cave management as "edutainment," an experience full of education and entertainment. A hiking trail and mini-golf course are also on site for above-ground fun. 
On the National Register of Historic Places, the Bonniebrook Gallery, Museum and Homestead displays a collection of work from Rose O'Neill, the renowned artist, illustrator, activist and creator of the famous Kewpie character. In addition to an exhibit of nearly 60 pieces of original art, there are also over 100 antique Kewpie items showcased throughout the recreation of O'Neill's 14-room Ozarks mansion. Visitors can also explore nearby walking trails, sculpture gardens, the O'Neill family cemetery and more. 
For more Ozarks history, visit the Ralph Foster Museum at the College of the Ozarks. The museum is home to a collection of items relating to the Ozarks, including antiques, natural artifacts, machinery and more. One of the most famous items on display is the original vehicle used in the hit television series, "The Beverly Hillbillies!"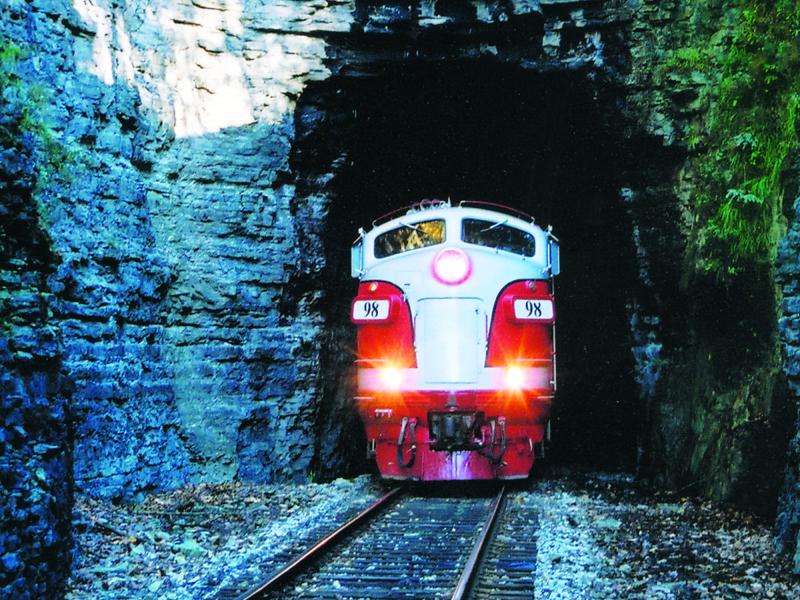 Find an interactive piece of history at the Branson Scenic Railway in Historic Downtown Branson. The vintage passenger train takes guests on a one-hour-and-45-minute trip departing from the 1905 depot through the foothills of the Ozarks. A narrator tells the story of extinct railroad communities and the outline of railway history that shaped the Ozarks. Passengers will travel approximately 20 miles outside Branson before returning to the depot. 
Looking for more to do and see during your next visit to Branson? Check out these must-do Branson bucket list activities for even more fun! 
Places Mentioned
Find Your Next Branson Adventure