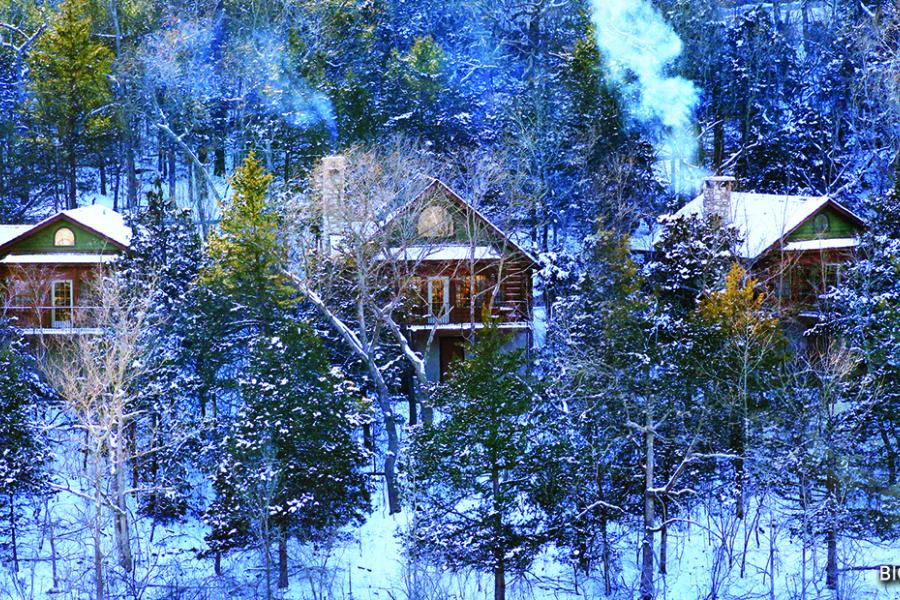 The joyful atmosphere in Branson - America's Christmas Tree City - makes us a world-wide Christmas destination for families and groups year after year. To celebrate the joy of the Christmas season, many of our lodging facilities organize annual holiday events and attractions for their guests and the public. 
Big Cedar Lodge
Plan the perfect holiday vacation at Big Cedar Lodge. This esteemed Branson resort offers a special Happy Holidays Package to celebrate the season. This exclusive package includes two nights lodging, a Christmas photo session producing an 8x10 family photo, a breakfast buffet at Devil's Pool Restaurant, a personalized Christmas gift from Big Cedar and tickets for Big Cedar's favorite holiday offering, Sleigh Bell Scurry. In the Sleigh Bell Scurry event, teams dash across Big Cedar's property and aim to solve clues from a Christmas scavenger hunt. Each correct answer allows you to collect a piece of a wreath that you will assemble after the hunt has subsided. Participants are invited to create their wreaths around a blazing bonfire and enjoy winter staples like hot chocolate and s'mores. The event begins November 8 and occurs every Monday, Wednesday, Friday and Saturday evening at 6:30 pm. Cost is $70 per team (2-6 people). Reservations are required and the event is open to the public. Reserved for resort guests only, Big Cedar's Elf Visits are an unforgettable experience for your little ones. The elves come from the North Pole to deliver a Christmas stocking of goodies, read bedtime stories and collect letters to take to Santa. Elf Visits are available on Monday-Saturday, November 22-December 30 from 7:00pm to 10:00pm. Big Cedar's outdoor Winter Wonderland Ice Rink is open to both lodging guests and the public. During the evening, the ice rink lights up with beautiful Christmas lights and décor. The Winter Wonderland is open daily from 10:00 am to 8:00 pm starting on November 8. End any holiday evening with a Big Cedar's Holiday Light Tour which travels by tram through the entire property. The tours are open to the public, require a reservation and last 45 minutes. The tram rides are Monday - Friday at 6:00 pm, 6:30 pm and 7:00 pm, 7:30 pm on November 19 - December 30, as well as November 8-9 and November 15-16.
Chateau On The Lake
Chateau on the Lake Resort, Spa and Convention Center shows off their Christmas spirit from December 2-December 25 by displaying beautiful holiday décor and lights throughout the resort. Walk outside your door and enjoy the magic of the season by making ornaments, caroling by the fire or watching holiday movies. Chateau on the Lake offers Christmas dinner on December 25 and some New Year festivities as well. Kick off 2021 with brunch on New Year's Eve, then prepare to dance the night away at the New Year's Eve Celebration.
Still Waters Resort
Celebrate this Christmas season at Still Water Resort for the annual Winter Wonderland, which runs through November 5 - December 31. The resort is just minutes away from Silver Dollar City and there will be a free shuttle to transport everyone to and from the park. Also, if you are feeling crafty this will be just the spot for you. Learn how to make one of a kind Christmas ornaments, snow globes, a holiday wreath, and more. There will also be an inflatable adventure park for the kiddos to play on. If you book your stay for November 25-27, you will get 40% off!
Silver Dollar City's Wilderness
The Wilderness features a variety of rustic log cabins that will make you feel right at home during the holidays. Visitors can choose from loft cabins, pioneer cabins or rustic cabins with or without kitchenettes and fireplaces. Cabin dwellers have acces to a free shuttle service to Silver Dollar City where you can experience An Old Time Christmas with over 6.5 million twinkling lights and 30+ live holiday shows. Within the same five mile radius is the Shepherd of the Hills Trail of Lights, Branson's original drive-through light trail with themed and animated displays winding its way through the 160-acre Shepherd of the Hills Homestead. Complimentary Hot Chocolate at the end of the Trail!
The Hilton
One of the best places to be during the holidays is Downtown Branson! Be prepared for a dazzling and luxurious night's stay at the Hilton Branson Convention Center Hotel or the Hilton Promenade, both one of Branson's top hotels. Located next door is the Polar Express, a train ride from the Branson Scenic Railway that will remind kids (and adults!) how wonderful and special the holidays can be... if you just believe! Enjoy a beautiful view of the Adoration Nativity Scene, a 28-foot-tall nativity that stands high above the Branson skyline. To top off your Christmas spirit, just a few feet away is the Branson Landing where you can find a 63-foot state-of-the-art Christmas Tree and check off your holiday shopping list. For fun weekend activities, Historic Downtown Branson hosts Festive Fridays right around the corner through December 18th. 
While staying in America's Christmas Tree City, be sure to check out Branson's Christmas Tree City Tour!
Places Mentioned
Find Your Next Branson Adventure