Article
Copper Run Distillery Keeps an Ozark Tradition Alive
See the family history that led to Branson's famous Copper Run Distillery and their Ozark Mountain Moonshine.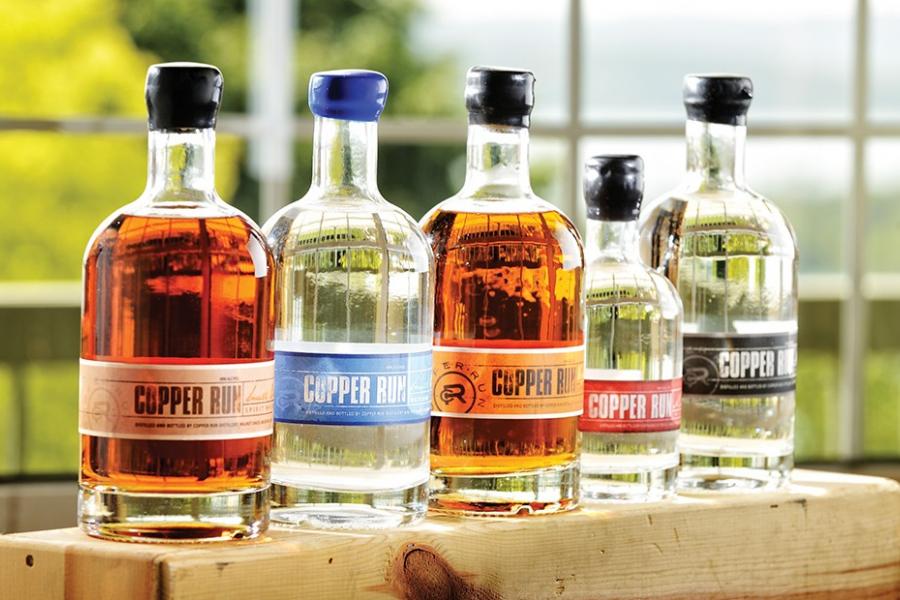 Jim Blansit's family tree has deep roots in the Ozarks. He's not afraid to share some family history that includes a taste of moonshine…that spirit that fuels visions of moonshiners outrunning the law, stills in the backwoods, and late night deliveries of that good corn whiskey that grandpa made.
This long family avocation led Blansit to open Copper Run Distillery in 2009 on family property.
The signature product on sale is Ozark Mountain Moonshine which in technical terms is un-aged corn whiskey made using a traditional formula of 80% corn and 20% wheat sour mash using a pot still.
Blansit describes tasting his moonshine as "offering earthy, green citrus flavors with a sweet corn finish including notes of caramel and malted grain".
The distillery has a range of handmade small batch products including a white rum from blackstrap molasses and a whiskey aged in charred white oak barrels. All of these are available to sample in the tasting room, which also features a bar serving variety of cocktails for sale including a number of signature specialty creations.
With water being a major ingredient in their products, the local limestone-infused water is just right for making spirits and the barrels they use for aging are made from Missouri white oak from Lebanon, Missouri. 
The distillery tasting room has complimentary tours available. The tour offers an in-depth look at the distilling process and gives a visitor insight into the artisanal distilling movement that has mushroomed over the past decade.
With the current high level of interest in everything related to food and beverage, the distillery is a great stop on any culinary tour of the Ozarks. Visitors and groups will find an inviting tasting room for Sampling, plus food offerings including an always changing "picnic basket" with a focus on local suppliers like a French baguette from the Artisan's Oven Bakery, "Herb n' Garlic" goat cheese from the Terrell Creek Farm, and raw honey from Lucky Bee among other Southwest Missouri farm-to-table fare. Locally grown herbs are often infused into their summer cocktails.  
Bar service is always available and a comfortable deck is an inviting way to enjoy the Ozarks outdoors with a Copper Run signature cocktail.
For a convention or business group the distillery can be an informative, fun addition to scheduled agendas. The distillery, tasting room, and complimentary tours are just 14 miles north of Branson. The facility can accommodate parties up to 50 and catering for groups is available.
Since 2022, Copper Run has relocated to Branson West.
A visit to Copper Run offers legendary Ozarks hospitality with a taste of an authentic back country moonshine tradition…and darned if it isn't legal!
Distillery & Tasting Room Signature Cocktails
Moonshine Bloody Mary
In an ice-filled highball glass with a salted rim:
1.5 ounces Copper Run Ozark Mountain Moonshine
3 ounces spicy tomato juice or Bloody Mary Mix
2 dashes each-hot sauce and Worcestershire sauce
0.5 ounce lemon juice
Pinch of salt and pepper
Garnish with a celery stalk
Classic cocktail with plenty of spice to wake-up your appetite!
Watermelon Mojito
In a highball glass with a sugar rim:
1.5 ounces Copper Run White Rum
6 fresh mint leaves with 5 watermelon chunks
1 tbsp. sugar
0.5 ounce lime juice
2 ounces soda
Place mint leaves and watermelon in bottom of glass. Add crushed ice, Copper Run White Rum, sugar, and lime juice, and muddle. Add soda water and garnish with mint leaves and slice of lime. Summertime in a glass!
Small Batch Spirit Whiskey on the Rocks
In an Old-fashioned or "rocks" glass;
2 ounces Copper Run Small Batch Spirit Whiskey
3 ice cubes
The perfect artisanal adventure!
And you can check out the rest of Copper Run's Tasting Room Menu here.
Copper Run Contact Information
Copper Run Distillery
14720 Business 13
Branson West, MO 65737
417.587.3336
[email protected]
Article by Jerry Shackette