Article
Paddleboarding in Branson
Stand-up paddleboarding (SUP) is the perfect outdoor adventure and method of transportation for exploring Branson's beautiful scenery and lakes. Whether you're a paddleboarding amateur or pro, Branson has several watercraft rental facilities available to help make your next adventure on the water a blast!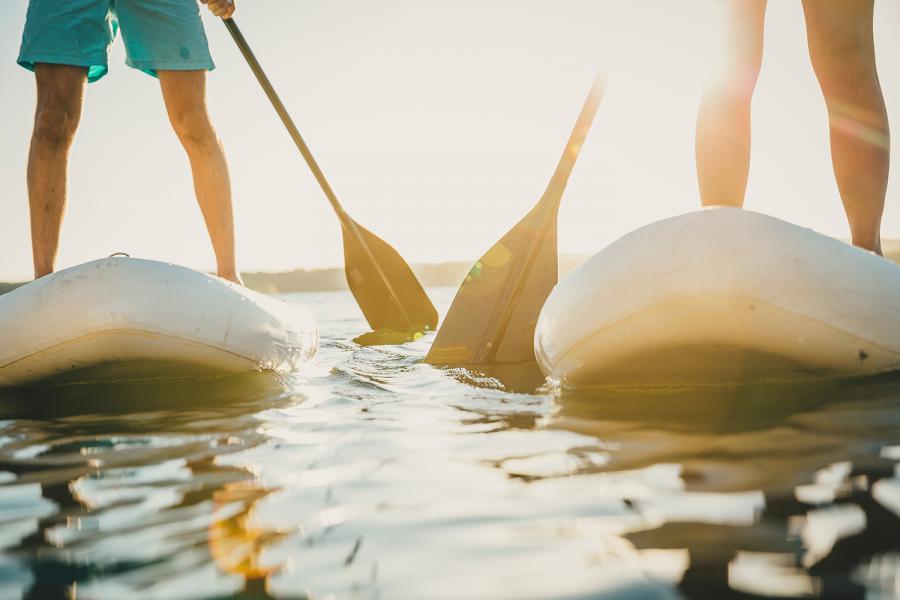 Stand-up paddleboarding (SUP) is an activity that has become an increasingly popular outdoor pastime in recent years. Paddleboarding combines some of the skills involved in surfing with the ease and relaxation experienced while kayaking. 
Branson's area lakes make the perfect playground for paddlers to get out on the water and explore the Ozarks! You don't have to look far to find a rental facility in Branson that can provide a board, oar and a few pointers to help you make the most out of your stand-up adventure on the water. For equipment rentals, guided tours and more, check out the following locations in Branson. 
Kayak Branson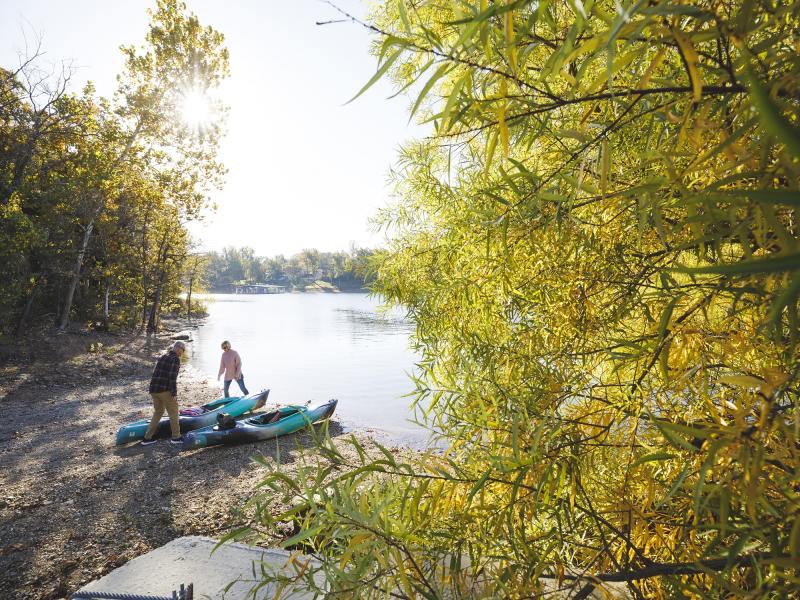 Choose from exploring either Lake Taneycomo or Table Rock Lake with Kayak Branson, which rents and sells stand-up paddleboards. Take a guided tour, or, if you're an experienced paddler, set sail on your own. The view is nice anytime on Branson's nearby lakes, but for an extra gorgeous scene, consider trying one of Kayak Branson's sunset or moonlight tours. In addition to SUP boards, you can also find single, double or triple-passenger kayaks available for half or full-day rentals. 
White River Kayaking and Outdoors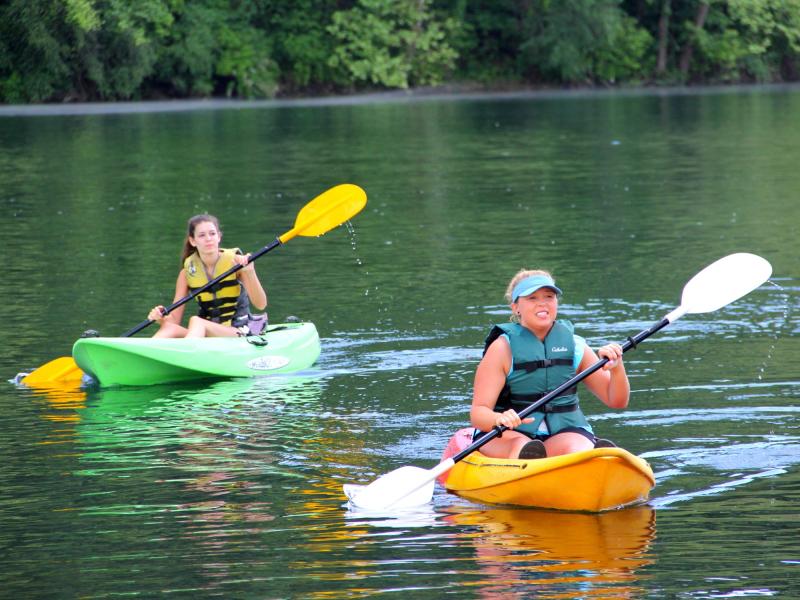 With the help of White River Kayaking and Outdoors, you can take the ideal paddleboarding trip around Bull Shoals Lake, Table Rock Lake's Moonshine Beach or the Branson Landing area of Lake Taneycomo. Located just a few miles south of Branson in Hollister's Turkey Creek Junction Shopping Center, the facility covers all the basics for your paddleboarding adventure. Life jackets, a map of local waterways and even an optional drop-off service are all available. White River Kayaking and Outdoors also offers canoes, single and tandem kayaks and bikes, perfect for riding Branson's trails through the Ozark Mountains. Weekly, daily and hourly specials are available. Call 417-335-2210 for more information. 
Main Street Marina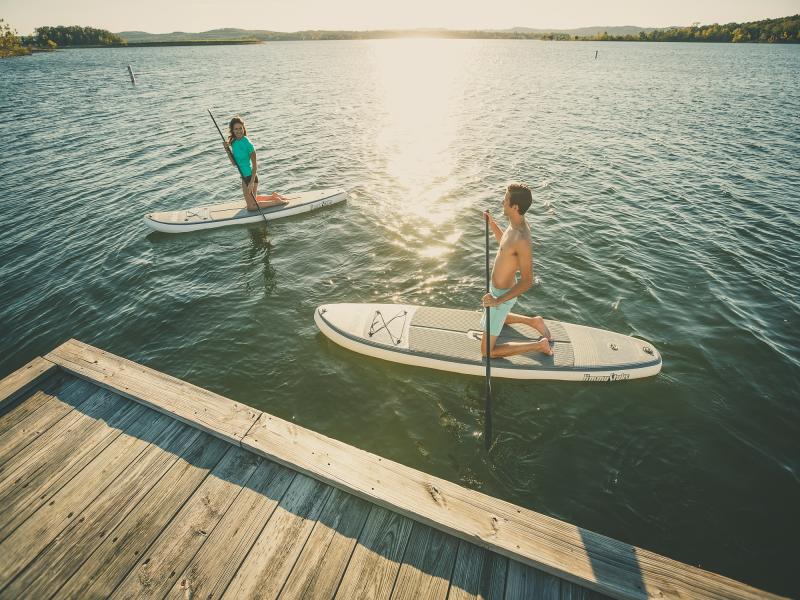 Main Street Marina is another destination for watercraft rentals in Branson. You can rent a stand-up paddleboard to explore Lake Taneycomo near the Branson Landing area. CraigCat power boats, hydro bikes and single, double or fishing kayaks can also be rented from the marina by the hour. 
Ozarks SUP Yoga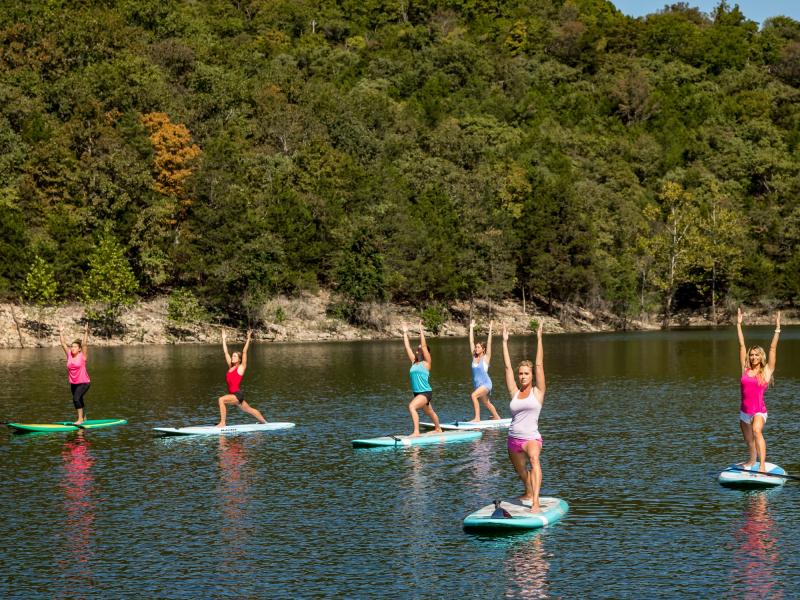 Enhance your balance and wellness with a paddleboard yoga session in Branson! Ozarks SUP Yoga hosts classes, retreats and more, allowing you to explore the Ozarks and benefit your health at the same time. To see announcements and schedule information, watch the Ozarks SUP Yoga Facebook page. 
Stand-up paddleboarding is just one of many outdoor adventures you can find in Branson. For more fun you can experience on the water during your next Branson vacation, visit here. 
Places Mentioned
Find Your Next Branson Adventure