Article
Top Thanksgiving Meals in Branson
Thanksgiving is a favorite among holidays. It celebrates two of the greatest things in life: food and the people you love. Whether your Thanksgiving meal is a large event or a small family gathering, Branson has the perfect restaurants waiting for you.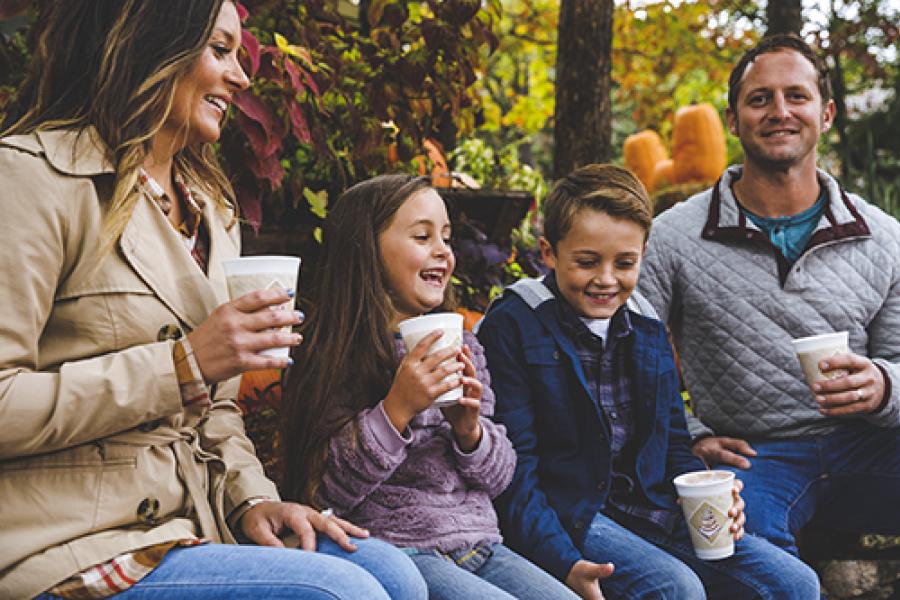 Here's a list of the restaurants that will be open and serving delicious Thanksgiving meals in Branson this year. 
Bob Evans
801 W Main St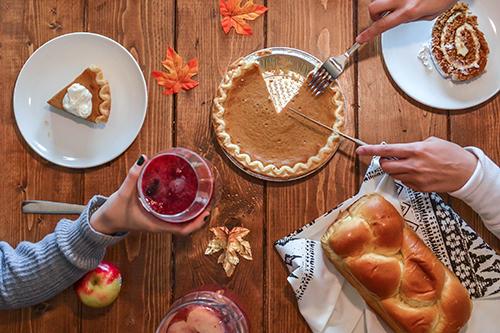 This classical American chain known for its family-style meals will satisfy all your country cravings! Branson locals and visitors alike return to Bob Evans for some delicious food. 
Open Thanksgiving Day from 7:00 a.m. - 8:00 p.m.
The Keeter Center
1 Opportunity Ave, Point Lookout
The Keeter Center serves a traditional array of customized culinary stations with over 50 chef-created selections including carved, signature hickory smoked prime rib of beef, traditional Thanksgiving turkey, dressing, savory entrees, and Side Dishes, seafood selections, assorted vegetables, seasonal fruit, charcuterie, an array of delicious seasonal salads, personalized omelets, waffles, traditional breakfast fare, delectable selections of house-made pastries and confectionery delights.
Charlie's Steak, Ribs & Ale
3009 MO-76
If you're craving comfort food and unique drink offerings, you've found the right place. Charlie's Steak, Ribs & Ale has all that and more and is conveniently located in the heart of Branson's Highway 76 Strip.
Serving Thanksgiving meal with smoked turkey, plus full menu all day.
Denny's
2335 76 Country Blvd
Visitors to Denny's can look forward to a meal featuring turkey breast paired with savory stuffing, turkey gravy and cranberry sauce and served with two sides and dinner bread. Denny's also has dessert covered with Pumpkin or Pecan Pie. 
Open all day.
Chateau on the Lake 
415 N State Hwy 265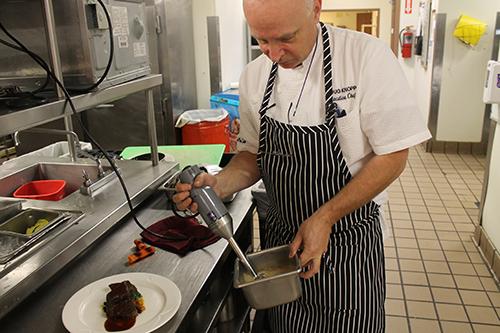 Treat your family to a fantastic three course Thanksgiving meal prepared by the talented culinary team at Chateau on the Lake.
Seating times are 11:00am-6:15pm (by reservation only). For reservation requests please call (417) 243-1736 or click here to submit your information to request a call back. 
Devil's Pool Restaurant and Worman House at Big Cedar Lodge
190 Top of the Rock Rd
Big Cedar serves a full Thanksgiving meal with made-to-order, mouth watering menu items at Devil's Pool and Worman House.
Open 10:00 a.m. – 8:00 p.m.
Grand Country Buffet
1945 W 76 Country Blvd
A Thanksgiving buffet of your dreams awaits you at Grand Country this year - they go all out! Choose from a variety of holiday treats and tastes. 
Thanksgiving Buffet served all day.
Cracker Barrel
3765 State Hwy 76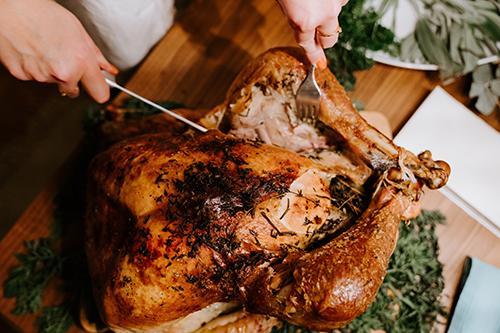 Cracker Barrel has a variety of Thanksgiving menu options available for groups of all sizes. Enjoy your food in a family meal basket to-go or have a dine-in experience!
Thanksgiving menu served all day, 7:00 a.m. - 9:00 p.m.
Fall Creek Steak & Catfish House
997 Hwy 165
This popular dining destination will wow you on Thanksgiving day. If you are looking for a unique place to dine, Fall Creek offers a antique lover's paradise. As you leave, take a few minutes to check out the country gift shop, you might just find a unique Christmas gift to take home.
Thanksgiving meal served 11:00 a.m. – 8:00 p.m.
Local Flavor
2830 W 76 Country Blvd
New to Branson in 2021, Local Flavor Restaurant offers home-cooked meals with all the southern style fixings. From country fried steak and mashed potatoes to incredible specialty burgers, you won't leave hungry when you dine at Local Flavor!
Open Thanksgiving Day 11 a.m.- 3:00 p.m.
McFarlain's Family Restaurant
IMAX Entertainment Complex, 3562 Shepherd of the Hills Expy
McFarlain's serves home cooked meals in antique-filled dishes. Thanksgiving Day will feature mashed potatoes, stuffing, yams, ham or turkey, corn bread with honey butter, and more!
Thanksgiving Day Feast will be served all day. 
Golden Corral
3551 Shepherd of the Hills Expy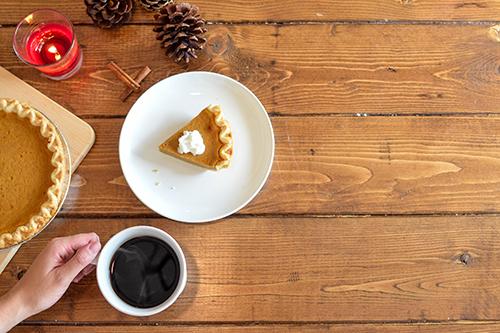 Golden Corral offers nothing short of a thanksgiving feast. Buffet items include turkey, fried chicken, pot roast, meatloaf, ham, steak, potatoes, corn, macaroni and cheese, pizza, pasta, and more! 
Thanksgiving Buffet served all day
Shoney's
1950 76 Country Blvd
This All-American Kitchen is the perfect place for a Thanksgiving meal. Bring your family to a warm, welcoming environment with Shoney's classic Thanksgiving feast items. 
Thanksgiving meal served all day. 
Osage Restaurant at Top of the Rock
150 Top of the Rock Rd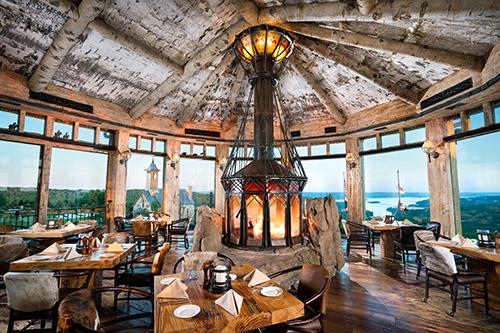 Thanksgiving buffet at Osage has options from mouthwatering seafood platters to carved meats that will have you dreaming of this meal until the next Thanksgiving. 
Buffet will be served 11:00 a.m. - 8:00 p.m. on Thanksgiving day
Pasghetti's
3129 76 Country Blvd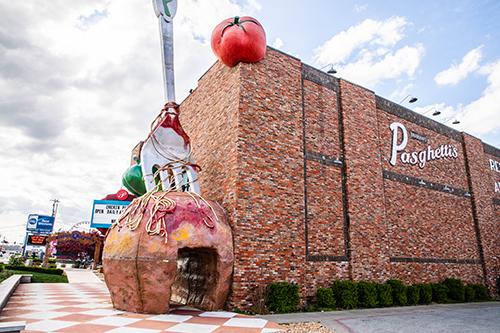 Pasghetti's is a perfect option that mixes fun with food. This family-owned Italian eatery has themed dining rooms, an indoor ferris wheel & a game room. Enjoy Thanksgiving with some excitement surrounding!
Thanksgiving dinner served all day.
Paula Deen's Family Kitchen 
545 Branson Landing Blvd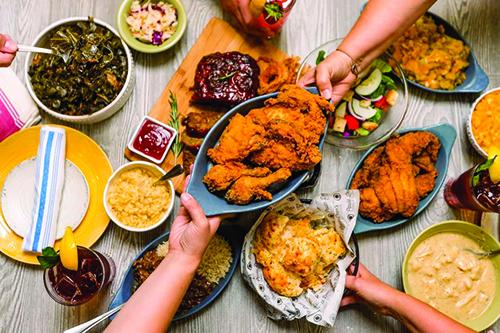 If there's such thing as a perfect thanksgiving meal, Paula Deen's serves it. Their holiday menu is designed with delicious appetizers, classic Thanksgiving items with Paula Deen's special touch, and dessert that you'll have to find room in your stomach for. 
Special menu served 11:00 a.m. - 10:00 p.m.
Shepherd's Mill 
5586 76 Country Blvd
Shepherd's Mill is ready to do all the cooking and cleaning for your Thanksgiving Dinner. No reservations required. A dinner buffet will be set up with all the fixings for you and your family and friends!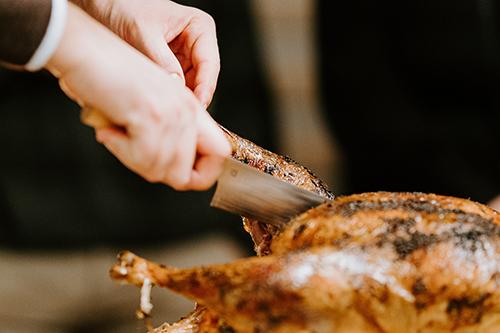 Thanksgiving meal served all day.
Looking for more meal inspiration? Check out Dining with Kids in Branson!
Places Mentioned
Find Your Next Branson Adventure