Article
Dining With Kids in Branson
Finding the perfect place for the whole family to dine while on vacation can sometimes be difficult. Thanks to Branson's wide variety of restaurants, there are plenty of delicious options for even the pickiest of palates!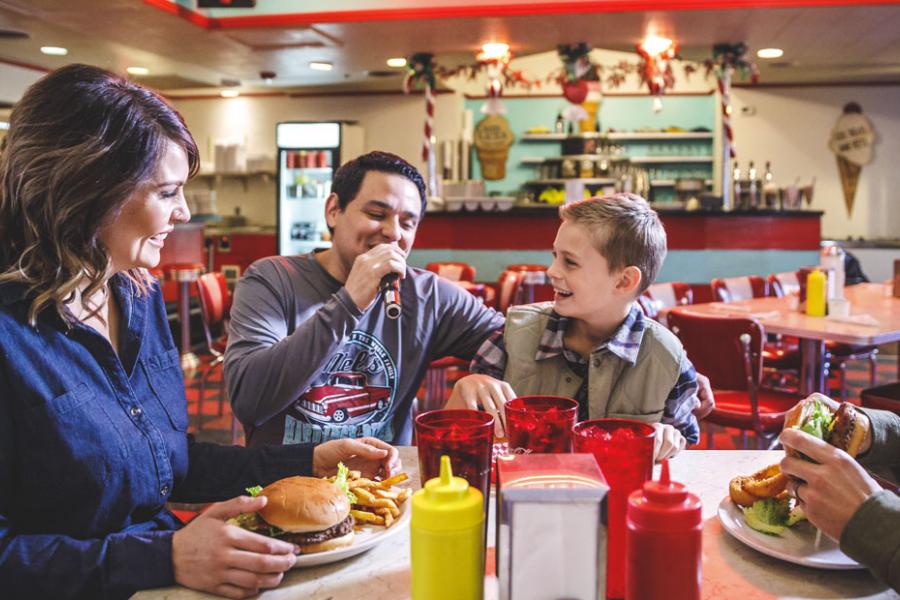 Take the stress out of meal-planning during your next family trip to Branson with these favorite kid-friendly restaurants. 
Mel's Hard Luck Diner 
A Branson staple, Mel's Hard Luck Diner is a family stop for fantastic entertainment and classic diner eats. The restaurant staff are all professional singers and will perform for your food! Choose from old-fashioned, diner-themed food such as chili dogs, plate specials, mouth-watering burgers and more. Mel's Root Beer Malt or a gigantic banana split are the perfect treats to finish off your dining experience. 
Afterwards, wander through the neighboring shopping area in the Grand Village Shops for specialty clothing, decor and collectibles.
Pasghetti's 
You know you're at Pasghetti's in Branson when you see the giant meatball with a huge fork – one that's taller than the adjacent building – welcoming hungry visitors. Pasghetti's specializes in Italian cuisine, and its traditional Pasghetti and Meatball (which is huge, just not quite as big as the one outside) is among its most popular menu items. 
A combination Italian restaurant and attraction, Pasghetti's is a fun family experience for all ages. After being seated in one of the restaurant's classic Italian themed dining rooms and ordering your meal, keep hungry appetites at bay with a game room and even an indoor Ferris wheel! 
As you leave, be sure to snap a photo by the giant meatball for a special memory. For post-meal entertainment, check out two popular neighboring Branson attractions, Beyond the Lens! and the Titanic Museum Attraction. 
McFarlain's Family Restaurant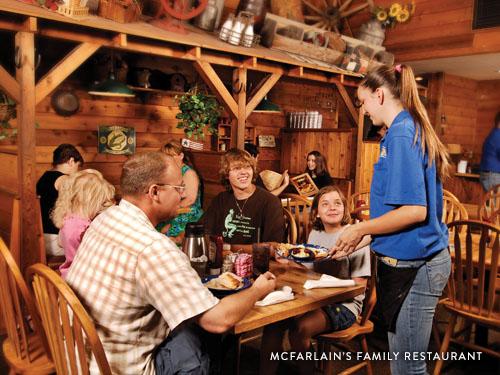 Located inside Branson's IMAX Entertainment Complex, McFarlain's Family Restaurant captures the heart (and stomach) of Branson. McFarlain's is known for its legendary Ozarks fare, inlcuding hearty breakfast pancakes, homemade soups, sandwiches, slow-cooked pot roast, chicken and other down-home dishes. The restaurant's famous honey cornbread is a must and will likely have even the smallest ones in your group asking for a second round. There's a favorite comfort food for everyone on the menu. 
Don't forget dessert! Fresh made-from-scratch pies and cobblers are served up daily, including the Branson Traffic Jam Pie made with strawberries, cherries, rhubarb and cranberries. 
After your meal, enjoy shopping for souvenirs, or take in a show at the complex's indoor Little Opry Theatre. 
Grand Country Buffet 
If you're traveling with kids and want to find a great way to combine dining with sightseeing or activities, look no further than Grand Country Resort. The resort is home to several dining options, including the well-known Grand Country Buffet. Start your vacation with a big breakfast filled with farm fresh eggs, bacon, cereals, fresh fruit and more. Later, choose a dinner filled with country-style chicken, vegetables, baked bread and desserts. 
Also on-site is the Grand Country Fun Spot, home to a two-story arcade, laser tag arena, mini-golf and bumper cars. If you get hungry again from all that activity, Papa Grand's Pizza is just a few doors over, where you'll find an incredible assortment of pizzas and desserts. 
Mellow Mushroom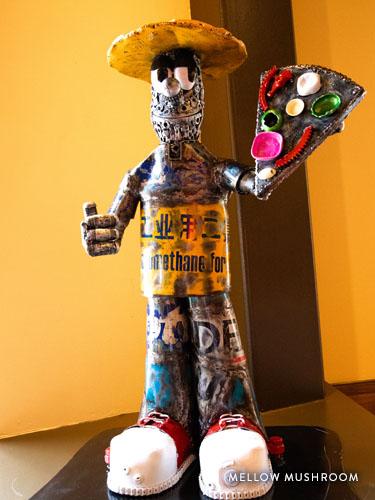 Speaking of pizza, if you get a craving for a pizza pie while shopping at the Branson Landing, head to Mellow Mushroom for a refuel! This unique pizza chain features stone-baked pizza and a variety of salads, sandwiches and burgers.
Have anyone in your group who has dietary restrictions? Mellow Mushroom can accommodate dietary needs with many gluten-free and vegan options. With its artistic environment, Mellow Mushroom feels and tastes as groovy as it sounds! 
BillyGail's Cafe 
Of course, when it comes to family meals, you can't skip the most important meal of the day. BillyGail's Cafe is the perfect spot to savor a filling breakfast together. Kids and adults love the massive pancakes on BillyGail's breakfast menu, which is frequently lauded as one of the region's best breakfast stops. The pancakes – which are the size of hubcaps – are awesome by themselves, but kids seem to especially enjoy the chocolate-chip variety. Other favorites include stuffed french toast, steak and eggs and a variety of omelettes. 
If brunch or lunch is more your family's style, BillyGail's also serves up homemade soups, club sandwiches and burgers until 2 p.m. 
Andy's Frozen Custard
For dessert or a pre-dinner treat (it is vacation after all), you can't go wrong with a treat from Andy's Frozen Custard. With creamy shakes, concretes, jackhammers and sundaes, you can customize your favorite frozen custard to satisfy the sweetest tooth. Try the Ozark Turtle, a local specialty featuring frozen custard covered with hot fudge, caramel, roasted pecans and a cherry on top. 
Family fun and excellent dining options are waiting for you year-round in Branson! Explore more kiddo-friendly restaurants here. 
Places Mentioned
Find Your Next Branson Adventure