Article
The Adoration Scene: A Time-Honored Tradition
There's no holiday spirit quite like experiencing Branson's oldest Christmas Tradition and by coming to the lighting of the city's Adoration Scene and the Adoration Parade.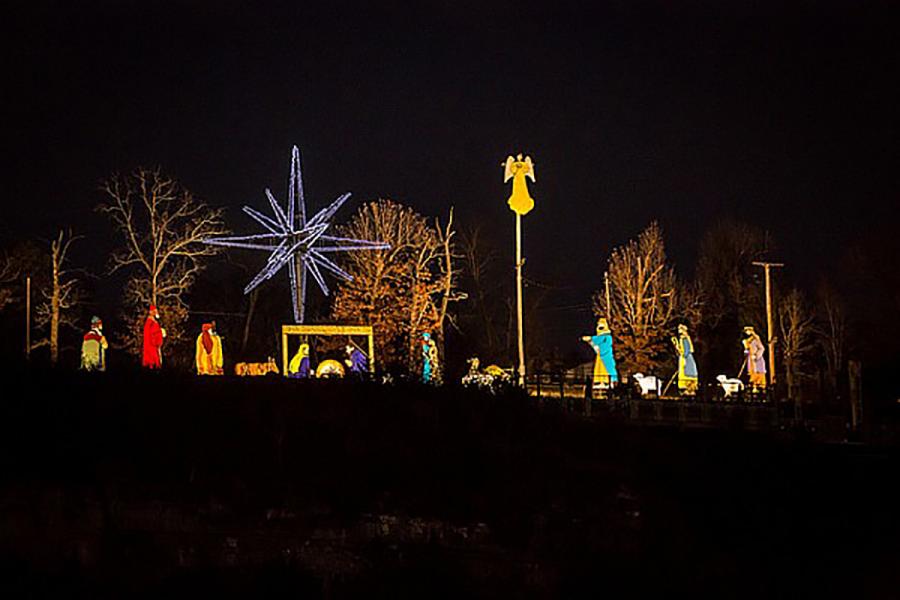 Families and friends from all over gather downtown to watch this impressive display fill the downtown scene with Christmas spirit. The crowd waits in anticipation for the parade that follows and floods Downtown Branson with bright floats and a cheerful parade that will put a smile on every face. 
History of the Nativity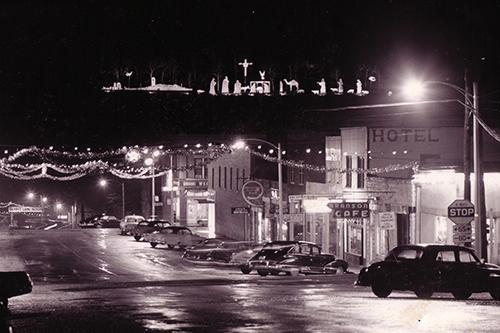 It was 1949 when a businessman by the name of Joe Todd met with Steve Miller, a local artist, over the mid-day lunch break in a Downtown Branson café. There, the two men sketched their plans to construct an Adoration Nativity Scene to honor the Christ child—all on the face of a napkin. Six decades later, Branson continues to honor and celebrate their vision and hard work, displaying the traditional scene atop the same mountain where the original structure once stood. 
Rebuilt in 2012, the 28-foot-tall nativity stands high above the Branson skyline, built to the same standards as the original scene based on photographs and the original plans. Although the original Adoration Nativity Scene is gone, the celebration of the Christmas story in a non-commercial manner along with the vision and dream of Joe Todd and Steve Miller still remain in Branson.
Where to See the Nativity Lighting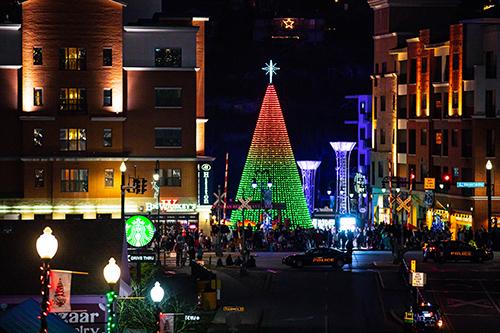 The giant nativity scene can be viewed across Lake Taneycomo from the Branson Landing. Each year, locals and visitors alike gather around Downtown Branson for the lighting ceremony after dusk. Cheers emit all over the area as the scene is lit and Branson is filled with Christmas spirit.
Adoration Parade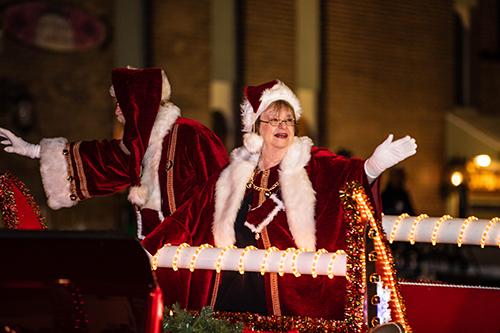 This year's parade is scheduled for Sunday, December 5th at dusk, following the lighting of the nativity. Intentionally non-commercial, the parade features marching bands, churches and organizations that want to honor the story of Christmas, and even an appearance from Saint Nick himself. The parade is a reminder of the true meaning of the Christmas season. The parade route starts at the Branson Convention Center parking lot and winds through downtown, with the main view areas being on Commercial Street. 
Looking for more Christmas inspiration? Check out Top Things to Do with Kids during Christmas in Branson