Article
Best 10 Burgers in Branson Based on Our Visitors
We went on a mission to find the best burgers in Branson based on our visitors reviews, and the results are in!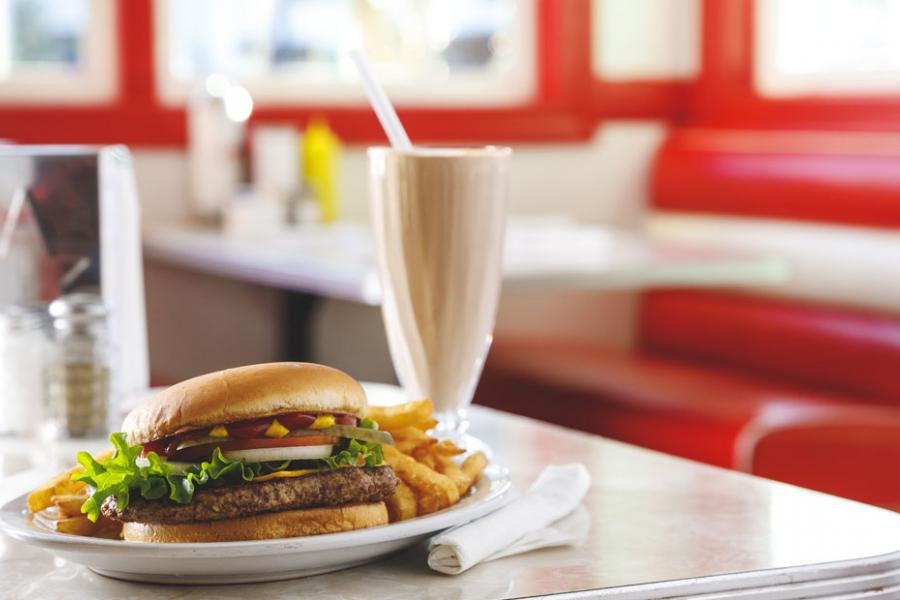 Sourced from the reviews of Branson visitors, here are the top 10 mouth watering hamburgers waiting for you on your next Branson vacation. 
1. Danna's BBQ and Burger Shop 
963 Hwy 165 Branson, MO 65616
The Danna Burger is a 6oz. patty cooked to perfection and served on a toasted bun with cheese, chopped pork, lettuce, tomato, pickle & BBQ sauce. Since meat is their specialty, the chopped pork is marinated, slathered with a secret rub, and then slow smoked until the rub is falling off the bone. Pair your burger with a side of french fries, onion rings, coleslaw or beans and a sweet tea, milkshake or beer. 
2. Billy Bob's Dairyland
1901 W 76 Country Blvd Branson, MO 65616
For a classic, hard-to-beat taste, head to Billy Bob's Dairyland. Often referred to as a Branson staple, this quaint restaurant offers single and double hamburgers and cheeseburgers with a side of crinkle cut fries. There's also a long list of the finest sides to which you can upgrade. A meal at Billy Bob's is not complete without a tasty milkshake or malt. Please note, Billy Bob's Dairyland is a cash only diner. 
3. Pickin' Porch Grill
694 Highway 165 Branson, MO 65616
Located inside the booming Branson Craft Mall, Pickin' Porch Grill will not disappoint. The two must-trys are the Anaheim Burger, ⅓ lb of charbroiled angus topped with charred anaheim peppers, avocado, grilled onions, lettuce, cheddar cheese and their house chipotle lime aioli, and the Chorizo Burger, ⅓ lb charbroiled angus and chorizo topped with candied jalapenos, onion strings, swiss cheese and their house chipotle lime aioli. All burgers are served with french fries. 
4. Smith Creek Moonshine
1209 Branson Landing Blvd Branson, MO 65616
300 Tanger Boulevard Suite 232 Branson, MO 65616
In addition to the locally distilled moonshine, Smith Creek Moonshine offers delectable gourmet and stuffed burgers. Their Black & Bleu Gourmet Burger is a crowd favorite, with fresh meat, bleu cheese, red wine onions and bacon. Don't leave without trying the Avocado & Spicy Mayo Burger which is stuffed with fresh avocado and spicy mayo, and topped with lettuce and tomato. All hamburgers are served on a brioche bun.  
5. Drafts Sports Bar & Grill
2280 Shepherd of the Hills Expressway Branson, MO 65616
Enjoy a Drafts Famous Burger at Drafts Sports Bar & Grill. All of Drafts burgers are double-patty, quarter pounders made with a perfect blend of beef brisket, short rib and Angus beef. The Famous Burger is a new spin on a classic taste topped with crisp lettuce, thick-sliced tomatoes, onions and your choice of cheese served on a buttery toasted bun or crisp lettuce leaves. 
6. Downing Street Pour House
24 Downing St Hollister, MO 65672
Good luck picking just one taste from Downing Street Pour Houses' stacked lineup of gourmet burgers! Although all are highly rated, the H.A.F.B is almost unbeatable. The patty is stacked with sriracha mayo, microgreens, smoked gouda, bacon, avocado butter and a soft fried egg on a warm, toasted bun. Other burgers include toppings like house smoked pastrami, fire roasted hatch green chilies, sauteed mushrooms, house-made pimento cheese and more. 
7. Scooter's Sports Grill
4800 North Gretna Rd. Branson, MO 65616
Enjoy a gourmet burger with a side of fries, onion rings are side salad at Scooter's Sports Grill. The mushroom and mozzarella burger is unique and absolutely delicious. After the meal, grab a club and play a round at the Greatest Adventure Mini Golf course attached. 
8. Flat Creek Restaurant
7847 St Hwy 173 Cape Fair, MO 65624
Flat Creek Restaurant has two locations found just outside of Branson's city limits. Their Kitchen Sink Burger is too good to leave off the list. Devour two eight ounce burgers topped with swiss, cheddar and pepper jack cheese, bacon, mushrooms, sauteed onions, and onion ring, jalapenos and a fried egg. 
9. Mel's Hard Luck Diner
2800 W 76 Country Blvd Ste. 103 Branson, MO 65616
The unique environment, the singing servers and the classic tastes make Mel's Hard Luck Diner hard to beat! Try Emanuele Fontanini's favorite burger, the Sixteen Ton Chili Burger on your next visit. This open-faced burger is topped with tons of delicious chili, cheddar cheese and chopped onions. All burgers are served with lettuce, tomato, onion, pickles and french fries on the side. 
10. McFarlain's Family Restaurant 
3562 Shepherd of the Hills Expwy Branson, MO 65616
For a half pound of pure beef burgers, head to McFarlain's Family Restaurant. Here, don't miss the Green 'Mater burger, topped with pepper jack cheese, chipotle ranch, fried green tomatoes, lettuce, pickle and onion. McFarlain's is located inside the IMAX Entertainment Complex, so after dinner, easily enjoy specialty shopping, live shows and impressive movie screenings. 
Check out some of Branson's unique restaurants here!