Article
Andy Williams' Mama's Rhubarb Shortcake Recipe
Andy Williams was a favorite performer around the world and right here in Branson. Bring one of Andy's most treasured recipes "Mama's Rhubarb Shortcake" to your home today.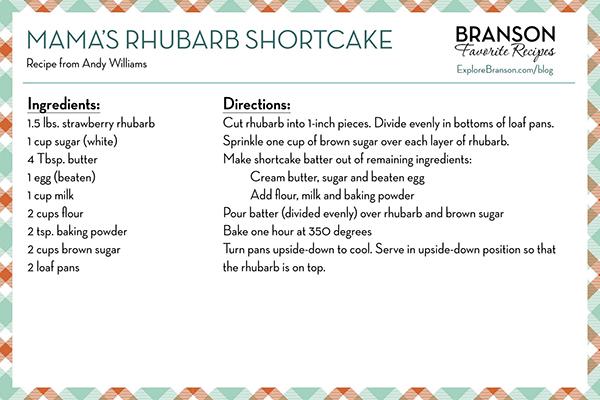 Ingredients:
1.5 lbs. strawberry rhubarb
1 cup sugar (white)
4 Tbsp. butter
1 egg (beaten)
1 cup of milk
2 cups of flour
2 tsp. baking powder
2 cups brown sugar
2 loaf pans
Directions:
Cut rhubarb into 1-inch pieces. Divide evenly in bottom of loaf pans.
Sprinkle 1 cup of brown sugar over each layer of rhubarb.
Make shortcake batter out of remaining ingredients.
Cream butter, sugar and beaten egg
Add flour, milk and baking powder
Pour batter (divided evenly) over rhubarb and brown sugar
Bake for one hour at 350 degrees
Turn pans upside down to cool. Serve in upside down position so that the rhubarb is on top.
This is guaranteed to be a new favorite in the household, especially if you are a dessert lover. It is perfect for the holiday season or even if you are having a sweet tooth craving. Make sure to give it a try and maybe even write it down so you can make it again and again.
In Branson, check out more of Andy Williams' favorite things at the Andy Williams Performing Arts Center and Theatre.