Article
Bike Trails in the Branson Area
Branson's scenic and adventurous bike trails provide an ideal way to explore the great outdoors.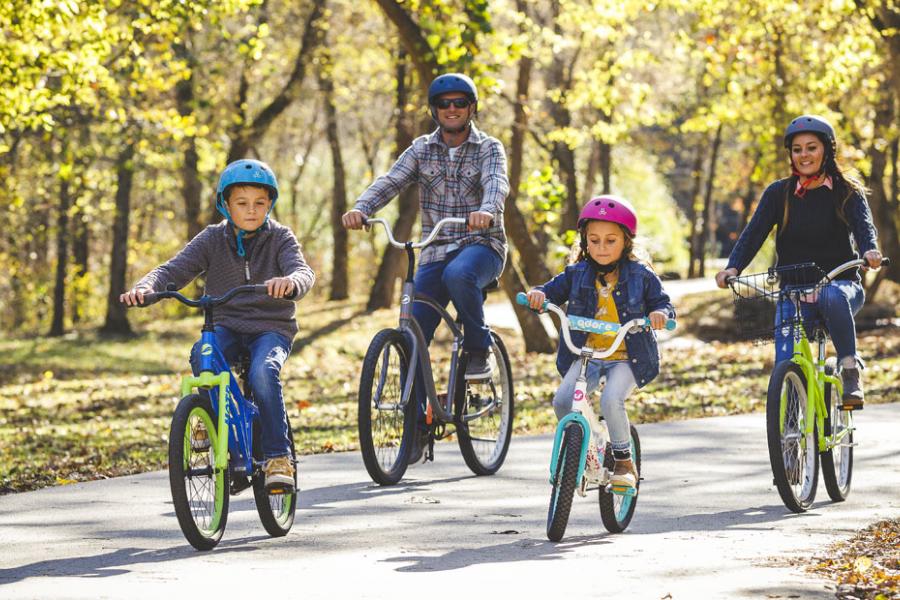 Whether you're a dedicated cyclist or casual rider, the Ozarks are a great place to get outdoors, challenge yourself and explore. With miles and miles of bike trails catering to all skill levels, biking in Branson is a fun way to take in the area's beauty and get your blood flowing.
Busiek State Forest 
Ozark, MO off Highway 65 (north of Branson) - 18 miles
This biking, hiking and horseback riding trail can be found at the Busiek State Forest, less than 30 minutes away from Branson off of Highway 65. It is a well-marked trail system, accessible for all ages and skills levels. Camping is permitted throughout the trail once a permit is obtained from the Springfield Regional office.
Dogwood Canyon Nature Park 
Lampe, MO - 25 miles southwest of Branson - 6.5 miles of paved paths and 9 miles of trails
Enjoy Dogwood Canyon, a gorgeous 10,000-acre nature park, from a bike, segway, tram, horse, or by foot. At Dogwood Canyon, you can bring your own bike or rent a single-speed, coaster-brake bike (various sizes available). 
North Beach Walking Path
50 N. Boardwalk, Branson, MO 65616 - 0.75 miles
Taking a break from shopping at Branson Landing for a leisurely bike ride at North Beach Path. This paved trail lines Lake Taneycomo and has many rest areas along its path.  
RecPlex Walking Path
1500 Branson Hills Parkway, Branson, MO 65616 - 1 mile
For a flat, paved and easy time with the kids, don't miss Branson RecPlex's walking path. This one-mile path is in the heart of Branson and makes for a perfect afternoon walk with the whole family.
Roark Creek Trail
Roark Creek Trail, Branson, MO 65616 - 3.2 miles
Branson's Roark Creek Trail is a paved trail that connects the North Beach Trail at Branson Landing to Stockstill Park. 2.7 miles of the trail is paved and ADA accessible, while the last half mile is an unpaved, easy-access trail leading to a bluff that overlooks the scenic creek.
Stockstill Walking Path
Stockstill Park, Branson, MO 65616 - 0.5 miles
Stockstill Park is a local hot spot for outdoor family fun in Branson. The park provides a great, paved bike, walking and jogging trail. There are also added amenities like pavilions, tennis courts, a skate park, a dog park and so much more.
Table Rock Lakeshore Trail at Table Rock State Park
Highway 165 off of Business Route 65 (south of Branson) - 2.25 miles
The Lakeshore Trail spans over two miles starting from the Dewey Short Visitor Center near the Table Rock dam to State Park Marina. While on your ride, prepare for a relatively easy trek, shoreline views of the lake and pleasant nature encounters.
White River Valley Trail System
Highway 165 off of Business Route 65 (south of Branson) - 0.25 miles
White River Valley Trail System offers challenging and exciting mountain bike trails for any adventurer. Each of the four loops in the trail system holds defining characteristics like changing elevations, rugged trails and scenic wonders. 
Ready to ride the trails but missing a bike? We've got you covered. Check out available bike rentals here. 
Places Mentioned
Find Your Next Branson Adventure