You're bound to be busy during your Branson visit, and you'll need to start your day right to have the energy you'll need to hit all the hot spots. Fortunately, Branson restaurants offer plenty of tasty and affordable breakfast options, so you won't be stuck hitting a drive-thru. Whether you prefer bacon and eggs, a chorizo burrito or mouth-watering, country-style biscuits and gravy, you can find it for breakfast in Branson. Dine at any of these top breakfast spots to start your day off right!
McFarlain's Family Restaurant
3562 Shepherd of the Hills Expy. | 417-336-4680 | Open Year-Round
Keeping with the early-1900s theme featured in Branson's exclusive IMAX adventure, "Ozarks Legacy and Legend," McFarlain's Family Restaurant, located inside the  IMAX Entertainment Complex, showcases a plethora of intriguing antiques, art and photographs… and the food's nothing to sneeze at, either. The full-service restaurant features hearty, cooked-to-order breakfasts – very possibly Branson's best country breakfast. Whether you prefer omelets, all-you-can-eat pancakes, waffles, skillets or some legendary biscuits and gravy, you'll find it on McFarlain's breakfast menu.
Grand Country Buffet
1945 W. 76 Country Blvd. | 417-335-2434 | Open Year-Round
Possibly Branson's best-known buffet, Grand Country Buffet serves a bountiful breakfast that's sure to start your day out right. Dive into a spread that includes cold and hot scatter-bar buffets featuring fresh fruits, homemade breads, cereals, yogurt, farm-fresh eggs, bacon, sausage, potatoes and much more. Adults dine for less than $10 and children younger than 4 are free with a paying adult.
Molly's Mill Restaurant
399 Silver Dollar City Pkwy. | 417-336-7100 | Open March - December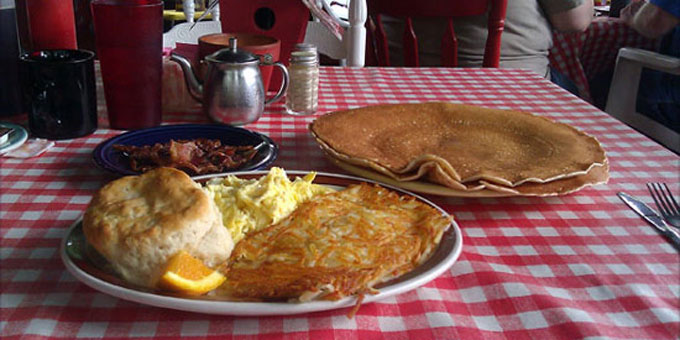 You'll have plenty of fuel for a day of fun at Silver Dollar City by starting it off with a hearty breakfast at Molly's Mill. Serving breakfast starting at 8:30 a.m. from March until October, Molly's Mill's breakfast buffet features popular fare including fresh fruit, scrambled eggs, bacon, ham, sausage, pancakes, fresh biscuits, sausage gravy, grits, cereal and warm apple butter.
Billy Gail's Café
5291 Hwy. 265 | 417-338-8883 | Open Mid January - Mid December
Located just off of Hwy. 76, Billy Gail's Café can be found in a classic log cabin that was once a gas station. But there's nothing ordinary about its breakfast fare, named the best in southwest Missouri by 417 Magazine. In fact, it's a local favorite. Famous for its pancakes, Billy Gail's also features an array of traditional country breakfast fare and a unique item, "French Cakes," created one morning when Billy herself couldn't decide between pancakes and French toast.
The Farmhouse
119 W. Main St. | 417-334-9701 | Open Year-Round
One of Branson's favorite eateries, the Farmhouse restaurant is located in historic downtown Branson and features a hearty breakfast so good it tastes like it came straight out of an old country kitchen. Choose from steak or ham with eggs, biscuits and gravy, grits, dollar pancakes, country potatoes, omelets, French toast, oatmeal and cinnamon rolls.
Clocker's Café
103 S. Commercial St. | 417-335-2328 | Open Year-Round
Part of Branson's historic downtown landscape, Clocker's Café is a popular haunt of locals and an unexpected treat for tourists during breakfast hours, thanks to its tasty yet stout coffee, perfectly-prepared eggs and pan-fried hash browns – not to mention the friendly service. Affordable with generous portions, Clocker's Café offers a classic country breakfast in a diner-style atmosphere.
The Keeter Center at College of the Ozarks
1 Opportunity Ave.; Point Lookout | 417-690-2146 | Open Year-Round
If you're in search of a memorable Sunday brunch, don't miss Dobyn's Dining at the College of the Ozarks' Keeter Center. Served Sundays from 10 a.m. to 2 p.m. the brunch buffet features made-to-order waffles and omelets, hot entrees and side dishes, salad and cold cuisine, carved meats, a selection of classic breakfast fare and a wide variety of desserts. And it may be the only buffet in town that includes imported cheeses, made-to-order Caesar salads and the chef's gourmet seafood creations. Diners are treated to entertainment from the Wide Range of Student Musical Talent as they enjoy their meals. Reservations are recommended.
Buck Trent's Breakfast Show
2835 W. 76 Country Blvd. | 417-335-5428 | Seasonal, please call
If you want to spend every possible moment soaking in Branson's world-famous shows, start your day with Buck Trent's Breakfast Show, where you'll not only feast on pure country entertainment, but some tasty grub, as well. At 8 a.m., sit down to a family-style breakfast, featuring a table filled with eggs, sausage, bacon, hash browns, cinnamon rolls and biscuits with gravy. Once you get your fill, enjoy two-time CMA Instrumentalist of the Year Buck Trent's banjo-playing antics, as well as the song, dance, music and humor of his fellow performers. 
Looking for an only-in-Branson experience? Check out these 5 unique restaurants in Branson.