Article
Buffets in Branson
Look no further for the best buffets in Branson. Whether you're craving American comfort food, Asian, pizza, Sunday brunch, an extensive salad bar or seafood, Branson buffets can satisfy any appetite.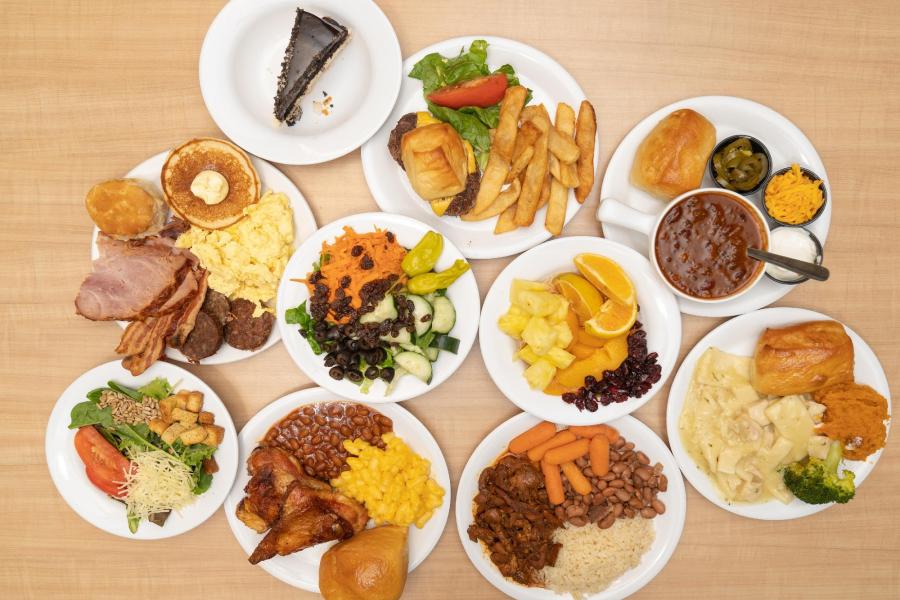 Check out Branson's best buffets offering diverse cuisines:
American/Comfort Food Buffets
3551 Shepherd of the Hills Expwy.
This family-friendly chain restaurant offers classic American favorites in a convenient, all-you-can-eat platform.
1945 76 Country Blvd.
Begin or end your Grand Country Resort adventure (or take a midday pause!) with a yummy meal at Grand Country Buffet. Serving American staples all day, every day.
2421 76 Country Blvd.
Stop into the Great American Steak & Chicken House for classic country favorites in a comfortable atmosphere. In addition to the daily buffet options, they offer a menu of delicious entrees. Make sure you grab a souvenir selfie with the 43-foot-tall rooster in the front lawn.  
285 MO-165
Enjoy a full breakfast buffet at Jackie B. Goode's Uptown Café, served every day from 7:30 a.m. to 11 a.m. The Café serves staple American breakfast options in an upbeat, 1950s style diner.
5250 Shepherd of the Hills Expwy.
Paradise Grill & Steakhouse offers a mouthwatering buffet loaded with all your comfort food favorites on select dates. Contact the grill to find out more information.
1950 76 Country Blvd.
Adding-on to their typical menu, Shoney's Restaurant presents a fresh food bar with entrees, seafood, sides, salads, fruits, veggies, soups and their signature breakfast bar. 
Asian Buffets
1206 76 Country Blvd.  
Hong Kong Buffet will easily satisfy all oriental food cravings. This buffet is found in the heart of Branson's Entertainment District, so it makes a great stop after any show or attraction excursion.
2130 State Hwy 248
At Panda House Oriental Restaurant, you're able to order favorite oriental dishes or dive into their endless buffet.
Pizza Buffets
3460 76 Country Blvd.
Stop into the world's largest Cici's Pizza buffet for an unending selection of pizzas, flatbreads, pasta, salad, soup and more! In addition to the food, the whole family can enjoy arcade games and prizes.
1948 76 Country Blvd.
Take a break from the action at Grand Country Resort by stopping by Papa Grand's Pizza. Here you'll fill your plate with over 12 varieties of pizza, a full salad bar and three dessert pizzas.
1464 Hwy 248
As Branson's newest pizza buffet, Pizza Ranch serves all the classics with an added surprise. Your plate with be bursting with flavor as you mix and match between the traditional pizza bar and the added homestyle American bar, serving favorites like fried chicken and mashed potatoes.
3405 76 Country Blvd.
225 Cross Creek Blvd.
21 Stillwater Tr. 
Branson's three Pizza World locations offer fresh, creative creations in a classic buffet format. In addition to pizza, choose from subs, calzones and salads on the Pizza World buffet.
Sunday Brunch Buffets
415 N State Hwy 265
Don't miss Chateau Grille's extravagant Sunday Champagne Brunch from 11 a.m. to 2 p.m. Between the mouthwatering, endless food, the performing pianist and the scenic Ozark views, this experience promises to be memorable. Reservations encouraged.
1 Opportunity Ave., Point Lookout
Every Sunday, the Keeter Center offers an elaborate, all-you-can-eat Sunday brunch buffet. The food is prepared and served by students of College of the Ozarks who are hard at work to contribute to their cost of education and ultimately graduate debt-free. Reservations are highly encouraged.
Salad Bar Buffet
3316 76 Country Blvd.
For a healthy and tasty buffet option, check out the salad bar at Ruby Tuesday. Grab your chilled plate and pile it high with all the salad toppings you could imagine.
Seafood Buffets
3400 76 Country Blvd.
For Seafood with a Cajun Attitude, visit Starvin' Marvin's. Order off the menu or enjoy a large array of buffet items that are specifically crafted for each meal. Come see why Starvin' Marvin's has remained a Branson favorite for over 30 years.
2421 76 Country Blvd.
Whipper Snappers Seafood Buffet has an array of classic seafood dishes in a bottomless format. Enjoy whole lobster, shrimp, fish, crab legs and more.
Branson restaurants don't end here - view more!