In Branson, you don't always have to choose between entertaining shows and delicious homestyle cuisine. Enjoy the best of both worlds with tickets to a fun dinner theater show.

From horseback riding stunts and murder mystery to a trip on a riverboat, you won't want to miss these popular favorites.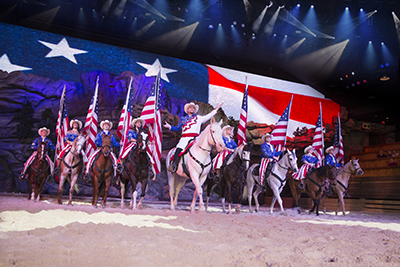 Enjoy a dinner show like no other. Dolly Parton's Stampede is an extravaganza featuring horse stunts (like leaping through a ring of fire), wagon races, special effects, pig races and pageantry — all in a 35,000 square foot arena. You'll get to take part in a friendly North versus South competition where you root for your side while enjoying a four-course meal featuring a whole rotisserie chicken, hickory smoked pork loin, creamy vegetable soup, baked potato, corn on the cob, biscuit and an apple turnover. Vegetarian options are also available. Be forewarned: all meals must be eaten with your hands (much to the delight of kids and the young-at-heart). During the Christmas season (November – December), enjoy a holiday spectacular featuring a live nativity scene, elves, dancing toys and more.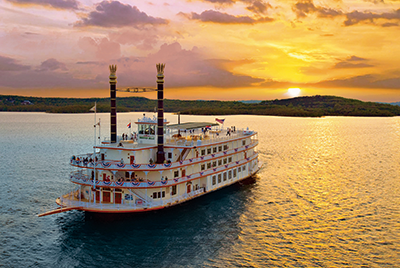 Experience a three-course meal with beautiful views and fun entertainment — all onboard a nineteenth-century-style riverboat. The Branson Belle takes you on a two-hour journey across Table Rock Lake for lunch or dinner. Their delicious hearty meals include beef pot roast or Dijon chicken served with garlic mashed potatoes, julienne carrots, salad and a mouthwatering apple cinnamon torte. While dining, you'll be treated to a variety show featuring music, magic, dancing, comedy and more. If you're looking for something extra, try The Paddle Wheel Club Room, a private dining experience with stunning lake views, a tour of the boat and exclusive priority seating in the balcony after your meal. Vegetarian options available on request.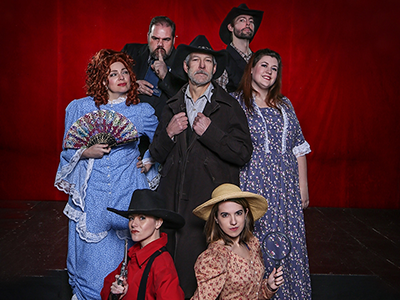 Take a trip back to the Wild West with an interactive whodunit. This zany dinner theater production tells the story of the "Murder on the 76 Trail" loosely based on Branson history, along with a fun mix of pop culture references. Audience members play at least 15 characters (who lend a hand to the troupe of professional actors), so be ready for anything. You could get a chance to play out your fantasy as anyone from Jesses James and Annie Oakley to JR Ewing or Little Joe. Along with the fun, enjoy a tasty cowboy buffet featuring BBQ chicken, baked beans, corn on the cob, potato salad, macaroni and cheese, and more! Vegetarian meals are available with 24 hours advance notice.
There are a variety of tribute performances in Branson, but A Tribute to George Strait cleans up on awards year after year. Gordy and Debbie Wensel decided to put together this show at Jackie B. Goode's Uptown Café after getting many requests to play more George Strait music. When you hear Gordy sing some of Strait's classic hits, you'll understand why. Debbie has a number of great performances as many of the female singers who have performed along with Strait. During the show, enjoy a delicious meal featuring prime rib (the popular favorite), country fried steak, jumbo fried shrimp or Hawaiian chicken served with salad, iced tea and an ice cream sundae.