Article
Experience Branson's Nightlife
Even when the sun sets across the Ozarks, there's still plenty of fun to be had in Branson. A host of venues across the city keep the entertainment going all night long.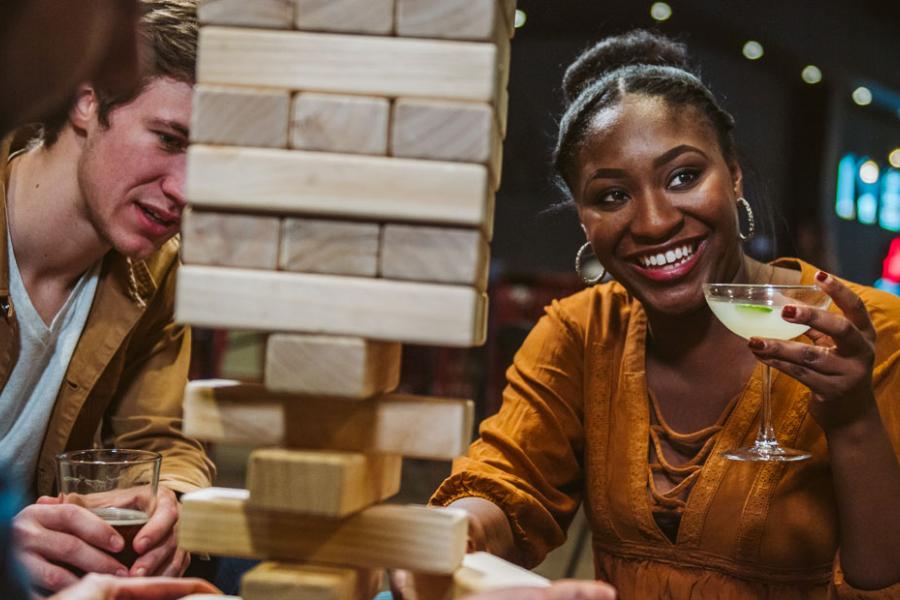 Wondering what to do in Branson at night? Check out these Branson hot spots after dark:
Parakeet Pete's SKY Deck
Parakeet Pete's SKY Deck, located directly across from the Branson Landing, offers a one-of-a-kind experience for visitors looking to extend the excitement of a day spent in Branson. Guests of the SKY Deck arrive via Parakeet Pete's Waterfront Zipline. The SKY Deck is home to spectacular views of Historic Downtown Branson, the Landing and Lake Taneycomo. Weather permitting, the SKY Deck hosts select Zip & Sip Evenings beginning at 7 p.m. Zip & Sip Evenings at The SKY Deck allow guests to arrive in a truly unique way and experience all the SKY Deck has to offer while sipping cocktails, taking in the scenic views, stargazing and enjoying live entertainment. Watch here for scheduled Zip & Sip dates. The SKY Deck is available for private booking events only. 
The Paddlewheel
For more lakeside entertainment after dusk, you can head to The Paddlewheel at Main Street Marina. In addition to serving fabulous appetizers, burgers, drinks and more, The Paddlewheel regularly holds "Rock the Dock" nights. Listen to regional talent, hop on the dance floor to bust a few moves, and (if you're bold enough) share your singing via open mic! 
Branson's Center Stage Grille
This premier Branson eatery features live entertainment and boasts a friendly atmosphere. With a menu featuring made-from-scratch foods, delectable daily specials and 21-day-aged steaks, Branson's Center Stage Grille also showcases a variety of music performed by aspiring young musicians, as well as tenured entertainers.
Landshark Bar & Grill
Catch tropical vibes at Landshark Bar & Grill for a totally relaxing evening. You'll find everything from fish tacos to frozen beverages to keep you going into the night. Sit at the outdoor patio, and take in the Branson Landing fountain show for a gorgeous end to your day. 
Clear Lounge
Clear Lounge is a cocktail lounge located off the main lobby of the Hilton Branson Convention Center Hotel. Clear serves up a great mix of music, food and libations in a comfortable setting. Patrons can also enjoy cocktails around the hotel's outdoor pool.
Andy B's Bowl Social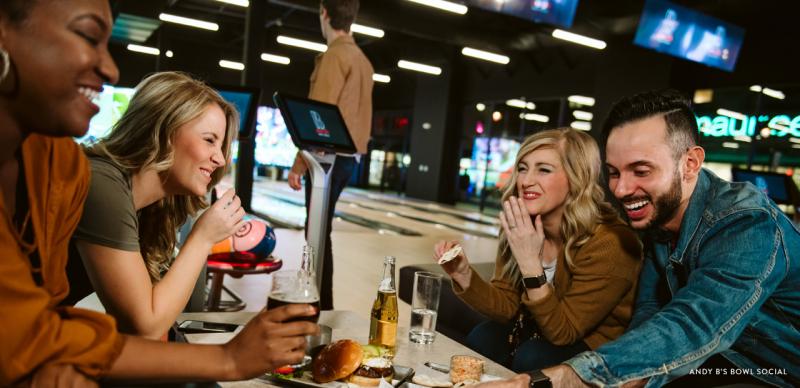 Live it up at Andy B's with a little nighttime competition! Nine lanes of boutique bowling, private karaoke rooms, escape rooms, ping pong and more make Andy B's the perfect place to spend time with friends. Along with a full menu, Andy B's also has a selection cocktails, local and regional brews and non-alcoholic treats.
Buffalo Bar at Top of the Rock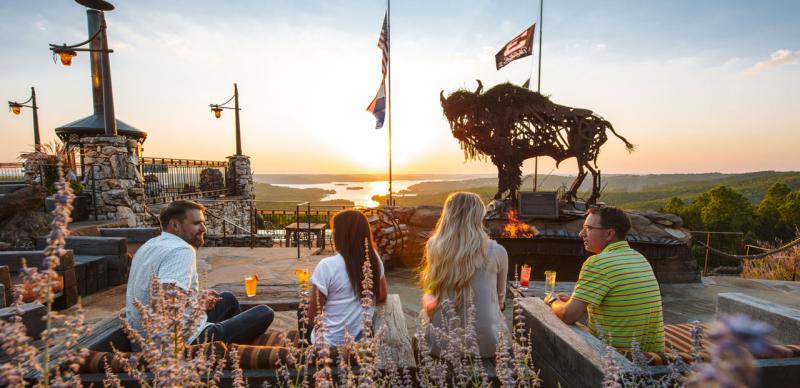 The Buffalo Bar is located on the lower level of Top of the Rock's Osage Restaurant. Be sure to step outside at sunset for an incredible view and a ceremony featuring an actual bagpipe performance and firing of a Civil War cannon! 
Waxy O'Shea's Irish Pub 
Waxy O'Shea's Irish Pub teleports guests straight to Dublin with its authentic Irish atmosphere. Waxy O'Shea's offers a large variety of draft beers, and the spirits flow generously. Visitors rave of the pub's unbeatable happy hour specials, impeccable food and drink menu and lineup of talented musicians. 
Vintage Paris
Looking for a more relaxed evening setting? Vintage Paris is a quaint and cozy coffee shop in nearby Hollister, overlooking beautiful Lake Taneycomo, serving its own hand-roasted specialty coffee, organic loose-leaf teas, fine wines, craft beer and local pastries.
Places Mentioned
Find Your Next Branson Adventure
Trip Ideas
You May Also Like