Article
Pet-Friendly Hotels, Restaurants, Activities & More in Branson
On your next vacation to Branson, be sure to bring your best friend along! You and your furry friend can say goodbye to the "see you laters" as you explore Branson's extensive list of pet-friendly hotels, restaurants, activities, and pet services.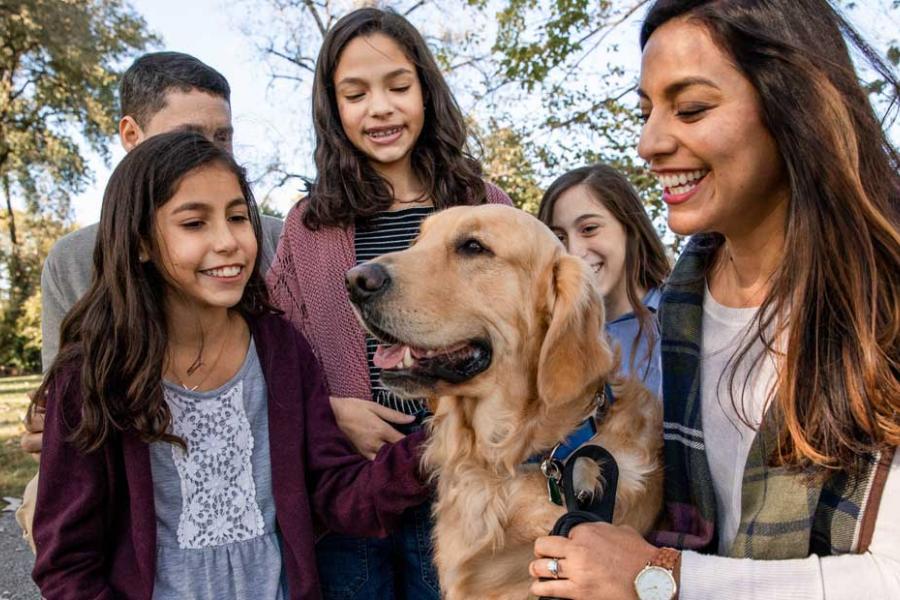 From pet-friendly hotels and restaurants to pet-focused activities and services, Branson makes the perfect pet-friendly vacation destination for you and your dog. 
Pet-Friendly Hotels
Many hotels and resorts in Branson will be just as excited to greet your pet as they are to welcome you. Below is a small sampling of our many pet-friendly lodging options available:
Hilton Branson Convention Center Hotel
Stay near the action and a few steps away from Branson Landing at the Hilton Branson Convention Center Hotel in Historic Downtown Branson. Here guests are welcome to bring well-trained dogs of up to 75 pounds to enjoy a few pet amenities and a great vacation for a small fee.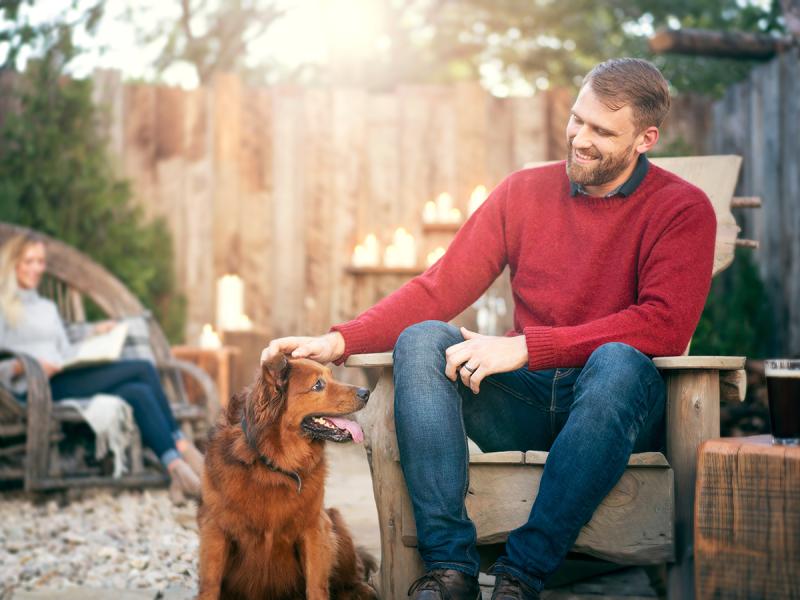 Chateau on the Lake Resort, Spa & Convention Center
Chateau on the Lake welcomes furry friends up to 25 pounds. Prepare for a special check-in treat upon arrival, and thoughtful amenities and services. Here, pet relief stations are easily accessible, crated, well-trained dogs and cats are allowed to stay in guest rooms alone, and scenic walking opportunities abound. 
Lilly's Landing Resort & Marina
Guests are encouraged to bring their dogs along for their stay at Lilly's Landing. Expectations for dogs include staying off of resort furniture, being crated when unattended and leashed when outside. Prepare to find a plethora of things to do for all at the resort and marina. 
Pet-Friendly Restaurants
One of the best parts of a vacation is the food you get to eat! By providing you with outdoor seating areas, the following locations encourage you to bring your pet along and get a taste of Branson: 
Billy Bob's Dairyland
Billy Bob's Dairyland is a Branson staple that serves all-American hamburgers, fries and milkshakes. Billy Bob's welcomes dogs of all sizes to sit out on the front patio with their people.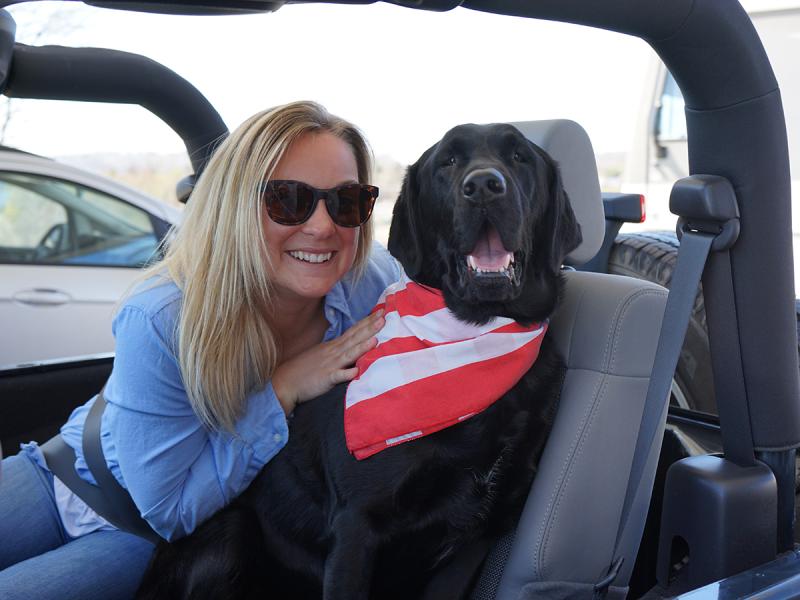 Danna's BBQ & Burger Shop
At Danna's BBQ & Burger Shop, your group can sit it at the outside picnic table and enjoy mouth-watering barbecue dishes and burger plates. Your dog will love the table scraps from Danna's! 
Guy Fieri's Kitchen + Bar
At Guy Fieri's Kitchen + Bar, your party and your pup are welcome to sit on their outdoor patio. You'll be able to enjoy amazing views of Lake Taneycomo while also enjoying their famous Trash Can Nachos with the company of your furry friend.
Sugar Leaf Bakery, Café and Espresso 
Dog owners with a sweet tooth will enjoy Branson's Sugar Leaf Bakery, Café & Espresso. This pet-friendly café offers sandwiches, soups, cakes, pies, coffee creations and more. Enjoy your food from their pet-friendly outdoor seating area. 
Does your dog deserve a special treat too? We've got you covered. Drive through one of these locations for a "pup cup":
Starbucks - 201 East Main St. Branson, MO 65616
Culver's - 309 Missouri State Hwy 248 Branson, MO 65616
Dairy Queen - 2620 West 76 Country Blvd. Branson, MO 65616
Pet-Friendly Activities & Attractions
When it comes to unforgettable attractions, Branson has something to offer for all, even your furry friend!
Branson Landing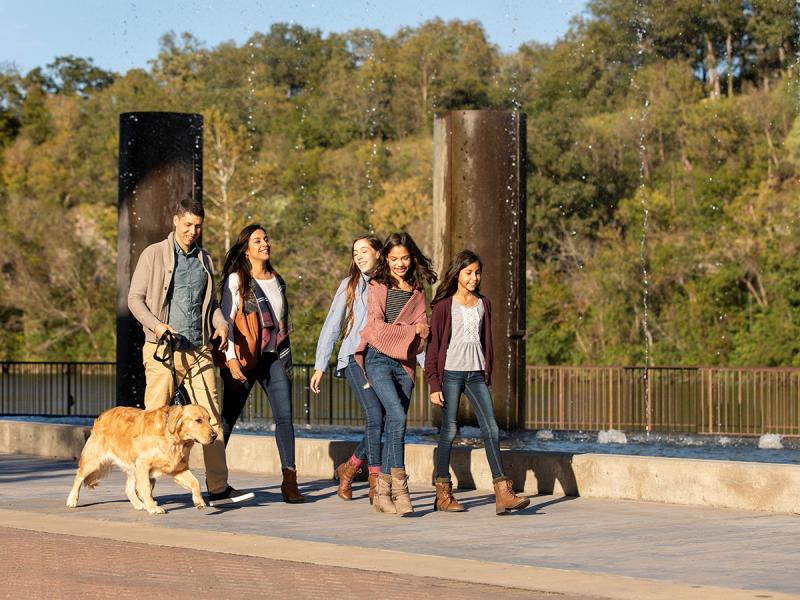 Branson Landing is an outdoor shopping, dining and activity attraction for you and your pet. Branson Landing is found on the banks of Lake Taneycomo and offers a great walking area and beautiful views. While here, stop by Don't 4 Get About Me, a unique store offering treats, chews, squeaker, leashes and more. 
If your furry friend is not sensitive to loud music or bright lights, Branson Landing's fountain show provides an exhilarating spectacle of lights, water and music at the top of every hour.
Buster's Old Time Photos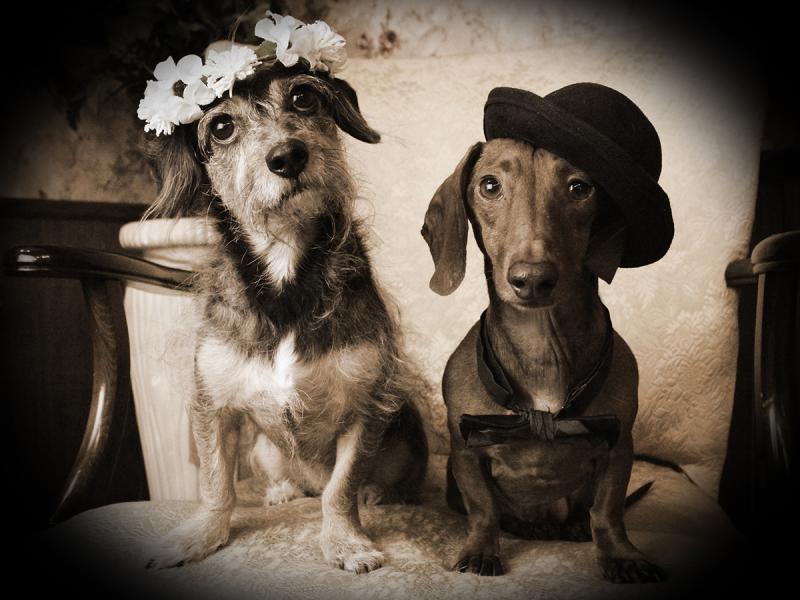 Also located at Branson Landing, Buster's Old Time Photos encourages you and your pet to step back in time and have a family portrait created from a different era. You can choose from themes such as Wild West, Victorian and Southern Belle for a unique memory from your time in Branson.
National Tiger Sanctuary
Found just a few miles outside Branson, the National Tiger Sanctuary provides a unique and entertaining experience for the whole family. Leashed pets are welcome to enjoy an up-close and personal tour of many caged exotic animals and big cats. 
Dog Walking Trails in Branson
Experience a scenic walk in the middle of the Ozarks Mountains on one of our top-rated pet-friendly trails: 
Elmo & Rosalea Marrs Memorial Dog Park
Elmo & Rosalea Marrs Memorial Dog Park is a 1.5-acre, open-air facility where dogs can freely roam. The park provides separate areas for small and large breeds. Daily admission for visitors is $5 for one dog, and $2 for each additional friend. Three-day passes for one dog are available for $10, and $5 for each additional friend. The park is open from sunup to sundown, weather permitting. Prices may vary seasonally. 
Table Rock State Park
Table Rock State Park has many scenic walking trails, large activity fields, and easy-access water fronts for guests. A great place to begin your free adventure at Table Rock is the Dewey Short Visitor Center.
Ruth and Paul Henning Conservation Area
Ruth and Paul Henning Conservation Area provides many shaded walking trails with varying degrees of difficulty, and gorgeous views of Branson's Entertainment District.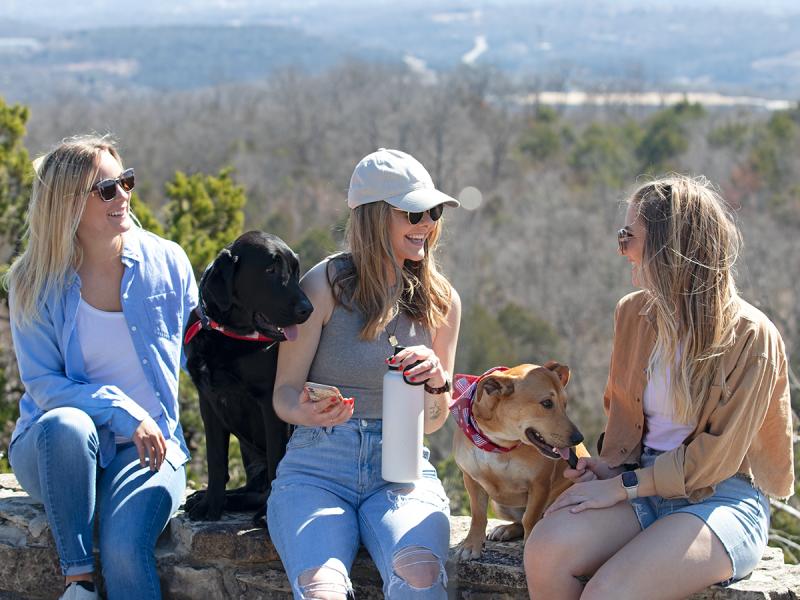 Pet Services
If you decide to explore a little more of what Branson has to offer for humans only, we have several options for pet daycare and boarding! We also have top-notch grooming services and veterinary clinics available. 
Branson Pet Resort
Branson Pet Resort believes in treating all pets like a part of the family. They offer both day-boarding and over-night boarding.
Camp Little Paws
Camp Little Paws provides a unique spin on the traditional boarding house by creating a camp-like feel. They offer both day-boarding and over-night boarding.
Petco
In addition to a plethora of dog supplies, Petco provides full-service grooming services to Branson. Appointments are strongly encouraged.  
Branson Veterinary Hospital
If your furry friend is feeling a little blue, we have a pet hospital available to make them feel well as soon as possible. We know how precious vacation time can be, so we don't want any part of your family missing out for long.
We're paws-itive Branson will be the destination you and your pet will remember fur-ever! Order our FREE visitor's guide to keep planning here. 
Places Mentioned
Find Your Next Branson Adventure