Article
Pizza Restaurants in Branson
Anytime is a great time for pizza! Whether you crave a traditional or exotic slice of Italian pie, you can satisfy your taste buds at Branson's pizzerias.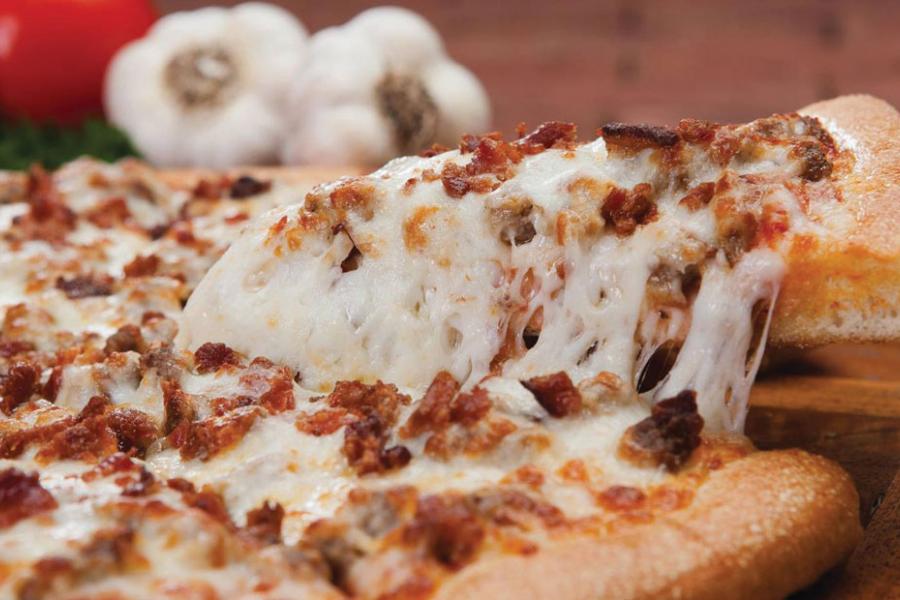 Check out these popular pizza places during your next Branson visit: 
Rocco's New York Style Pizza
Rocco's New York Style Pizza serves up metropolitan-style fare, including pizza, subs, calzones and salads, in a unique ambiance. The garlic knots are a favorite, and specials such as lasagna and penne palermo are on the menu. 
Cicis Pizza
Pan pizzas, stuffed crusts, flatbreads, pasta, salad, soup and more will satisfy any craving at Cicis Pizza on 76 Country Blvd. in Branson. Did we mention there's an unlimited buffet? 
Hook & Ladder Pizza Co.
This firehouse-themed pizzeria located in nearby Hollister offers hand-tossed pies made to your specifications. All crusts and sauces at the Hook & Ladder Pizza Co. are made fresh daily. The menu also features calzones, subs, pasta, soups and salads, as well as daily specials. Takeout and online ordering through Uber Eats are available.
Pizza by the Chef
Gourmet pizza, salads and subs are just a few miles away from Branson (or a phone call away if you choose delivery) at Pizza by the Chef in Branson West. Since 1992, Pizza by the Chef has offered Branson diners the highest-quality pizzas baked in a traditional brick-lined deck oven with dough and sauce made fresh daily. Every pizza creation is hand-tossed, and subs and salads are made with only the freshest ingredients.
Pizza by the Slice
Pizza By the Slice truly found a way to bring a piece of New York back to Branson, MO. Once you try their hand-tossed dough and perfected sauce recipe, you will know why their pizza is some of the best in town. 
Ozark Mountain Pizza
Have Ozark Mountain Pizza deliver some of Branson's best Italian food to your door! The Branson West pizzeria specializes in mouth-watering pasta and pizza meals, including traditional favorites and more exotic fare. Ozark Mountain Pizza also offers salads, sandwiches, meats and seafood specials to tantalize your taste buds.
Parmesan's Pizzeria
Offering dine-in, carry-out and delivery, Parmesan's Pizzeria is located just outside of Branson in Kimberling City. Deluxe pizzas with gourmet ingredients include traditional pizza toppings, as well as pineapple, mandarin oranges, barbecue chicken, cilantro, refried beans, Swiss cheese and even spaghetti and meatballs!
Mr. G's Chicago Pizza
Serving up Chicago-style deep-dish pizzas since 1992, Mr. G's Chicago Pizza also features salads, sandwiches and pastas. Located just around the corner from Historic Downtown Branson, Mr. G's has been a favorite lunch and dinner spot for the whole family for more than 20 years. Choose traditional Italian or out-of-the-ordinary ingredients such as chicken, ranch sauce or roast beef on deep-dish or thin crust.
Papa Grand's Pizza
Branson's famous Grand Country Resort features a variety of restaurants, including Papa Grand's Pizza. The unique, affordable dining experience includes a full salad bar and a hot pizza buffet, featuring at least 12 varieties of pizzas and even three dessert pizzas. Papa Grand's also offers take-out pizza options.
Pizza World
Branson's three Pizza World locations offer fresh pizza with creativity that can be enjoyed in-store or delivered straight to your door. Order baked subs, calzones, salads, and specialty pizzas, or sample some of everything on Pizza World's buffet! Online ordering is available. 
Mellow Mushroom
Mellow out when your next pizza craving hits at Mellow Mushroom at the Branson Landing. New to the Landing in summer 2019, Mellow Mushroom features stone-baked pizza pies with spring water crusts. You'll also find calzones, hoagies, salads, vegan and gluten-free options on the menu. 
Craving your next bite of quality pizza goodness? For a full list of Branson pizzerias and other dining options, visit here. We'll save you a slice!
Places Mentioned
Find Your Next Branson Adventure