Article
Saddle Up for Horseback Riding in Branson
You'll find endless avenues to experience the outdoors in the Ozarks, but one of the best ways to enjoy the scenery in Branson is by horseback riding. Branson offers several horseback riding tour and trail ride services in the area to help you plan a fun day with your family.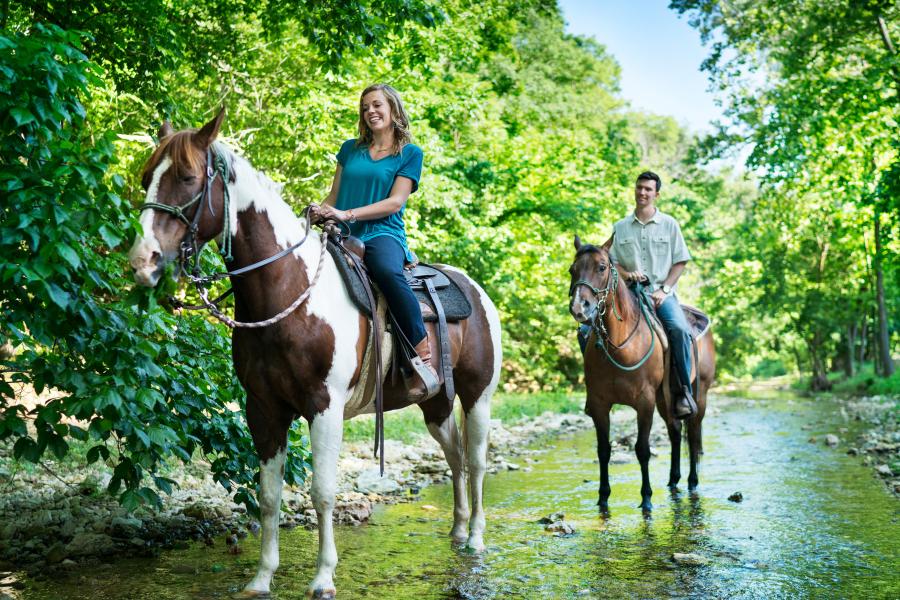 Dogwood Canyon Horseback Riding
Little Indian Stables at Dogwood Canyon Nature Park allows you to feel like you're riding through times past in the Ozarks. You and your guide will set out on a one to two-hour tour on your trusty steeds through rustic wooded areas, old logging trails and hollows, historic ridges and other picturesque scenery. These horseback trails are off the beaten path of the walking and hiking trails at Dogwood Canyon.
Bear Creek Trail Rides
Just a 10-minute drive from Branson, the trails at Bear Creek Stables are an excellent choice for riders wanting a classic horseback riding experience. After mounting on horses decked in western tack, riders will be guided on an hour-long tour through winding pastures and hills in some of the finest Ozarks countryside. Two-hour trail rides are available for experienced riders. For more information, check out the Bear Creek Trail Rides Facebook page.
Ozark Mountain Trail Rides at Shepherd of the Hills Homestead Adventure Park
Take in a classic piece of Ozarks history as you ride the Ozark Mountain trails at The Shepherd of the Hills homestead. In an hour's ride, you'll wander through patches of cedar glades, majestic oak trees and cross the site of The Shepherd of the Hills Old Mill Theater where the Shepherd of the Hills drama is produced during evening performances.
Lazy B Ranch
Lazy B Ranch is a veteran owned and operated guided horseback riding service and longhorn cattle company. Not only can you and your family experience a beautiful trail ride through cedar and oak stands with breath taking views of the beautiful Ozark Mountain, but you can also participate in wood fire branding, trying your hand on their rope dummy, play a round of bean bag toss, or just sit back and relax on a hayride. After the ride, enjoy a free cowboy cookout!
Horseback riding is a unique way to experience Ozarks views in Branson. Happy Trails!
You can find even more of Branson's outdoor activities and attractions here. 
Places Mentioned
Find Your Next Branson Adventure