Article
Seven Things You Might Not Know About Dick's 5 & 10
Dick's 5 & 10 in Historic Downtown Branson delights customers of every age. From practical to nostalgic to entertaining to down-right strange, Dick's has it all!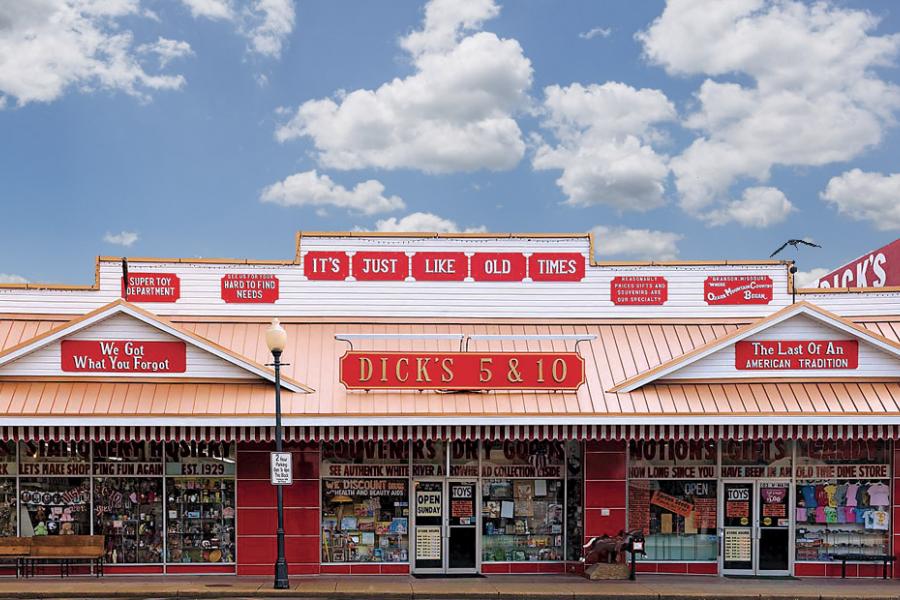 As familiar as you may be with Dick's 5 & 10, here are few facts you may not have heard before:
Dick's 5 & 10 was founded by Dick Hartley and has been family owned and operated in Branson since 1961. His son, Steve, and son-in-law, Dave, work to carry on Dick's legacy and desire to make shopping fun!
 
Dick's 5 & 10 had never been closed during their regular business hours—even if the weather was severe—until December 13, 2006, when the store closed to allow all employees to attend founder Dick Hartley's funeral. On December 9, 2006, Dick closed the store one last time and passed away later that evening at the age of 80.
 
Five-and-dime stores were commonplace across the United States in the early- to mid-20th century. Dick's 5 & 10 is one of the last five-and-dime stores still operating today.
 
Dick's 5 & 10's has been at its current location since the early 1970s. The store is 10,000 square-feet, and its shelves are stocked with over 75,000 items! Wonder where the keep all their stock? Over Christmas break in 1981, Steve and a friend dug out a 400-square-foot addition to the basement stockrooms!
 
You can shop 'til you drop, but you can also take in one of several impressive collections housed at Dick's 5 & 10, such as White River Arrowheads, WWII Aviation Prints, a 60-foot baseball "Wall of Fame," and even a collection of antique washing machines! Founder Dick Hartley began his first collection in the store with the addition of a lone model airplane.
 
In 1973 Dick's became the first Branson merchant to produce souvenir t-shirts using a hot iron press. Dick would joke about his t-shirt-making productivity—4.3 shirts per minute!
 
 Dick's Candy Emporium is second-to-none with over 1100 different kinds of candy and snacks, including hard-to-find, old-fashioned candy and over 100 different varieties of soda. In fact, Dick's has sold enough flat taffy to stretch from downtown Branson to Silver Dollar City!
Start planning your Historic Downtown Branson experience here.