Article
Shepherd of the Hills - Dinner Shows
In addition to all the adventure that Shepherd of the Hills has to offer, you'll be entertained with one of their many dinner shows!
The Shepherd of the Hills is a unique destination in Branson, Missouri. It is famous for its live shows featuring performances based on the 1907 novel The Shepherd of the Hills by Harold Bell Wright. Other family-friendly attractions at Shepherd of the Hills include walking up the 230′ tall Inspiration Tower, historic tours, a ropes course, ziplining tours (even off of the Inspiration Tower), Lil Pete's Playland, the Copperhead Mountain Coaster and much, much more. Don't forget to check out their seasonal events and stop by Sammy Lane's Sweet N' Treats among many other unique shops!
As thrilling as these attractions sound, Shepherd of the Hills' live dinner shows still remain the crème de la crème of this beloved park. So, let's delve a little deeper into these lively dinner shows!
WhoDunnit Hoedown – A "Murder Mystery" Dinner Show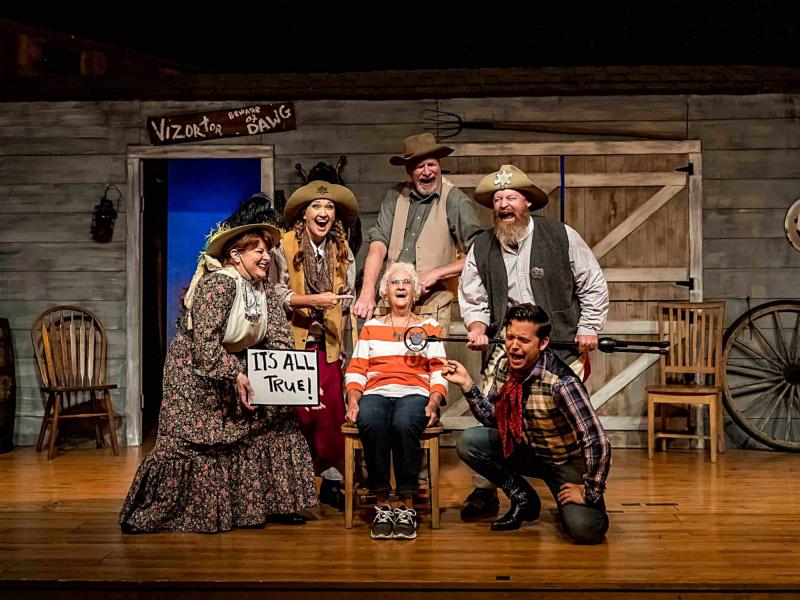 You may be surprised to find yourself giggling at a murder scene, but that's exactly what you'll witness at WhoDunnit Hoedown. Join the gang as they try to figure out who killed Legendary Fiddler Squeeky Bowman (a hilarious name) during a surprise birthday party for Aunt Bell. If you're lucky, you might even wind up on stage with the crew. Nevertheless, you and your family will enjoy trying to guess "who dun it!"
Menu: Potato Soup, BBQ Pulled Pork, Herb-Roasted Chicken Breast, Mashed Potatoes, Vegetable D'jour, White Birthday Cake, Dinner Roll, Choice of Beverage.
Funny Farm Dinner Feud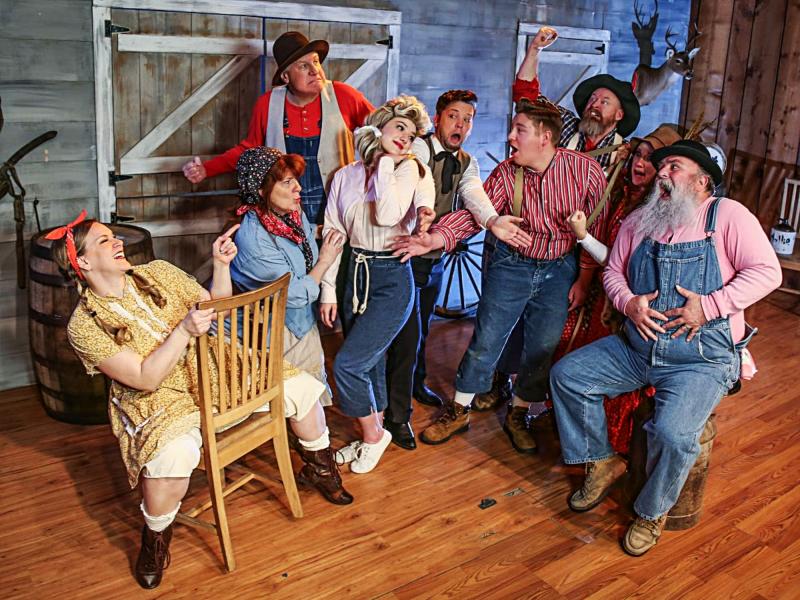 How many things can two families feud over at Funny Farm Dinner Feud? Well, at least three; a property line, a prized hog, and a shotgun wedding, just to name a few. And how will they settle their differences? Why, over a few whacky games of skill set to the lively music of The Goldwing Express bluegrass band, or course. Just watch out, because you might be one of the two honorary cousins selected from the audience!
Menu: Potato Soup, BBQ Pulled Pork, Roasted Chicken Drumstick, Green Beans, Mac 'n ' Cheese, Confetti Cake, Dinner Roll, Choice of Beverage.
Million Dollar Quartet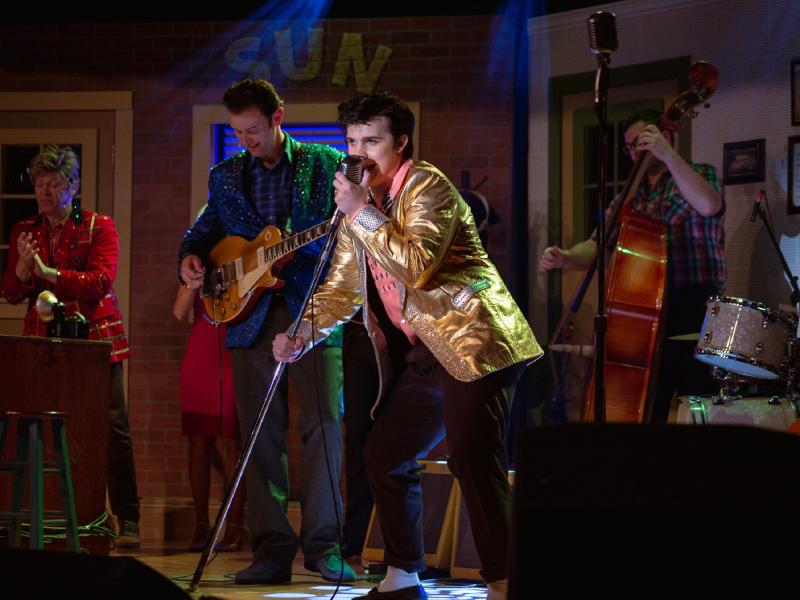 The boys are back in Branson! Let the Million Dollar Quartet take you back in time to 1956 at Sun Records Studios where four musicians, Elvis Presley, Johnny Cash, Carl Perkins, and Jerry Lee Lewis, came together for one of the most legendary jam sessions we've ever known. Join them on their music journey as they return to the man who invented Rock 'n' Roll, renowned producer Sam Phillips, and tap your foot to classics such as "Hound Dog" and "Great Balls of Fire!"
Menu: TBD
A Shepherd's Christmas Carol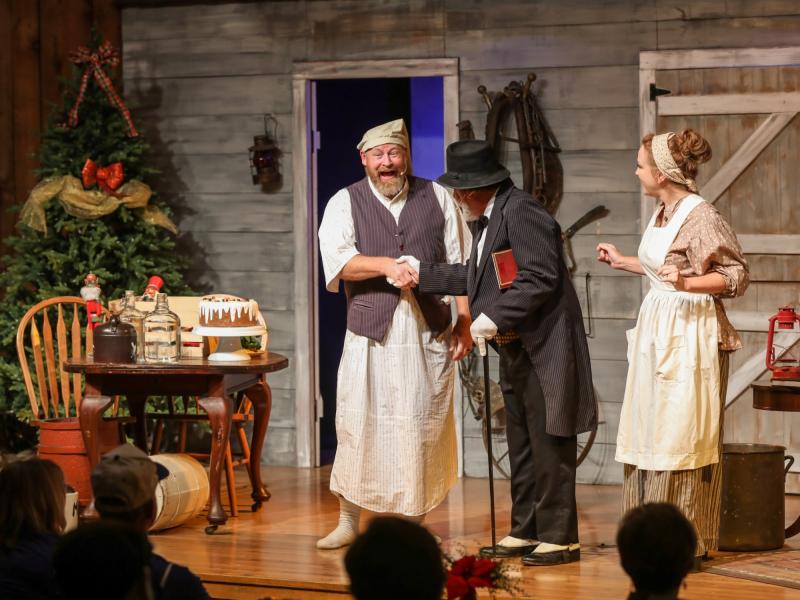 Years after Ollie Stewart lost is sweetheart, Sammy Lane, to his childhood friend and rival, Young Matt Matthews, Ollie's family and neighborhood friends work together to include him in the Christmas festivities and remind him of the true meaning of friendship. Laugh along as they try to restore Ollie's Christmas spirit in A Shepherd's Christmas Carol, a show that is sure to bring you back next Christmas!
Menu: Potato Soup, Herb Roasted Turkey Breast, Glazed Ham, Mashed Potatoes with Turkey Gravy, Traditional Cornbread Stuffing, Green Beans, Dinner Roll with Butter, Pumpkin Dessert, Choice of Beverage.
A Christmas Story
Do you remember watching the movie A Christmas Story as a kid? Now you can watch it live on stage while being served a fantastic meal! For those of you who haven't seen the movie, A Christmas Story, set in the 1940's, follows the tale of a young Ralphie who wants nothing more than a Red Ryder BB gun for Christmas. The problem is, every time he mentions it, the idea get's shot down (pun intended) with the common response, "You'll shoot your eye out!" Join Ralphie on his quest to get a Red Ryder and enjoy seeing popular scenes from the movie live on stage!
Menu: Potato Soup, Glazed Ham, Herb Roasted Turkey Breast, Green Bean Casserole, Mashed Potatoes, Cornbread Stuffing, Apple Crisp, Dinner Roll w/butter, Choice of Beverage.
Want to view more dinner shows in Branson? Click here.