Article
Take-Out Food in Branson
Some of Branson's most well-known dining locations offer take-out options, which will allow you to make the most of every moment in Branson.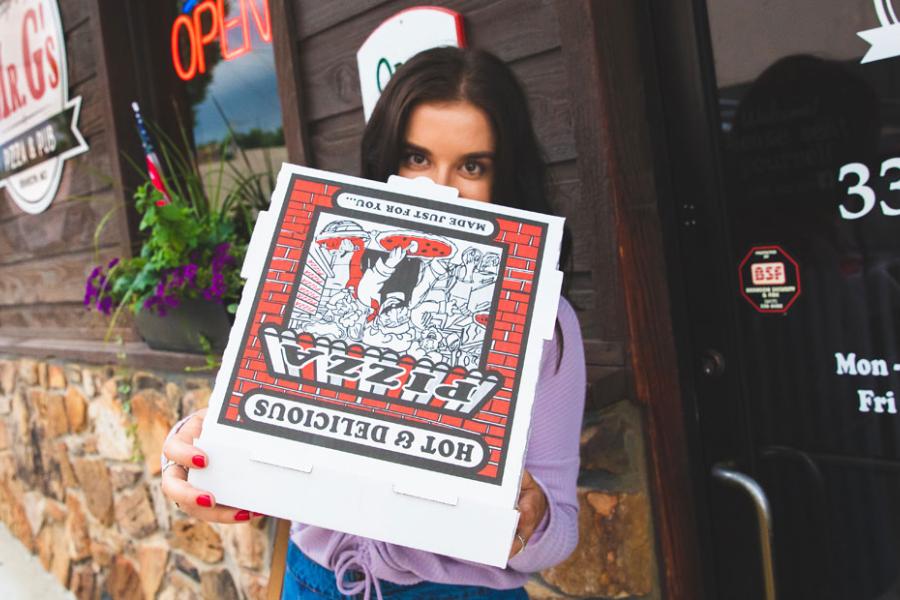 Hungry for breakfast, lunch or dinner? Branson's to-go food options will satisfy any cravings. *Hours may vary
Breakfast
The Hungry Hunter Restaurant is currently available for pick-up and curbside delivery daily from 8 am to 1 pm. Choose from breakfast favorites like fresh homemade cinnamon rolls, chicken fried steak, pork tenderloins and more in generous portions!
 Clocker's Café is available for pickup daily from 6 am-3 pm. Find home-cooked meals like a prime rib sandwich, biscuits and gravy, and many varieties of salads. Clocker's offers daily breakfast and lunch specials.
Bob Evan's Restaurant, LLC is a casual American chain started on an Ohio farm known for its family-style meals and country vibe. Pick-up meals are available from 7 am-8 pm.
Billy Gail's Café serves to-go breakfast and brunch dishes daily from 9 am-1 pm. Don't miss the famous pancakes that are the size of hubcaps, Texas toast French toast and unbeatable omelets - this isn't food for the faint of heart! 
Farmhouse Restaurant offers the classic American style food that tastes like it was made in a real country kitchen! Enjoy heaping platters of fried chicken, country-fried steak and buttery mashed potatoes. Pick up available from 7 am-5 pm.
Branson Café was first established in 1910 and has been featured on 60 Minutes and Fox News, and the Today Show! Tom and Susie Roten aim to carry on the tradition of serving good, classic food in Historic Downtown Branson for years to come.
Branson Center Stage Grill and Kaffee Haus specializes in homemade sweets and treats that have been passed down through family for years. Their menu is European and American home style cooking with a nouveau twist and extensive gluten free options.
Lunch
Sugar Leaf Bakery and Café is a quant café which offers several perfectly portioned lunch options. Stop by and grab some award-winning sandwiches, yummy soups, flavored iced teas or unforgettable, made-in-house desserts that will knock your socks off. 
Pickin' Porch Grill is a favorite lunch destination for many travelers. Order one of their hearty hamburgers or barbeque plates to-go and enjoy on your own time! Temporary new hours are 11 am-4 pm. 
Gettin' Basted is one of Branson's well-known Bar-B-Que establishments! Come taste the award-winning barbeque today!
Thai Thai Cuisine offers a variety of fine and fresh traditional Thai dishes at affordable prices. 
Tropical Smoothie Café features flavorful and fresh smoothies and food. They provide the to-go traveler with everything necessary for quick and light lunch options.
Dinner
Longhorn Steakhouse offers great steaks seasoned with LongHorn's signature spice blend! Experience expertly grilled steaks, ice-cold beverages, fresh-baked bread, salads and desserts at LongHorn Steakhouse. 
Botanas Premier Mexican invites you to enjoy all your favorite Mexican dishes such as sopes, nachos, huevos con chorizo, carne asada, enchiladas verdes and featured items, all right here in Branson, MO!
Mr. G's Chicago Style Pizza and Italian Food has been serving Chicago style pizza and other favorites for over 20 years to Downtown Branson. Mr. G's is great for dinner, with pizza, sandwiches and salads!
Danna's Bar-B-Que and Burger Shop provides a taste of local, old-fashioned Bar-B-Que cooking. Relax and enjoy carefully prepared food made from scratch at two, family-owned and ran locations in Branson and Branson West.
Olive Garden is well-known chain featuring Italian standards such as pastas, salads and scrumptious breadsticks.
Noodle 21 has all your Asian food favorites, from ramen to chicken teriyaki.
Ruby Tuesday is a casual American chain featuring burgers, seafoods, pastas, sandwiches and salads.
For delivery food options in Branson, check here.