Article
8 Great Places to find Antiques and Collectibles in Downtown Branson
From vintage jewelry and rare vinyl records to antique furnishings and period-piece art, Historic Downtown Branson's antique stores and flea markets are full of treasures waiting to be discovered.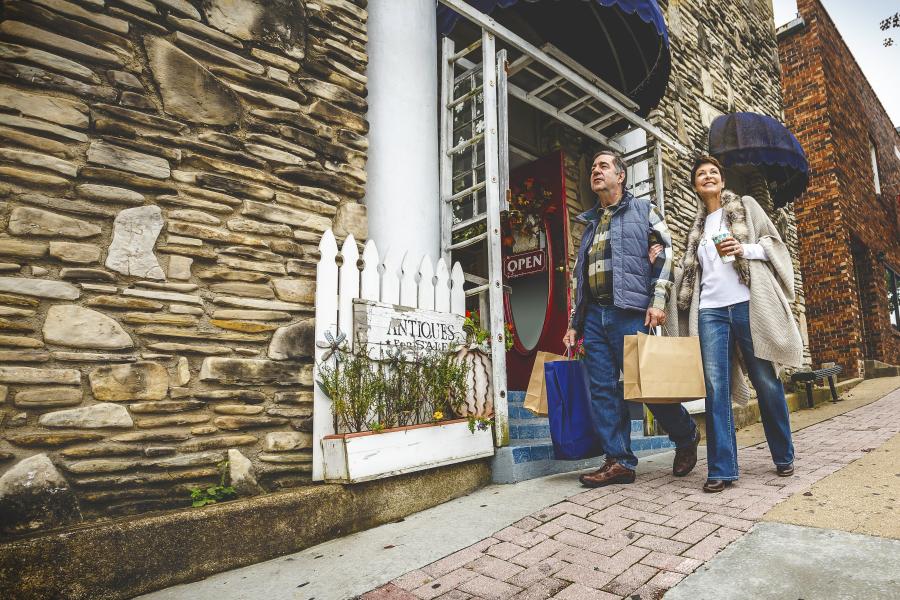 Whether you're a serious collector or more of a casual antiques browser, you won't have to search hard for great vintage finds in Historic Downtown Branson. Check out these eight unique antique stores during your next trip!
1. Vintage Vault & Mercantile 
204 Veterans Blvd
Voted "Best Antique Store & Best Home Décor in 2023" by the Branson Tri Lakes News Readers Choice Awards, Vintage Vault & Mercantile is a dreamy treasure trove of unique and quality antiques. Alongside their more vintage items, the "mercantile" side of the shop offers newer things to shop for like lotion, soda pop, and candles!
2. The Classy Flea
107 E Main Street
Down the hand-painted hallways at The Classy Flea, shoppers can discover repurposed items, primitives and antiques. Kitchen items, home decor, coins, jewelry, vinyl records, glassware and furniture wait to be discovered at the flea market. Newly added to the flea market's inventory, Missouri Amish-made jams, jellies and pickles are now available for purchase. Talk about a tasty shopping spree! 
3. 417 Vintage Market & Supply Co.
114 N Commericial Street, Suite 100 
Branson's 417 Vintage Market & Supply Co. is a dream setting for antique and vintage lovers. Upon arrival, you'll find two entire floors organized with perfectly placed industrial and farmhouse decor, antique furniture, vintage books, magazines, collectible dishes, handcrafted soaps and more. 
4. Patricia's Victorian House
101 W Main Street
Specializing in Victorian gifts and collectibles, Patricia's Victorian House is packed with china, tea sets, dolls, home decor, figurines and more. Shoppers can also find lace-adorned, Victorian-style clothing throughout the store.
5. Riley's Treasures
215 Veterans Boulevard
Riley's Treasures allows you to shop for unique finds or clean out your closet. The thrift store collects gently used clothing, household items, toys and collectibles. The store even hosts $1 days and other sales where you can expect to find some great bargains on treasures. WIth ties to Generation Next, a unique charity benefiting families and children in Kenya and the Ozarks, Riley's Treasures helps fund operations with some of its proceeds. 
6. Lightning Pawn & Music
202 S Commerical Street
Lightning Pawn & Music is a full-service pawn shop and music store. Being family owned and operated for nearly 30 years, the store is packed with musical instruments, vintage jewelry, antiques, collectibles, tools and more. Instrument repair is sometimes available. 
7. Main Street Flea Market
106 E Main Street
This flea market and consignment shop is located in one of Branson's oldest stone buildings. The Main Street Flea Market building was originally a church with white columns on either side of the front door. The building was expanded and now includes many booths with antique furnishings and decorations for sale.  
8. Old Town Flea Market
103 E Main Street
From unique perfume bottles and collectible pottery pieces to Native American art and vintage kitchenware, the Old Town Flea Market has many one-of-a-kind items. The shop's collectibles also include comic books, coins, jewelry and sports items.
Ready to shop and savor your time in Historic Downtown Branson during your next visit? Along with being home to hundreds of retail shops, Downtown Branson also includes several dozen restaurants and a diverse selection of hotels, inns and bed-and-breakfasts. Learn more about all Historic Downtown Branson has to offer.