One of Branson's most-visited attractions is Branson Landing, a center for shopping, dining and entertainment located between Lake Taneycomo and historic downtown Branson.
Branson Landing appeals to visitors of all ages, offering more than 100 storefronts for shopping, restaurants and accommodations. Easily walkable, Branson Landing is less than a mile long with a central, open-air promenade and a lakeside boardwalk. The mall is capped on the north end by the Belk department store and by a landmark Bass Pro Shops store on the south end.
Attractions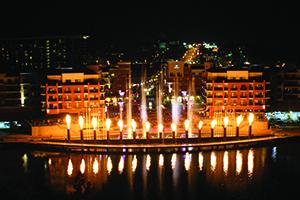 The crown jewel of Branson Landing is its town square — an open plaza at the center of the mall, featuring a $7.5 million Fountain Show with lights, fire, water and music. Visitors can sit and watch the choreographed display of 120-foot fountain geysers and fire columns interplay with lights and your favorite musical hits. 
Aboard the new Parakeet Pete's Steampunk Balloon, visitors take in breathtaking views of historic downtown Branson and Lake Taneycomo. The 188-foot hot air balloon is encased in an open steel tower for stability. When the balloon reaches the top of the structure, its basket slowly turns 360 degrees to give riders panoramic views. Visitors of all ages can ride in the balloon, which is said to be the only one of its kind in North America. Don't miss Parakeet Pete's Waterfront Zipline at the south end of Branson Landing for more adventures.
Shopping
Of course, Branson Landing offers more than outside fun. It's a shopping magnet with more than 60 stores. From jewelry, gifts and apparel, to housewares, sports-fan favorites and bass boats, you can find something for everyone at Branson Landing. Shoppers can find name brands at their favorite retail chains such as Belk, Bass Pro Shops, Dressbarn, Chico's, Christopher & Banks and Famous Footwear, to name a few. There are boutiques and specialty shops, too. Don't miss locally owned favorites like Branson Quilts, Dove Olive Oil and Gifts of Distinction.
Dining
When feet are tired and packages are heavy, it's time for a snack — and Branson Landing has plenty of dining choices for its weary shoppers. Enjoy sweet treats (along with a little people watching) with an ice cream cone from Marble Slab Creamery or frozen yogurt dessert from Orange Leaf. Explore the candy shops like IT'S SUGAR or Northwoods Candy Emporium where the staff brags about the two-foot Gummi snakes!

Hungrier appetites can be satisfied at the more than a dozen restaurants. Fresh seafood, gourmet Mexican cuisine, aged steaks, Chicago-style pizza and smoked barbecue are among the many choices to whet your taste buds. Newest among the dining offerings is Buffalo Wild Wings with its 21 signature flavors of Buffalo wings, served in a neighborhood sports bar atmosphere. Visitors can cap their night with a sing-along at Ernie Biggs Chicago Style Dueling Piano Bar or authentic Irish music at Waxy O'Shea's Irish Pub.
Events
Branson Landing hosts several fun special events throughout the year, including charitable 5K walks and runs, benefits, parades and free concerts. One of Branson Landing's largest and most popular concerts is the annual Liberty Light Up, which takes place during the Fourth of July weekend. Be sure to stay for the fireworks show following the concert, it's out of this world.
Parking
Free parking is available on the north and south ends of Branson Landing. A paid parking garage is located on the west side of the mall. For a small fee, visitors can use a trolley, which operates continuously during mall hours on the Promenade. For more information, visit the Branson Landing website.