Article
Follow the Branson Fudge Trail
Fudge is a classic, sweet, creamy, rich and delicious treat that is always in season. Follow the Branson fudge trail for a fun, chocolate-filled adventure.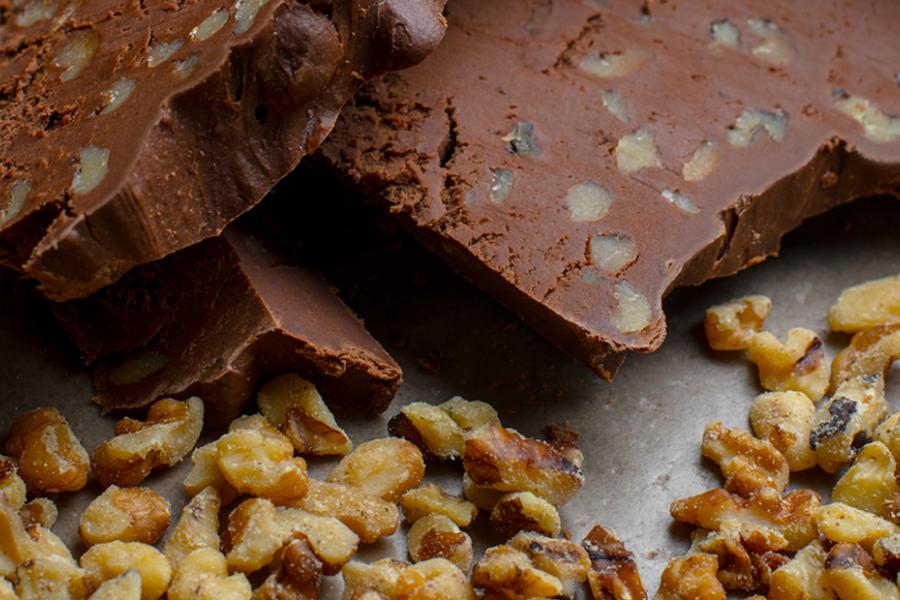 Fudge is a top pick among our visitors for decadent desserts, and satisfying your sweet tooth is easier than ever with Branson's extensive lineup of bakeries and chocolate shops! For a taste of luxuriously soft chocolate, stop at the top five locations on the Branson fudge shop trail: 
Stop 1: Branson Landing
100 Branson Landing Blvd
For your first fudge stop, head to the Branson Landing. In one outdoor shopping mall which features attractions, shopping, scenery and restaurants, you will have the chance to indulge in three styles of decadent soft chocolates. Begin at the north end of the Branson Landing (by Paula Deen's Family Kitchen) and walk south toward Bass Pro Shops, stopping at these tasty shops along the way:
Rocky Mountain Chocolate Factory 
Suite 403
Rocky Mountain prides itself on creating fudge the old fashioned way. They cook their fudge in copper kettles and then form huge "loaves" of chocolate goodness. 
Kilwins 
Suite 813
Enjoy the historic taste of Kilwins, a significant presence in America since 1947. Kilwins offers a tried and true fudge recipe, now in many variations, called "Mackinac Island Fudge", formed by their founders at their company's inception.
Northwoods Candy Emporium 
Suite 103
Create your own box of unique and classic fudge flavors at Northwoods Candy Emporium. In addition to mouth-watering fudge, you will also find chocolate espresso beans, mini truffles and hand-dipped strawberries in this classic chocolate shop 
Stop 2: Historic Downtown Branson
116 S Commercial St
After experiencing the yummy fudge shops at the Branson Landing, walk, drive or ride the free Downtown trolley to your second stop. Simply Irresistible Old Fashioned Candy is a "hidden gem" fudge and candy shop in Historic Downtown Branson. 
In Downtown Branson you will also find novelty gift shops like Dick's 5 & 10 and Plum Bizarre, great American diners like Clocker's Cafe and Farmhouse Restaurant, and refreshing treats at Mr. B's Ice Cream Parlor and Dreamsicles. 
Stop 3: Branson Craft Mall
694 MO-165
Branson Craft Mall proves to be a must-stop shop for fudge-lovers. Walk through countless aisles of handmade Branson crafts, trinkets and treasures as you make your way to the Branson Fudge Company at the back of the mall. 
At the Branson Fudge Company, indulge in endless flavors and unique combinations of fudge. Take advantage of their free samples to help you decide which signature taste to choose.
Stop 4: Silver Dollar City
399 Silver Dollar City Pkwy
Take off from the Branson Craft Mall and embark on a short journey to Silver Dollar City. Once you make it inside the park, prioritize locating Brown's Candy Factory. Here, the Brown family will entertain you with live demonstrations of how their famous fudge is made. Once you watch the creation process, you'll be able to take your pick from more than dozen varieties of fudge. 
There's so much more to discover at Silver Dollar City like the world's steepest, tallest and fastest spinning coaster, Time Traveler; incredible live shows like their bluegrass and southern gospel lineups; or their newest addition, Mystic River Falls, a river expedition that features the tallest drop in the western hemisphere. 
Stop 5: Branson's Entertainment District
The final stop on our fudge trail is Branson's Entertainment District. In addition to appetizing fudge tasting, while here, take one of our famous live shows, enjoy a thrilling attraction or shop at our favorite novelty and retail stores. When driving from Silver Dollar City, you'll find the following shops in order on W. 76 Country Blvd:
Sammy Lane's Sweets 'n Treats 
5586 W 76 Country Blvd
Located at the Historic Shepherd of the Hills Homestead, Sammy Lane's may be the fudge of your dreams. Pair your rich chocolate creation with a scoop of Sammy's favorite homemade ice cream for the most unforgettable experience. 
After you enjoy the fudge, you're invited to watch the historic Outdoor Drama, take a ride on the Vigilante Extreme Zipline, climb on the ropes course or view Branson from new heights on the 230 foot tall Inspiration Tower. 
Dickens Gift Shoppe 
2800 W 76 Country Blvd, Ste 416
Choose from over 20 delicious flavors of fudge at Dickens Gift Shoppe. Dickens is located at The Grand Village Shops, a quaint outdoor shopping center that features fun diners, specialty stores and the largest Christmas store in Missouri.
Grand Country Square Candy Store 
1945 W 76 Country Blvd
Grand Country presents the freshest fudge by forming handmade, in-house fudge every day and the Candy Store. They have been perfecting their chocolate recipe for over 35 years, and are confident your sweet tooth will be more than satisfied. 
In addition to their fabulous fudge, Grand Country Resort offers exciting attractions, engaging live shows and comfortable lodging the whole family will love.   
Looking for more sweet treats? Explore the top ten ice cream shops in Branson. 
Places Mentioned
Find Your Next Branson Adventure